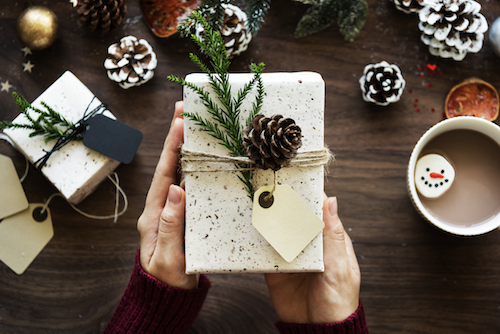 Stressed out about getting everything ready for the holidays? The Key Club is offering custom gift wrapping at the high school and in Gaslight Village on Saturdays this month.
"All you need to do is drop off your gifts and come back to pick them up," says high school English teacher Sara Edleman. "We'll provide the paper and take care of the rest."
Key Club members will be wrapping presents from 9:00 a.m. to 3:00 p.m. on December 9, 16, and 23 in the Café Conference Room at the high school. They'll also be wrapping presents in the office space above Athleta in Gaslight Village from noon to 6:30 p.m. on those same days. And they'll wrap from 6 p.m. to 9 p.m. on Thursday, December 14, at the Gaslight location during the Sip and Shop event.
In exchange for the service, the club is accepting donations to the cause of your choice: Kids' Food Basket, the Billy Bear Hug Foundation, or the East Grand Rapids Schools Foundation.
"This is a great way of crossing one item off your holiday to-do list while also supporting your choice of three great organizations," Edleman says. "It also gives our students a fun way to help others and help you relax and enjoy the holidays!"