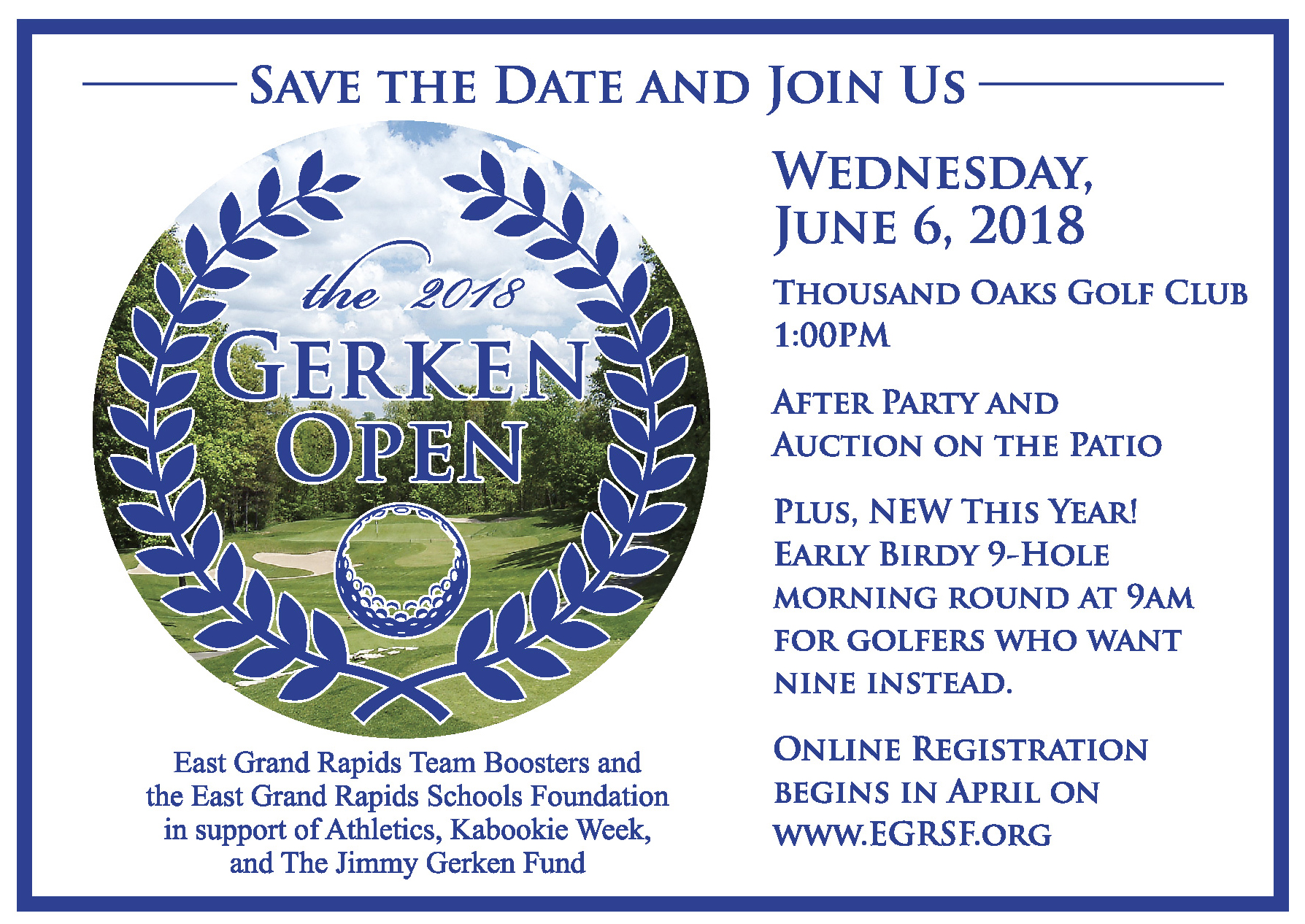 Click the image above for event registration
Every spring, the EGR Team Boosters and the Foundation join together for the Gerken Open at Thousand Oaks Golf Club. 
The Gerken Open supports the Boosters and the Jimmy Gerken Fund, which was established to remember Jimmy and ensure that athletics and co-curriculars—the activities Jimmy loved most—remain an integral part of our students' education. The Jimmy Gerken Fund also pays for student activities during Kabookie Week, keeping Jimmy's memory alive while encouraging students to continue to experience personal excellence in athletics and co-curricular activities, just as Jimmy would have wanted. 
Most years, the Gerken Open raises approximately $20,000 for the Jimmy Gerken Fund and the EGR Team Boosters athletic department needs. 
The event would not be a success without our loyal sponsors. We'd like to thank this year's Gold Sponsors—Anonymous, Scott and Natalie Bernecker, Imagequest, Ronda Auto Centers, Lacks Enterprises, Miller Johnson, ProMedico, HNI Risk Advisors, Swaney Sales, Fox Acura, the Starck and Wolford families, and Web Traffic Partners—and our Blue Sponsors—Cole's Quality Foods, Custer, Design Heating and Air Conditioning, Two Men and a Truck, Metro Health University of Michigan Health, and SalesPad.
The 2018 Gerken Open will be Wednesday, June 6, and it promises to be the best one yet, with a morning 9-hole event being planned in addition to the afternoon 18-hole event. Check back here for more information about the 2018 Gerken Open!