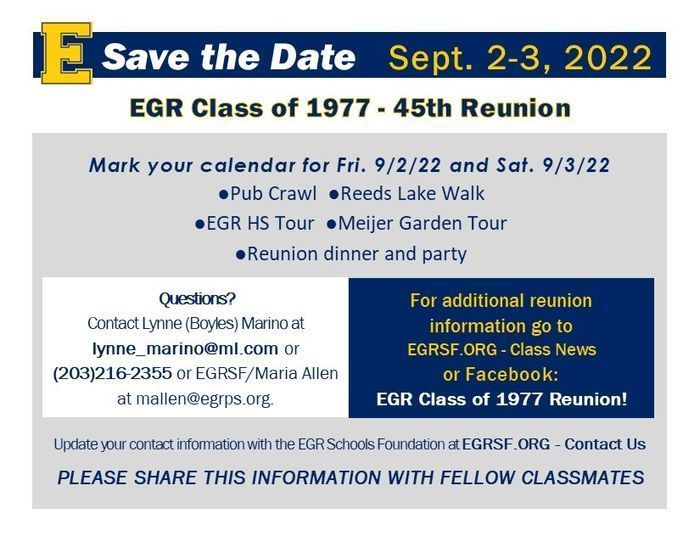 Friday, September 2
Pub Crawl
Check back for more information...
---
Saturday, September 3
Reeds Lake Walk 9-10:30AM
EGRHS Tour 11-12AM
Frederik Meijer Gardens Tour 2-4PM
Reunion at Aquinas ~ dinner and party 6-11PM
---
ADDITIONAL INFORMATION
The Class of 1977 reunion committee would like to encourage you to make a donation in the amount of $77 in memory of Karin Matheson Holloway, '76, who recently passed away. Donations can be made online (use the Surprise Us! option) or send to EGR Schools Foundation at 2915 Hall St. SE, Grand Rapids MI 49506 . 
Visit the EGR Schools Foundation Contact Us page to update your contact information.
45th Reunion Committee: Cindy Leven Bezella, Diane Hoffman Schroeder, Greg Hayes, Johnny Liu, Katherine Ford Gregg, Lynne Boyles Marino, Nancy List, Cecelia Cunningham
Please contact Maria Allen, Alumni Relations Coordinator with questions.
---