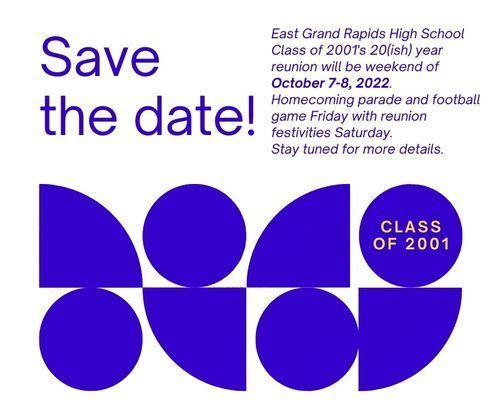 ---
The Class of 2001 - 20th Reunion 
Homecoming Weekend - October 7-8, 2022.
We look forward to getting the Class of 2001 back together over Homecoming weekend! 
Please provide us with your email address through this form to receive updated information on reunion weekend events. Or update your complete contact information via the EGRSF Contact Us page. 
We'll be starting an official fund for the Class of 2001 to support this reunion and future class events, please consider making a donation of any amount or sponsoring our reunion this year. Funds will be used to cover event costs and to sponsor classmates who would otherwise not be able to attend. 
Join the Class of 2001 Facebook Group here. Pease share this information with fellow classmates! 
If you have any questions or are interested in joining the planning committee, please contact Carly, or 616.446.2685.