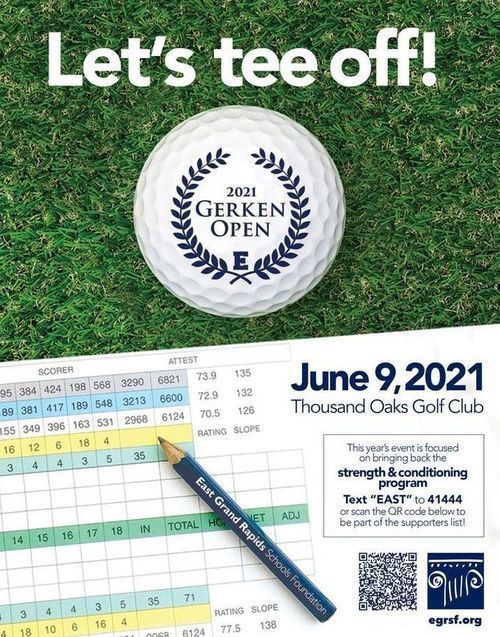 Save the Date! You do not want to miss this fun event at Thousand Oaks - Wednesday, June 9. The Gerken Open supports athletics and co-curriculars through the Jimmy Gerken Fund and EGR Team Boosters. The Jimmy Gerken Fund also sponsors Kabookie Week at EGRHS. This year's event is focused on bringing back the strength & conditioning program for the 2021-22 school year. Help tee-off this fundraising effort by scanning the 2021 Gerken Open QR code with your smart phone and contribute directly!  Questions? Contact Maria Allen at mallen@egrps.org or (616)235-3535.
You can sponsor and register for the event today. If you have questions or would like to be a Gerken Committee member contact Maria Allen at mallen@egrps.org or (616)575-9907.
---
Gerken Open 2020
Thank you to our sponsors, golfers, in-kind contributors, volunteers, Thousand Oaks staff, and the Gerken Committee for making the 2020 Gerken Open a wonderful event. We had a beautiful fall day and a lot of fun, as you will see in the photos below, all for a great cause - The Jimmy Gerken Fund and the EGR Team Boosters. 
GO 2020 Committee: Maria Allen, Ann Bell, Anne Hooker, Jay Forstner, Rob Kowalewski, Jason Madden, Robyn Schut, Amy Stuursma, and John VanGessel
Photos by Jennifer Bruce
Photos by Jennifer Bruce