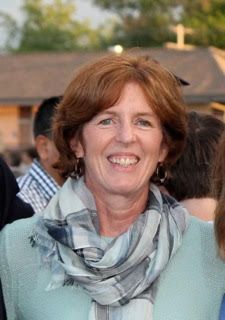 VOLUNTEER SPOTLIGHT: Brenda Cronin
The Foundation always strives to be as efficient as possible. We want to put every dollar we can to work for our students. To do that, we rely on people like you who donate their time and energy for our kids.
For more than three years, Brenda Cronin was one of our most dedicated volunteers. She worked in the Foundation offices every Friday afternoon, updating our database, preparing for Hurrah!, helping with mailings and generally doing whatever needed to be done.
So why did she do it? "I have two children that graduated from EGR schools who have both benefitted from the Foundation," Brenda says. "Volunteering at the foundation was my way of giving back to an organization that has given so much to the students in East Grand Rapids and to the community. Not only does the Foundation support EGR students, but they also organize other events that bring the community together. We all benefit from that."
With the Foundation's full calendar and busy schedule, there's always something happening. Letters and invitations need to be prepared for mailing. The next event needs to be planned and organized. Lists of donors need to be updated. And because we have so many incredibly generous supporters, there are always people who need to be thanked and acknowledged.
"I would certainly encourage other people to volunteer at the Foundation," Brenda says. "I have volunteered in many ways over the years but I have found some organizations are better than others at effectively using their volunteers and making them feel valuable. The Foundation is one of the most organized, professional organizations I have ever volunteered for and I give credit to Amy Stuursma, Rosanne Mack, Carole McDonald and Maria Allen for that. I enjoyed spending a couple hours a week with these women and have so much respect for the job they do. They never hesitated to express their appreciation for me and all of the other volunteers."
We truly couldn't do what we do without people like Brenda. If you'd like to join her and our other amazing volunteers, please call the Foundation at 235-3535 or email us at egrsf@egrps.org. We always have something worthwhile for you to do.