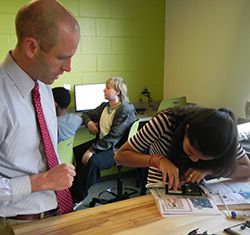 East Grand Rapids Middle School science teacher Kevin Vance is having a busy morning. Again.
A group of Vance's Innovation Lab students is gathered around a table in the classroom, busily unpacking and examining the parts in mBot robot-building kits. Another group is huddled on the floor in the back of the room, assembling larger robot-building kits. And a third group is out in the hallway, guiding illuminated spheres along the floor toward a loose triangle of miniature bowling pins.
Vance and his colleague, math and science teacher John MacKenzie, move from group to group trying to keep up with what the kids are doing. It's a daunting challenge. Middle school minds always move fast, but give them the materials to make anything possible and they'll start creating at warp speed.
Many of the materials in the Innovation Lab were purchased through a series of grants from the East Grand Rapids Schools Foundation. "Just about everything you see here, everything the kids are working on, was funded by the Foundation," Vance says. "The school provided the Innovation Lab, but the Foundation provided everything that makes it work."
Noah Dujovny, Riley Gabridge, and Barbara Bart are three of the 8th graders in the hallway programming the illuminated spheres. Their previous project was a water-delivery robot that carries a bottle of water wherever they direct it, and then tips the bottle to pour out its contents. It's just on the classroom floor now, but it's not hard to imagine something like it rolling across the lunar surface someday to help hydrate thirsty astronauts.
"I took this class because I heard it was really fun," Dujovny says.
Bart agrees, explaining that she too had heard from older students that the Innovation Lab was challenging, but also fun and different.
Gabridge says she told her mom about the class: "She said it sounded great. She said she never got to do anything like this when she was in school."
In the meantime, though, the three of them and their classmates are trying to figure out the best way to knock down the bowling pins with the rolling, multicolored orbs. "I'm as bad at this as I am at regular bowling," says Betty Jo Trout in exasperation.
After a few tries and a few pin resets, Benson Lam takes his turn at the controls. He directs the ball toward the pins and knocks them all down in one try. Lam raises his arms in triumph.
Vance doesn't get to see the strike. He's gone back to check on another group of students, who are planning a project of their own. A busy morning, but also a rewarding one.