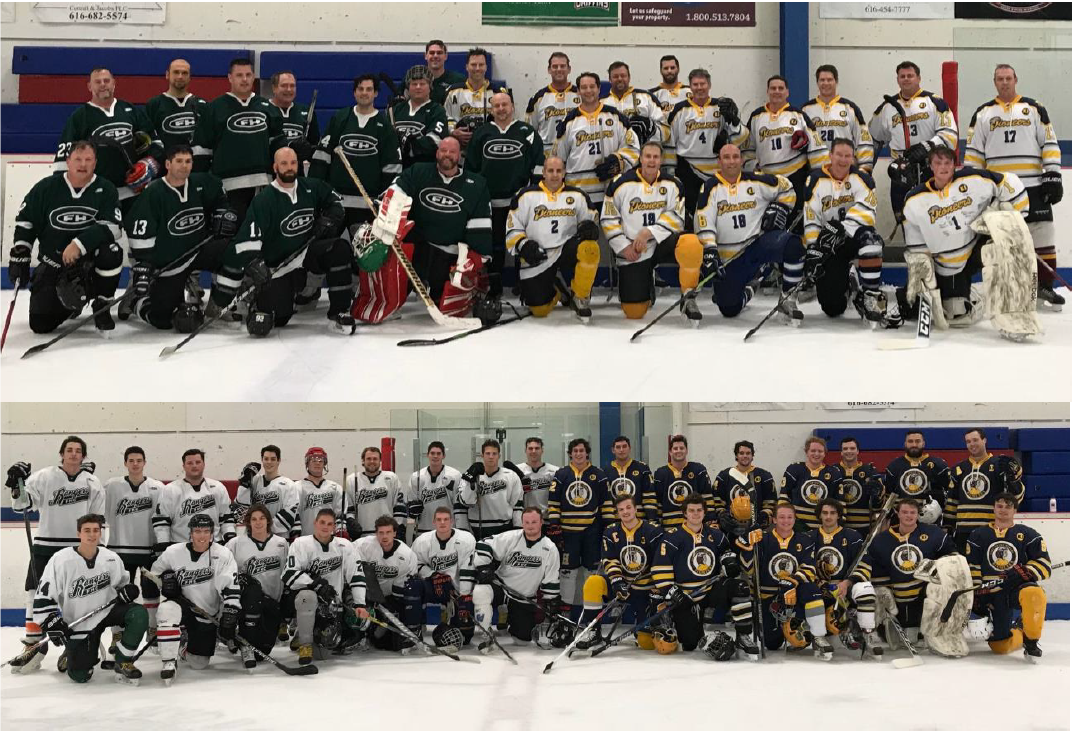 Old friends and old rivals renewed acquaintances on the day after Thanksgiving as East and Forest Hills Central played a pair of alumni hockey games leading up to the Friday night varsity game at Patterson Ice Center.
The alumni games were divided into two age groups, with players 35 and older in the first game and more recent grads in the second one. Tyler Morrill '17 played goal for East in both games.
East got off to a challenging start in the Over 35 game as the goalie equipment Morrill was borrowing from a friend turned out to be locked in a different rink. Jon Corretti ably filled in until Morrill arrived halfway through the second period. In a back and forth affair, the game ended in a hard-fought 9-9 tie.
Skaters for the East 35 and older team were Jack Zinser '77, Jon Coretti '84, Matt Miller '86, Michael Kiley '87, Peter Stuursma '89, Mark Hoekstra '94, BJ (Bradley) Taylor '94, Scott Titus '98, Brett Brinker, Steve Milman, and former East coaches Joe Day and Vince Owen. Jerre Coretti '87 volunteered to play for the Forest Hills team.
In the Under 35 game, with Morrill between the pipes from the start and several current East players looking on, East took a quick 2-0 lead before FHC fought back to take the lead. In the end, East tied the game in the last few minutes and then won it with only seconds left on the clock.
For the Under 35 East team, the skaters were Morgan Day '05, Keith Howell '11, Billy Stewart '11, Chris Dickow '13, Will Boeschenstein '14, Sam Forstner '14, Peter Stewart '14, Jaret Allen '16, Harry Boeschenstein '16, Jack Diehm '16, Bryce Henkey '16, Brenden Micho '16, Jake Morse '16, and Brendan Baranoski '17.
Following the alumni games, the players enjoyed pizza and drinks before watching the East varsity hockey team skate to a 5-0 victory over Forest Hills Central. All in all, it was a full, fun day and night of hockey for players from both schools, young and old.
The event was organized by East Grand Rapids Alumni Relations Coordinator Maria Allen and Forest Hills Central's Jim Gaudette. Special thanks go to the FHC Hockey Boosters, East Grand Rapids Hockey Boosters, Janie Boeschenstein, DDS, and Brenden Micho for their support.