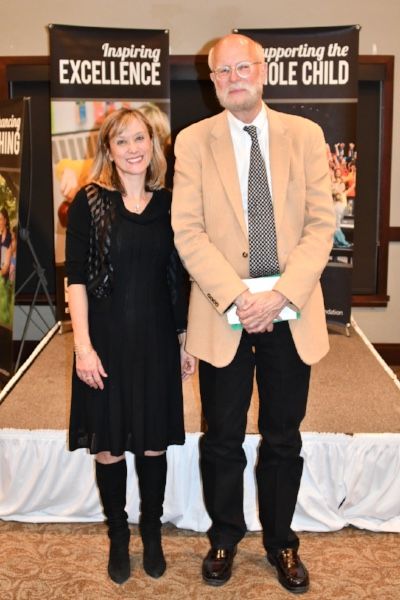 FUN, INSPIRING AWARDS DINNER CELEBRATED OUR HONOREES
The Foundation held the 11th Community Service and Distinguished Alumni Awards Dinner Thursday, November 1, 2018 from 6-9pm at Thousand Oaks Golf Club.
The Community Service Award honors someone who has significantly contributed their leadership and spirit to the community of East Grand Rapids. The recipient doesn't need to be an East Grand Rapids alum.  
Elizabeth Welch, '88 was this year's recipient of the Community Service Award. Elizabeth has spent most of her adult life advocating for public education. An attorney by trade, she has fought against cuts to school funding and advocated for our students and schools as both a Trustee of the Board of Education and a concerned parent. Welch started her work as a parent representative on the East Grand Rapids PTO Legislative Committee.  Her work then expanded to include Friends of Kent County Schools, Michigan Parents for Schools, and the School Finance Research Collaborative, a study to determine the true cost of educating a child.  Elizabeth has led the way in advocacy and awareness for public education in Kent County and in Michigan, and she is well known throughout the state for her depth of knowledge in school funding and her advocacy efforts.
The Distinguished Alumni Award honors East Grand Rapids alumni who have distinguished themselves through personal and/or professional achievements.  Henry "Fritz" Schaefer III is the Graham Perdue Professor of Chemistry and Director of the Center for Computational Chemistry at the University of Georgia, as well as Professor of Chemistry, Emeritus, at the University of California at Berkeley. Dr. Schaefer graduated from East in 1962 and received his B.S. in chemical physics from MIT and his Ph.D. from Stanford. He is married to the former Karen Rasmussen, '63. For more than 30 years, he has been one of the most highly cited scientists in the world. He is the author of more than 1,500 scientific publications, and he's also been listed by The Best Schools as one of "Seven Chemists who Deserve a Nobel Prize."
Before the two honorees spoke, guests were treated to a delicious dinner and chocolates from Kilwins of East Grand Rapids for dessert, an uplifting performance by middle school and high school singers, and a short video introducing the Foundation's Now&Forever campaign. You can watch that video on the Now&Forever page.