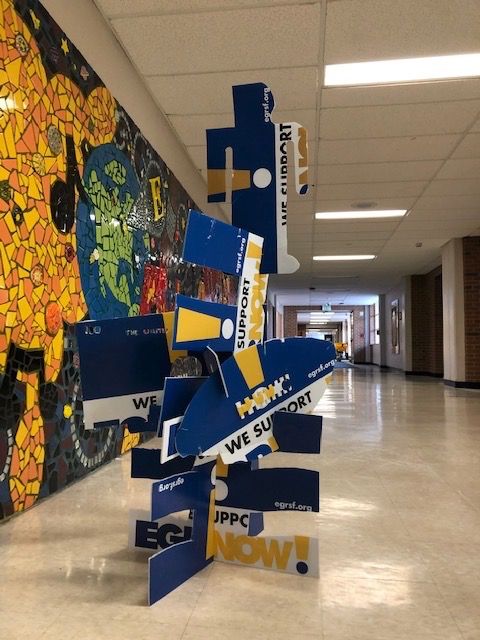 NOW&FOREVER NEARING GOAL. MAKE YOUR PLEDGE TODAY!
There won't be an EGRNOW! fundraising campaign this spring. For proof, all you need is to look at the photo on this page. We donated all of the old EGRNOW! yard signs to the middle school art program. Students have torn them apart, cut the pieces into various shapes and sizes, and rearranged the pieces into works of art.
There truly is no going back now.
The East Grand Rapids Schools Foundation is replacing the annual effort to raise funds through EGRNOW! with Now&Forever, a sustainable, predictable, permanent solution to funding the program support and enhancements that will preserve our schools' tradition of excellence.
Now&Forever will build the Foundation's endowment from $4 million to $12 million so the investment earnings will preserve vital school programs and expand our educational offerings for generations to come. "The incredible dedication of EGRNOW! donors and volunteers has made it possible for us to make this important, necessary leap," says EGRSF Executive Director Amy Stuursma. "This is an innovative, historic effort. Thirty-five years ago, our Foundation was one of the first in Michigan dedicated to a public school district. Now we're the first to lean on the endowment-funded model. It's never been done in Michigan at this level for significant, sustainable funding. We're leading the way. We're pioneers."
It's a big change. For seven years, EGRNOW! has raised hundreds of thousands of dollars every spring to save programs such as elementary gym, art, and music, along with the World Language program, elementary para-educators to teach early literacy, and the management of our beloved Performing Arts Center. Those programs might otherwise have been eliminated because of state budget cuts.
By growing the endowment with Now&Forever, donors to the Foundation will protect those programs--and continue to add to our educational offerings--this year, next year, and far into the future.
The great news is that thanks to more than 800 families who have already made pledges to Now&Forever, the goal for the three-year pledge portion of the campaign is within reach. "Over the last two years, we've raised more than $6 million of the $6.4 million goal," Stuursma says. "We're only $380,000 away from raising what we need in the immediate future to ensure our schools continue to offer the extraordinary education our families expect and our children deserve.
"With our target in sight, we need everyone, with a shared commitment, to pledge what we can. Together, we can make sure our schools remain a source of pride at the heart of our East Grand Rapids community."
To make a three-year pledge of your own, visit the Now&Forever donation page.