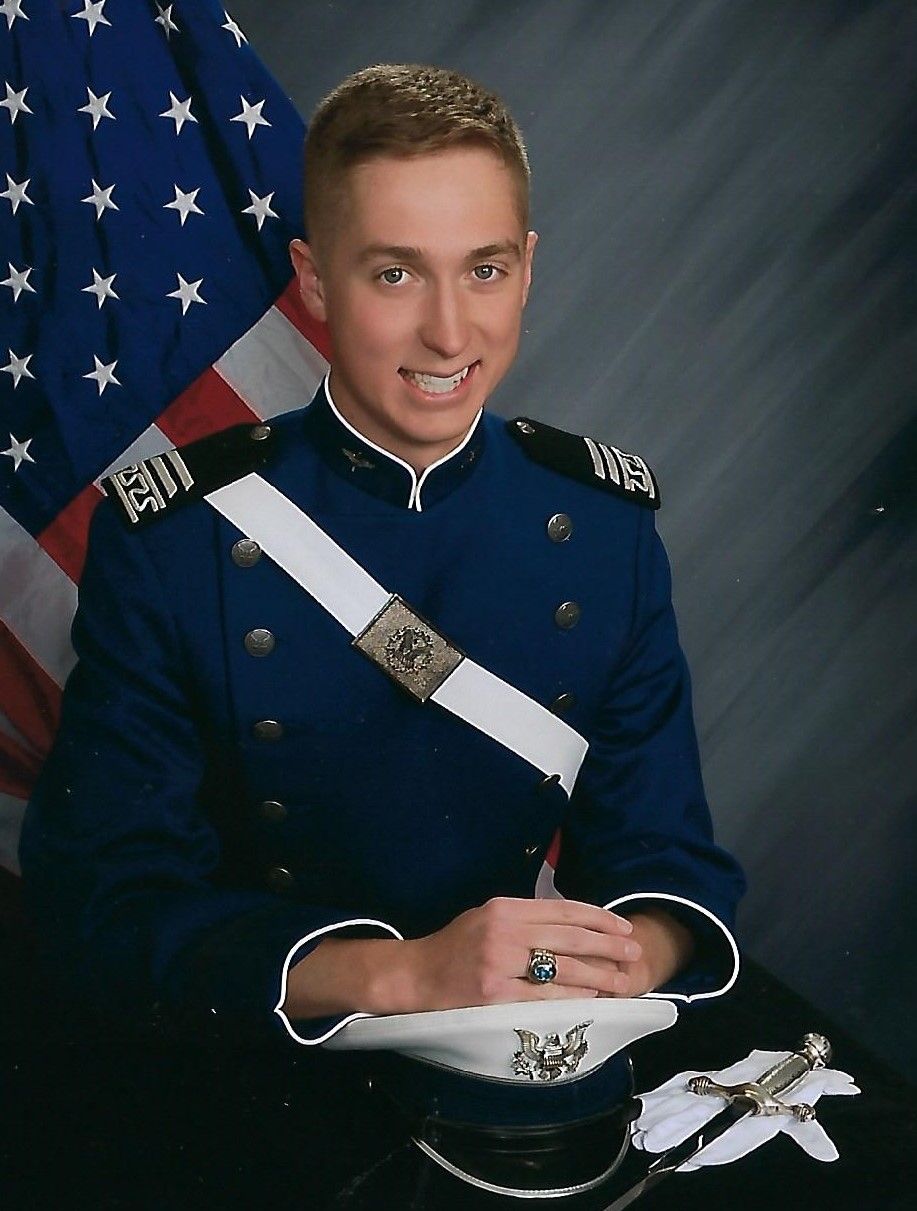 Jeremy Schwartz graduated from East Grand Rapids High School in 2015.  Shortly after graduating from East, he joined the Class of 2019 at the US Air Force Academy in Colorado Springs, CO.  Jeremy graduated from USAFA in May 2019 with a Bachelor of Science in Computer Engineering and a commission as a Second Lieutenant in the Air Force.  His first assignment is Undergraduate Pilot Training at Columbus Air Force Base in Columbus, MS.
You can only have one: Rose's caramel corn, an ice cream cone from Jersey Junction, or a Yesterdog. Which do you choose?
I've always been a fan of Jersey Junction, but I have to admit that Kilwins might be my new favorite.
What was your path from East Grand Rapids to where you are now in life?
It's been a pretty direct path.  I began Basic Cadet Training at the United States Air Force Academy about a month after graduating from EGRHS and graduated from the academy on May 30th this year.  I'm scheduled to begin Undergraduate Pilot Training at Columbus Air Force Base in Columbus, MS later this year.
What specific thing did you learn in East that has enabled you to be successful?
My time on the rowing team taught me mental perseverance, which helped me succeed at the academy.
What were you like in school?
Having moved to East halfway through my junior year I was the new kid in my class through the remainder of my short time at EGRHS.  I'm thankful that so many in my class were willing to take me in and treat me like I had been alongside them since elementary school.
Did you have a favorite teacher or class?
Mr. Stabile's AP Literature class.  It was tough, but it made me a much better writer as a result.
If you had to choose one moment in one location to serve as the signature moment of your East school experience, what would it be?
My first week at East was Kabookie week, so I must admit that it was a profound experience to be sitting in the Kabookie assembly, without knowing a single person around me, and learn what East is all about.
What do you know now that you wish you'd known then?
The grass isn't always greener on the other side and sometimes it's best to slow down and enjoy life.
Do you stay in touch with many people from East Grand Rapids?
Not too many, just a few good friends from the rowing team.
What advice do you have for young East alums who are just starting out?
I'm pretty sure that I'm a young East alum who is just starting out, but my advice to the EGRHS Class of 2019 is to have fun and make new friends in college, but don't forget that you're at university to learn something new every day!
Who else would you like us to have a virtual cup of coffee with?
Turner Sytsma (EGRHS '15)
Bonus question: What are you glad we didn't ask you about?
Gym class.