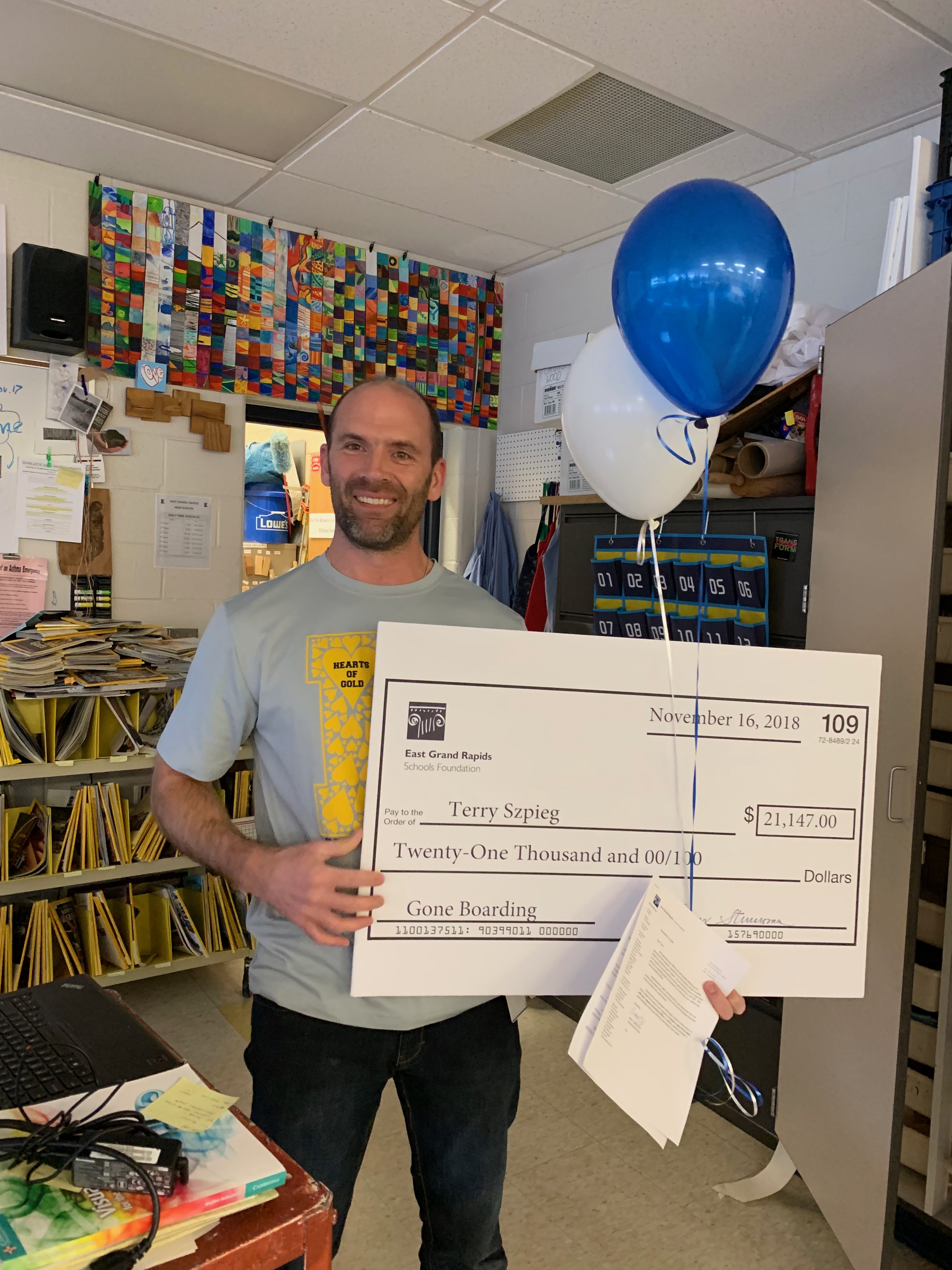 A little over a year ago, East Grand Rapids High School art teacher Terry Szpieg wrote a grant request for more than $21,000 over three years from the East Grand Rapids Schools Foundation. Szpieg wanted to start a class at the high school called Gone Boarding, in which students would design and build their own skateboards, surfboards and snowboards.
The class sounded like a great, innovative idea. The Foundation Board took the leap and approved the grant, but nobody knew if enough kids would be interested in it to make it worthwhile. So when students were given the opportunity to sign up for Gone Boarding last spring, and 157 students said they wanted to take the class, Szpieg knew he had a hit on his hands.
Twenty seniors were selected to take the inaugural Gone Boarding class. Now, a few months in, Szpieg is thrilled to see how it's taking shape. "This class is so much fun," he says. "It's new. It's different. It's exciting!"  
Gone Boarding enables students to learn real-world STEAM (Science, Technology, Engineering, Art, and Math) concepts while designing and building their own boards. The class was developed by Forest Hills teachers Bill Curtis and Bruce Macartney. "One of the ideas when they started this class was that it would appeal to some students who were just showing up to their other classes and weren't really engaged," Szpieg says. "In the bigger picture, this class can have a far-reaching impact by getting kids involved."
The first project for the students is designing and building surfboards. There are eight surfboard builds underway, with teams of students working on them. "It's been really interesting to see how students are defining their own roles on the teams," Szpieg says. "One volunteers to be the project manager, while the others might be more into graphics or volumetric form. They're working that out on their own."
At the end of October, students also started working on skateboard design. Those projects will involve laminated wood, learning to operate a vacuum press, and research into the different attributes students want their boards to have.
On any given day, the class is a hub of activity, with teams and individuals at different stages of their projects. There's a lot to work on before the class ends at the end of this semester, but Szpieg is confident they'll get there. "The kids are really enjoying the class and they're putting a lot into it," he says. "I'm just so glad we have the support of the schools and our community to make this possible. And it's only going to grow from here. The grant is for first semester this year, next year, and the year after that. Long term, this is going to make a huge difference in students' lives."