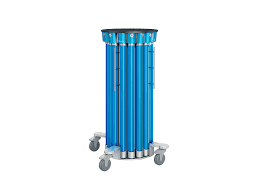 Thanks to our donors, less than 24 hours after the East Grand Rapids Schools Foundation voted to purchase them for the school district, state of the art sanitizing machines were already cleaning school buildings.
The machines, which are produced by a locally based manufacturer, are designed to use ultraviolet light to eliminate bacteria and viruses from buildings one room at a time. The next-level cleaning system promises to kill germs in the air, on surfaces, and anywhere else in the room. The cleaning power of the machines is so intense that people can't even be in the same room while the machines are operating.
On Friday, March 20, the machines were first put to work sanitizing the preschool facilities and district offices at the James Morse Administrative Center at Woodcliff. Next the machines will be used to clean the high school and middle school. Ultimately, one of each of the three machines will be housed at Breton Downs, Lakeside, and Wealthy Elementary and moved to the high school and middle school on a rotating basis.
"We were presented with a unique offer to purchase these leading-edge machines by a member of our community," Foundation Executive Director Amy Stuursma says. "We felt it was an opportunity we couldn't pass up, and we wanted to put the machines to work right away. We held an ad hoc meeting of our full board on Thursday, March 19 via Zoom conferencing, and everyone on the board agreed to get them right away. The health and safety of our students has always been the first priority for our Foundation and for our district."
Even as the Foundation supports the district's current efforts to offer online educational opportunities, this is the first example of how the Foundation will prepare our schools to receive our students when they are allowed to return to the buildings. "This isn't the world we lived in a month ago," Stuursma says, "but it's also not the world we're going to live in a few months from now either. The future is coming. Schools will reopen. These machines are helping make our schools and offices safer right now, and they'll continue to do that in the future."