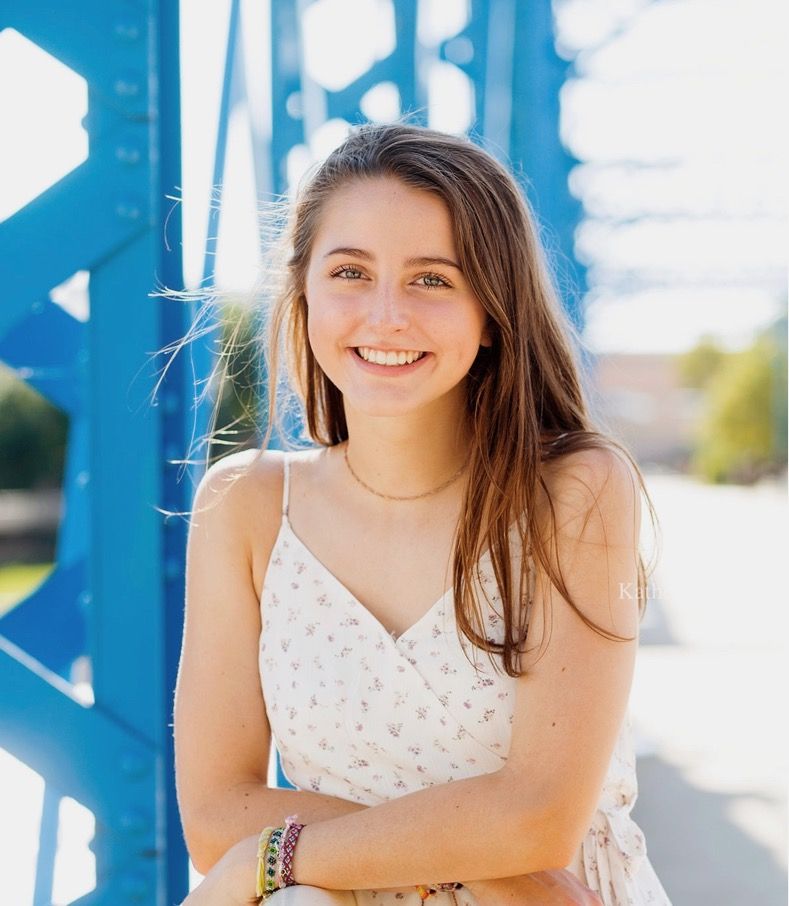 You can only have one: Rose's caramel corn, an ice cream cone from Jersey Junction, or a Yesterdog. Which do you choose?
Chocolate ice cream cone from Jersey Junction.
What are your plans after graduation?
Next year I will be attending Seattle University as a Forensic Psychology major with a minor in Spanish. Moving to Seattle has been a dream of mine for years and I can't wait to pursue my future in the Pacific Northwest.
What have you learned in East that will enable you to be successful?
The most important thing I have learned at East is that my future and my aspirations are valuable, and I am capable of pursuing them. During my time at East, I knew that there would always be people to support me and my academic choices. I learned how to love academics and to understand the value of a good education.
What were you like in school?
Each year at East, I grew more extroverted. I was fun-loving, outgoing, and I always tried to make school as fun as it could be, and I feel like I did. I was very studious, and I always put all of my effort into my school work. My outlook on school honestly made it the best experience that it could have been, and I am incredibly grateful for that.
Did you have a favorite teacher or class?
My favorite class and teacher was Orchestra with Mrs. Hillyard. When I began orchestra in sixth grade, I was untalented and unmotivated. Throughout my seven years of being a viola player, I have grown to love music and learned to find the motivation to continue despite my consistent lack of natural talent. Some of my most fond memories of high school are making unlikely friends in the last row of the viola section. Mrs. Hillyard was always such an amazing friend to me, and she taught me to believe in myself more so than any other teacher throughout all my years here. Out of all my classes and teachers, it will be the most difficult to let go of high school orchestra.
If you had to choose one moment in one location to serve as the signature moment of your East school experience, what would it be?
My signature moment of my East experience was the We The People national finals in Washington DC. It was without a doubt the most fun I have had all of high school. For the nine months of the Weeple season, I had become best friends with my unit-mates, and our time together in DC was my fondest memory of high school. It speaks to the countless opportunities which were offered to me by the high school that shaped my academics and myself as a whole.
What do you know now that you wish you'd known when you were younger?
I wish I had known the way that I would grow as a person, and that knowledge and confidence will flourish in the place of insecurity.
Who from East do you think you'll stay in touch with in the future?
I will without a doubt stay in touch with the girls that have been by my side since sixth grade or earlier. Jenna Dykstra, Grace Griemsman, Charlotte Tanner, and Lizzy Rose have been my greatest friends for years, and I know for a fact they will continue to be my greatest friends in the future. Besides the people that have been by my side since middle school, I hope to maintain my friendships with the people that I have met throughout high school. Drew Theut, Ben Levitt, Carly Krupp, Lily Montague, and Will Zinser, my Weeple unit mates, have become some of my favorite friends, and I would not be nearly the person I am today without them. Others such as Sophie Forstner, Acacia Walter-Rooks, Kiki Katsumata-Smith, Fritz Duncan, Sarah Whiteside, Max West, and Maddie Meader have made my high school years unforgettable. I hope to stay in touch with all of these people as we all go our separate ways.
What advice do you have for young East kids?
My advice for young kids at East is to know that the good experiences will outweigh the bad, and the bad experiences are essential to growth.
Want to read more Celebrating Our Seniors Virtual Cups of Coffee? Visit the page. And to help educate the next Pioneers during this crisis, contribute to One East.