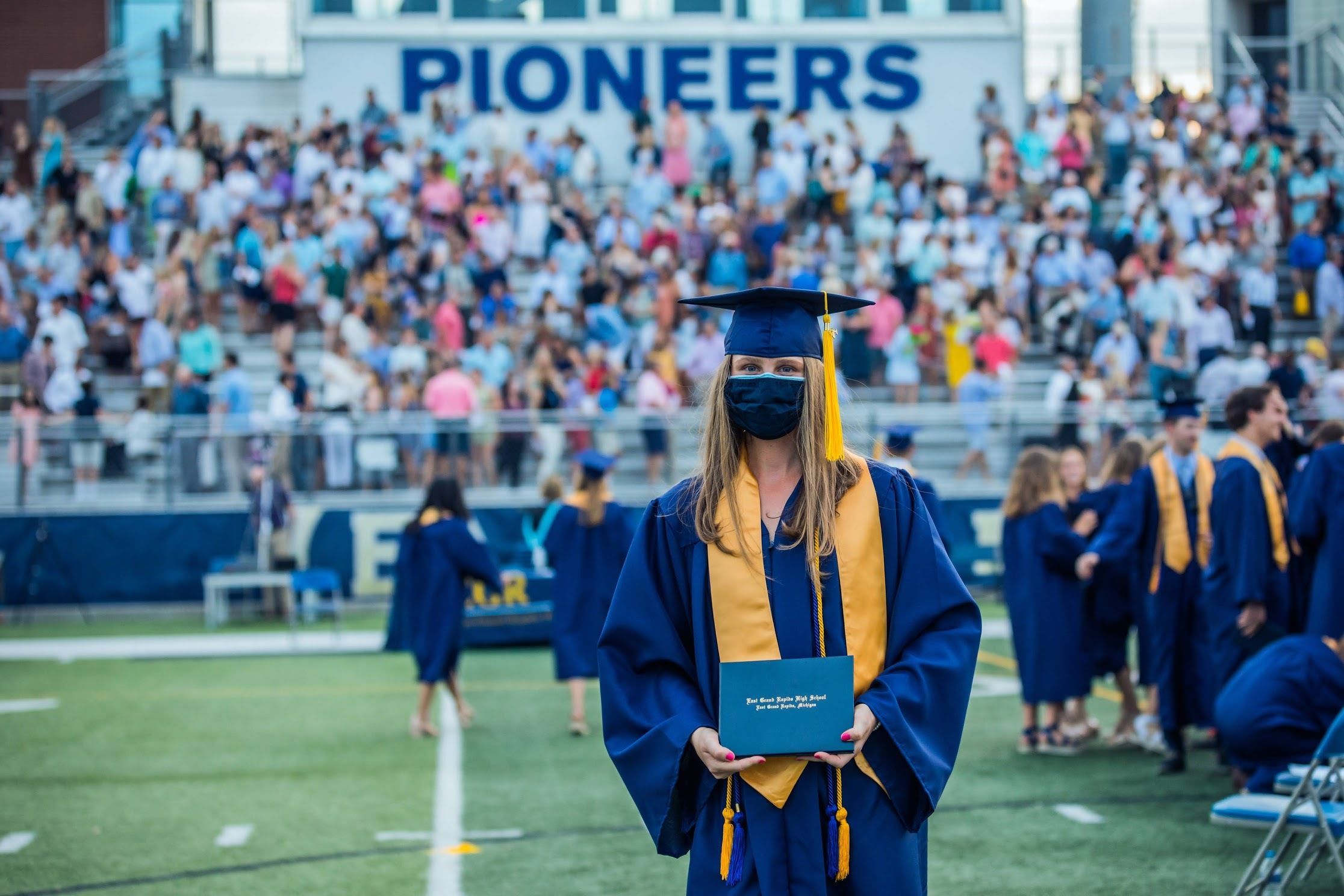 Years from now, when people look back at the 2020-2021 school year, there will be a lot of talk about what students missed out on in Michigan and around the country. Here in East Grand Rapids, however, most of the talk will be about what our schools were able to provide for our students.
A year of in-person instruction. A year of optional virtual learning. Complete seasons of all varsity sports. Full schedules of performing arts concerts and plays. And everything from parades in Halloween costumes at the elementary schools to graduation ceremonies in caps and gowns on Memorial Field.
In a challenging year, our schools rose to the challenge, and the East Grand Rapids Schools Foundation was there to help every step of the way.
When our schools were required to close for two weeks last March, no one knew how long the doors would be closed. Right away, though, the Foundation sprang into action. Days after the shutdown, the Foundation donated money to the district to purchase state-of-the-art robotic air sanitizing machines to make our schools safer. A week later, the machines were cleaning our school buildings and protecting our staff's health. 
As the spring went on, and the scale of the pandemic became clear, the Foundation created the Family Food Fund to help feed EGRPS families who rely on our schools to protect them from hunger. With businesses being decimated by the shutdown, the Foundation created Gaslight Giveback, an innovative way for our community to support local restaurants. 
Next came word that because of a massive projected reduction in state revenue our schools would be facing a deficit of $2.85 million. Numerous programs were in danger of being cut. One worst-case scenario had the district considering eliminating neighborhood-based elementary schools. 
Again, the Foundation led our community's response. As soon as those projections were released, One East was launched. One East was a community-wide, coordinated fundraising effort so every dollar raised by school entities during the summer would support programs in our district that were in danger of being cut. One East brought together organizations, students and families at all our schools to protect the East Grand Rapids Public Schools' Tradition of Excellence. 
Community involvement in One East was incredible. Students baked cakes. Alumni rallied their classmates. Parents created clever individual fundraisers, organized a massive yard sale at the middle school, and collected more than 100,000 returnable cans and bottles. In less than two months, One East raised nearly half a million dollars for our schools.
In August, when other districts in Michigan were telling their kids to stay home, EGRPS welcomed ours with open doors. Parents were given a choice between full in-person instruction, a hybrid option, or full virtual instruction taught either by EGRPS teachers or asynchronously through a third party. 
Again, the Foundation helped keep students safe. The robotic sanitizers cleaned the air. Previous grants allowed for outdoor classrooms and technology to help remote learners connect. The funds raised through One East allowed the district to restore programs, maintain others, and fund improvements that helped protect students and staff.
It didn't always go smoothly. There were outbreaks of COVID-19 among students and staff. People got sick. People were quarantined. And there were times when in-person instruction was suspended. 
But focusing on those interruptions risks missing out on the successes. Our teachers did an incredible job of teaching our students whether they were in person or online. Our staff and administrators did extraordinary work to keep our schools open and our students safe. And our students did a truly unbelievable job of masking up, following the rules, and rolling with whatever came their way. 
The result? We got through the year. Some people will remember the 2020-2021 school year for what was missed. We prefer to remember what happened. Of course there was adversity, but there's always going to be adversity. What's important is how you respond to it. The Foundation is proud of the part we played and of how our community responded. Thank you for your support!