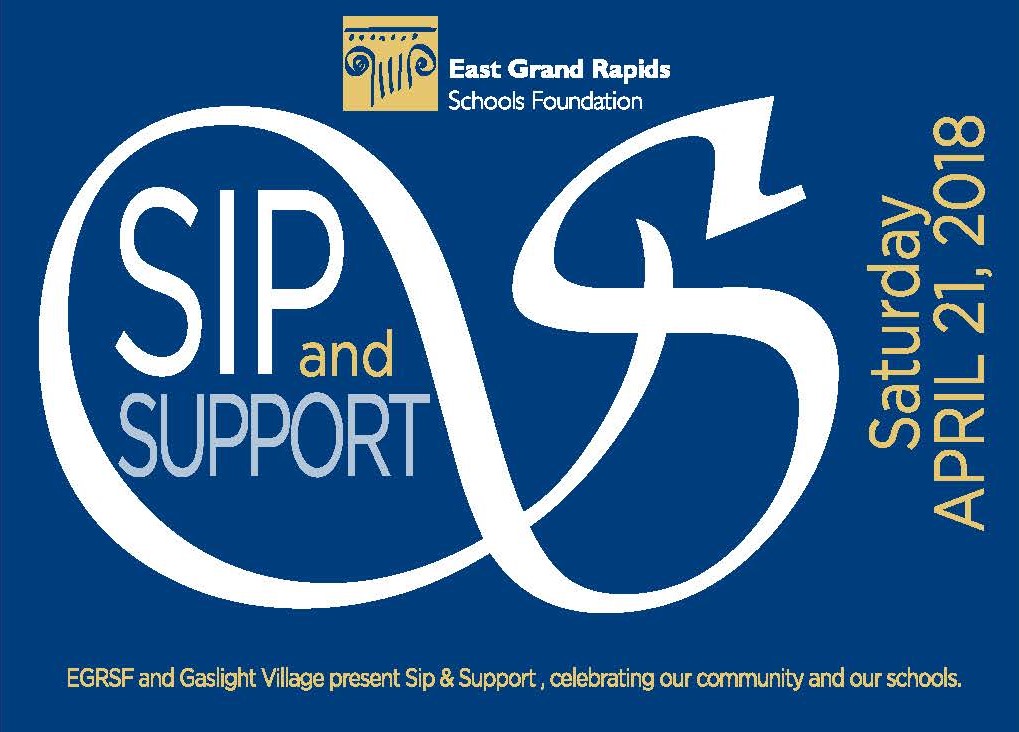 What comes after The Last Hurrah? Sip & Support.
Last year's spring fundraising event for the East Grand Rapids Schools Foundation was billed as The Last Hurrah!. After ten years of the annual party, and more than $400,000 raised to support vital programs in the school district, Foundation leadership decided it was time to reinvent the event.
This year's event, Sip & Support, will take place Saturday, April 21. Sip & Support is a celebration of the growing partnership between the Foundation, the school district, the city and Gaslight Village.
On April 21, everyone is encouraged to shop and eat in Gaslight Village to support our schools, as participating merchants and restaurants will be donating 20% of their sales for the day to the Foundation. Then, from 8-11pm, Sip & Support ticket holders will gather for a party at the Community Center featuring live music and a full top-shelf cash bar.
"One of the big things we learned from The Last Hurrah last spring was that people loved getting together with friends right in the heart of East," says Foundation Executive Director Amy Stuursma. "People were able to carpool, walk up or ride their bikes. We even had several people who joined us just because they were walking by and saw the party. I kept hearing from people who said how much fun it was to have a community event like this so close to home."
That's part of what prompted this year's collaboration with Gaslight Village, Stuursma says, but it's also an acknowledgement that our entire community--schools, businesses, residents and the city--are working together to ensure that our children have every educational opportunity we can provide for them. "For more than 30 years, the Foundation has been helping our schools preserve East's tradition of excellence in education," Stuursma says. "None of that would be possible without the generous support of our community members, including local businesses. We truly are all in this together."
Tickets to Sip & Support are $25. VIP sponsorships are also available at a variety of levels. Proceeds from the event will enable the Foundation to fund para-educators in kindergarten and first grade classrooms, management of the Performing Arts Center, world language, and other educational programs that help make our schools and our community so extraordinary.
Register for SIP & SUPPORT