EGRHS CLASS OF 1968 - 50th REUNION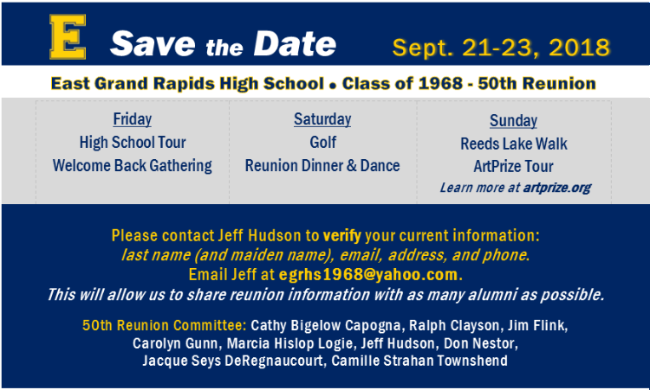 '68 Reunion Save the Date
Additional Reunion Information
Friday, Sept. 21: Welcome Back Gathering at Grand Rapids Yacht Club - 740 Lakeside Drive SE, Grand Rapids, MI 49506

Saturday, Sept. 22: Reunion Dinner and Dance at Boulder Creek - 5750 Brewer Ave. NE Belmont, MI 49306

ArtPrize - learn more at

artprize.org
Continue to check back for more reunion information.
Email Jeff Hudson to verify your current information: last name (and maiden name), email, address, and phone. 
This will allow the reunion committee to share reunion information with as many alumni as possible. 
PLEASE SHARE THIS INFORMATION WITH FELLOW CLASSMATES!
Missing Classmates - If you have current information on any of the below classmates please email Jeff Hudson.
| | | |
| --- | --- | --- |
| Craig A. Barnes | Pamela M. Hellwig | Sylvia H. Rosenkranz Gur |
| Barbara A. Blackburn Cooper | Thomas W. Hook | Virgil K. Russell |
| Sandra D. Boozer Virkus | Betsy F. Imrie | Sally I. Schroeder Mishra |
| Matthew S. Bryant | Rosemary Keil Irvine | Barbara S. Schuck |
| Martha T. Calkins | Nancy K. Kuiper Hancock | Wilson J. Scott |
| Candice A. Collings | Marsha M. Lacey | Mary J. Sears |
| Linda J. Creagan | Linda I. Leslie | Marilyn J. Smith |
| Janice S. Douglas Jacobson | Judy E. Logie | Rick C. Stanley |
| Michelle A. Ellis Robbins | Carol D. Miller | Ginnie K. Vander Wal Mears |
| Jerry P. Fitzgerald | Mary K. Molloy | James G. Veen |
| Kenneth D. Foster | Betsy A. Montgomery | Robert A. Vetvick |
| Ellen F. Freihofer Learned | Mary L. Muir Maentz | Diane M. Vujea Peters |
| Barbara L. Goosman | Deborah A. Mulvihill George | Mary B. Wah Blakey |
| Molly G. Graham Ellis | Stephen P. Nobel | Sandra Ann Warren Stedman |
| Candace E. Green | David H. Owen | Douglas E. Williams |
| Madelyn L. Green Paauwe | John D. Pickering | John E. Winkler |
| Diane E. Hall | Carol A. Prince Quillian | Linda S. Wisner Webb |