EGRHS CLASS OF 1989 - 30th REUNION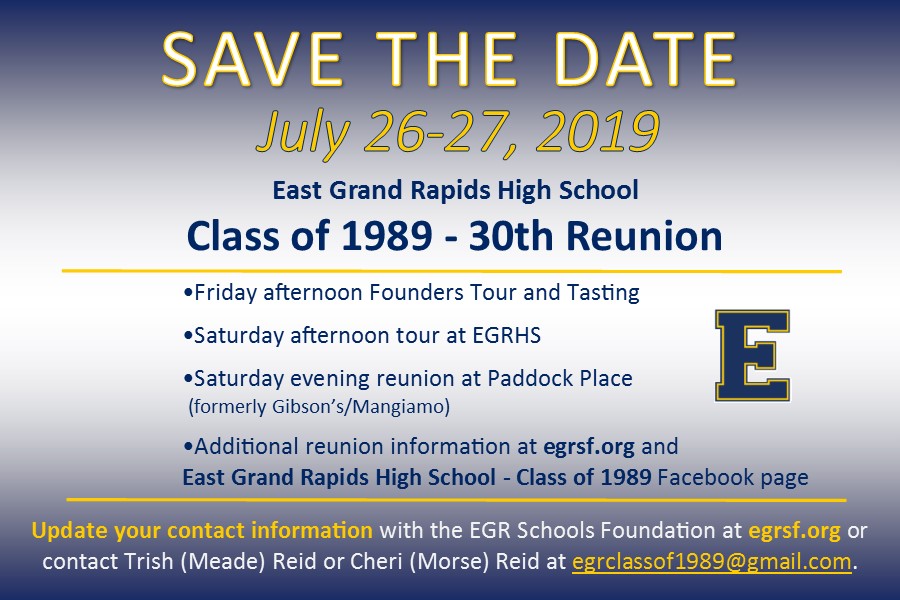 Please be sure you are a member of the Facebook page: East Grand Rapids High School - Class of 1989.
 
Please check below for a list of classmates we need help contacting!  Visit the EGR Schools Foundation Contact Us page to update your contact information.
 

Reunion ticket purchase is coming soon but sponsorships are available now! ​​​​​Reunion sponsorships will offset the cost of the event and any excess funds will be donated to the EGR Now & Forever campaign in honor of the the Class of 1989. Sponsorships levels are:

$100 Pioneer
$250 Kabookie
$500 (name your own level - a favorite teacher? your wonderful spouse? your first prom date?)
Other $______

All sponsorships will be acknowledged online and at the event. 

Please contact Cheri (Morse) Reid or Trish (Meade) Reid at egrclassof1989@gmail.com if you have sponsorship questions or would like to help with the event.

More information about registration to come.  Hope to see you all this summer!!


 
|   | Missing Classmates |   |
| --- | --- | --- |
| Patrick Brown | Lisa Hampel | Mike Nicklow |
| Scott Burba | Mark Heffron | Bonnie Ohland |
| Kris Cheney | Scott Hillary | Robert Patrick |
| Janel Chutter | Christina Houts | Jeff Porter |
| Stephen Corell | Keith Howse | Kapil Puri |
| William Davis | Brian Hudley | Heather Root |
| Mark DeRoseau | Adam Ishmael | Kirsten Topel |
| Rick Draper | Bob Jacobson | Wendy Uhl |
| Adrienne Fershee | Roger Kaiser | Wendy Umphrey |
| Theron Fisher | Jacob Knauf | Tina VanHoudt |
| Stephanie Foley | Rachel Meek | Laura Walls |
| Stephen Frye | Mickey Mikesell | Chris Webster |
| Michael Gallavin | Ryan Miller | Dan Wietecha |
| Robert Gardner | Andy Monique | Sarae Wilkie |
| Jean George |   |   |