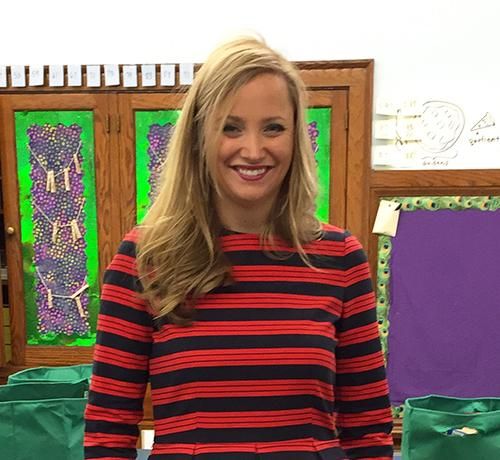 Erika Wozniak graduated from East in 2000. Since graduating from DePaul in 2004, she's been a Chicago Public Schools teacher. In 2016, Wozniak won the American Federation of Teachers "Everyday Hero" Award, a national teaching award that is given out every two years to honor outstanding teachers. Wozniak is co-creator, producer and host of The Girl Talk, a live talk show that tackles a new issue every month by listening to the women who are at the forefront of those movements and doing the work on the ground to make things better. She also proudly serves on the Chicago Votes board of directors and on the State Educator and Preparation Licensure Board for the Illinois State Board of Education. She has been a fierce advocate for fair funding and education equality for all students in Chicago and a dedicated public servant for the past fourteen years. She is also a firm believer in quality public education for public good. Wozniak resides in Chicago's Uptown neighborhood with her husband, Brian.
You can only have one: Rose's caramel corn, an ice cream cone from Jersey Junction, or a Yesterdog. Which do you choose?
An ice cream cone from Jersey Junction!
What was your path from East Grand Rapids to where you are now in life?
I graduated from East in 2000 and moved to Chicago and haven't left. My education in East Grand Rapids public schools has shaped me from the beginning. I quickly realized in my first year at DePaul University how privileged I was to receive the education that I did in East. I am grateful to the hardworking teachers and staff that took me under their wings and gave me the confidence to be who I unapologetically am today.
What specific thing did you learn in East that has enabled you to be successful?
Empathy. I was able to take that with me from the time that I started at Breton Downs when my best friend, Lauren Bok, demonstrated empathy and asked me to play when I was the new kid, from doing Cadet teaching at Lakeside with my own kindergarten teacher, and teaching at Safety Town for the rec department, to participating in Music Therapy with the students with autism with Mr. Webb and the empathy, patience and kindness my teachers showed me every step of the way.
What were you like in school?
Well, I was voted "Born to Be Wild" by my classmates senior year so I guess a bit over the top but looking back I think I was trying to figure myself out and how I fit in.
Did you have a favorite teacher or class?
Latin with Mr. Carnevale because I learned about language, the world, modern society, the dangers and effects that greed in leadership and power have on a society and most importantly how to THINK.
If you had to choose one moment in one location to serve as the signature moment of your East school experience, what would it be?
Being on Reeds Lake and being a part of starting the crew team with Mrs. Tuthill because I had no idea what I was doing but I was willing to give it a go for the greater good and that is very much how I live my life today.
What do you know now that you wish you'd known then?
I wish I would have been as kind and empathetic to myself as I was to others and to understand, as I do now, how imperative that kindness and empathy is to doing good work and doing it consistently and effectively.
Do you stay in touch with many people from East Grand Rapids?
My incredible parents (Donald and Diana Wozniak) still live there and when I come back to EGR I usually just want to hole up with them and relax and go to Rose's preferably because my life here in Chicago is so busy and often stressful that it is a time that I use to recuperate and rejuvenate. Lauren Bok is still one of my best friends and I stay in touch with my friend Abby Nagher. There are a lot of us here in Chicago so my paths will cross a fellow Pioneer from time to time.
What advice do you have for young East alums who are just starting out?
Lead with intention. Decide what you want your impact on the world to be and do everything you can to do that thing. Use your privilege, your education, who EGR has helped you become and make your impact however that looks to you and never lose sight of your intention along that path.
Who else would you like us to have a virtual cup of coffee with?
Alex Weiss.
Bonus question: What are you glad we didn't ask you about?
Politics.