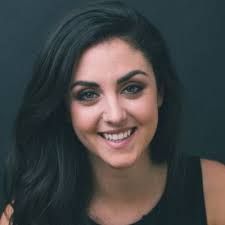 You know how you secretly want someone to explain Bitcoin and the blockchain and quantum computing to you in a way that makes sense to grown-up humans? Natalie Fratto '08 could do it. In fact, she did, in an article that appeared in Fortune and on Medium. (You can find that and more of her writing just by googling 'Natalie Fratto Medium' but read her profile first.) She's worked in management consulting and for startups, but her first job was at Jersey Junction. Now, she works in what she calls 'a mix of venture capital and tech banking.' Did I mention she's brilliant?
You can only have one: Rose's caramel corn, an ice cream cone from Jersey Junction, or a Yesterdog. Which do you choose?
I hope this doesn't sound blasphemous, but I don't really remember Rose's caramel corn at all. I'd love a couple ultradogs right now, but I'd have to opt for Jersey Junction because working there was my very first job. At 16, I spent the spring and summer scooping cones, and I'd walk over after school, usually with a few friends in tow. They'd eat ice cream, then loiter on the front porch for a few hours until I was done making hundreds of waffle cones in back. I swear I smelled like waffle cones for that entire summer.
What was your path from East Grand Rapids to where you are now in life?
I think everyone's path is a little random, if we're being honest. I went to Michigan because I loved the idea of a Big10 school, but also because about 40 of my classmates were too. My junior summer at UofM, I interned for a teeny two-person startup in LA where I caught the startup bug. I loved that experience, but the startup got bought by a bigger, very boring company only 9 months later, so I didn't want to go back and work there after graduating. The two guys I had worked for there coincidentally both had backgrounds in management consulting, and I loved the way that they thought and worked through problems, so I got my first job after school in management consulting on their advice.
I moved to Chicago and traveled basically every week. For the first year, I was working on a merger in the semiconductor industry in San Francisco, so I would fly from O'Hare to SF every single Monday and back every Thursday night. The work was fun and stimulating, but eventually I got sick of the 6-hour-plus commutes and left consulting after three years to hop back into startups.
I was very lucky that the next teeny startup I chose to work with only 2 other people for was accepted into Y-Combinator, a sort of mini-MBA for startups, so I had a lot of mentorship from other people who had done something similar before. Eventually the startup failed, but the experience of building something from the ground up was really challenging and rewarding.
Now I work on the other side of the table from early stage startups in a role that is a mix of venture capital and tech banking. I live in NYC and spend a lot of time in San Francisco. For the time being, I think NYC will be home for a long time to come, but who knows what the future holds!
What specific thing did you learn in East that has enabled you to be successful?
I really took the "tradition of excellence" motto to heart. In East, there is a feeling that everyone around you is capable of achieving anything, and the community - from teachers to parents to coaches - is very invested in creating a culture where students feel empowered to do big things. When I got to college, it was already very instilled in me that I absolutely could do anything I wanted, because everyone at home believed in us.
What were you like in school?
I was very into high school - hyper-involved, and tried to get exposed to all kinds of groups and experiences. I was Class President and Captain of the field hockey team and on the We The People constitutional debate team. It was important to me to get good grades, but probably even more important to keep a balance of going out with friends, playing sports (I was never very good) and experimenting with other extracurricular activities. I liked to be busy!
Did you have a favorite teacher or class?
Definitely We The People with Janice Yates. I actually don't remember if it was a class, or purely after-school but Mrs. Yates (who also taught AP World & US History and Government) is one of those teachers that I think everyone remembers fondly if they took a class with her. She pushed you hard and the classes were difficult, but I bet more than half of the students who were in We The People went on to study political science or law or government. It was path-altering to be in a program like Weeple (as we affectionately called it) because it was rigorous but also gave us exposure to State Senators, lawyers and other government officials. I'll never forget winning State Championships and our trip to DC for the National Championships. We placed 6th in the nation that year - very much because of her guidance.
If you had to choose one moment in one location to serve as the signature moment of your East school experience, what would it be?
I gave our high school commencement speech, which was a really cool moment, but honestly the things I remember most are Friday Night football games. It was so much fun to get dressed up for spirit themes and cheer for the football team with all of my friends. Cheering for East's football team definitely prepped me to be a good Michigan football fan (....or tailgater at least). I tell people all the time still that, "American Pie is based on my high school." It's the most quintessential American high school experience, and I'm really grateful for that.
What do you know now that you wish you'd known then?
I wish that I recognized then how lucky I was to be able to try out basically anything I wanted at East. In high school, you're in a mode of constant experimentation - a new sport, the school play, a hard class, a new team etc. Now, because so much of what I do is work, I have to go out of my way to try new things, but back then, everything was on the table to taste.
Do you stay in touch with many people from East Grand Rapids?
Yes! In fact, a few of us from my 2008 class are in the midst of planning our 10 year reunion right now for this fall. Funny story - since I was Class President and Max Mikelic was Student Body President, neither of us can remember who is supposed to be on the hook for planning class reunions, so we're both just doing it together since we both live in NY now (with the help of a few GR-based classmates!).
What advice do you have for young East alums who are just starting out?
Go for it. Whatever "it" is, go all in. You're more capable than you realize and you have an incredible support system at home.
Who else would you like us to have a virtual cup of coffee with?
Joe Carroll! He's still one of my very close friends in New York and also Class of 2008. We went to Michigan together and I've been so impressed by his career since then. He's been in 3 Broadway shows so far, and I think this is just the start. In high school, we would tease him with "I'll come see you on Broadway someday" and now look at him! I went to see him play drums with his band in a big New York venue a few weeks ago. Talk about making dreams come true.
Bonus question: What are you glad we didn't ask you about?
That one time that I took a theater class as a blowoff course...then forgot all my lines during dress rehearsal, said a swear word loudly, then walked offstage immediately. Perhaps that's why I never mustered the courage to try out for a real school play.