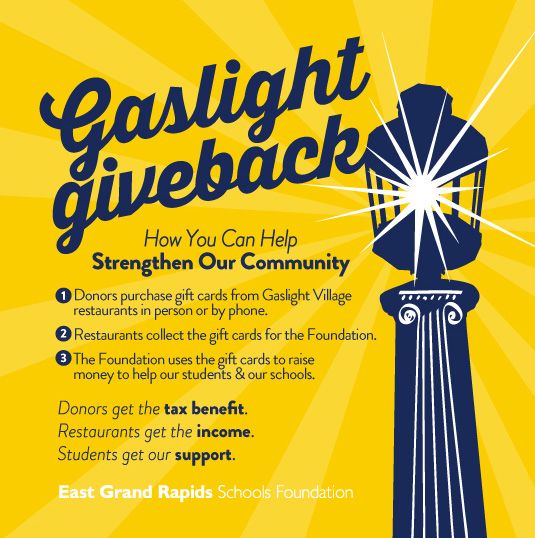 To help local businesses, we're introducing a program called Gaslight Giveback that's a win-win-win for East. 
Here's how it works:
Donors purchase gift cards now from local restaurants in person or by phone.
Restaurants collect the gift cards for the Foundation.
The Foundation uses the gift cards later this summer or in the fall to raise money to help our students and our schools.
Everyone wins with this program. Donors get the tax benefit from donating to the Foundation. Businesses get the income from the gift card purchases now to help them survive these trying times. And the Foundation can use the gift cards later as auction items or raffle prizes to help raise money to help meet future needs of our schools. 
Here's a list of local businesses that have elected to be part of our Gaslight Giveback program:
Big Bob's Pizza
Crazy Charlie's
Foo Yen
Jose Babushka's
Kilwin's
Wok and Mortar