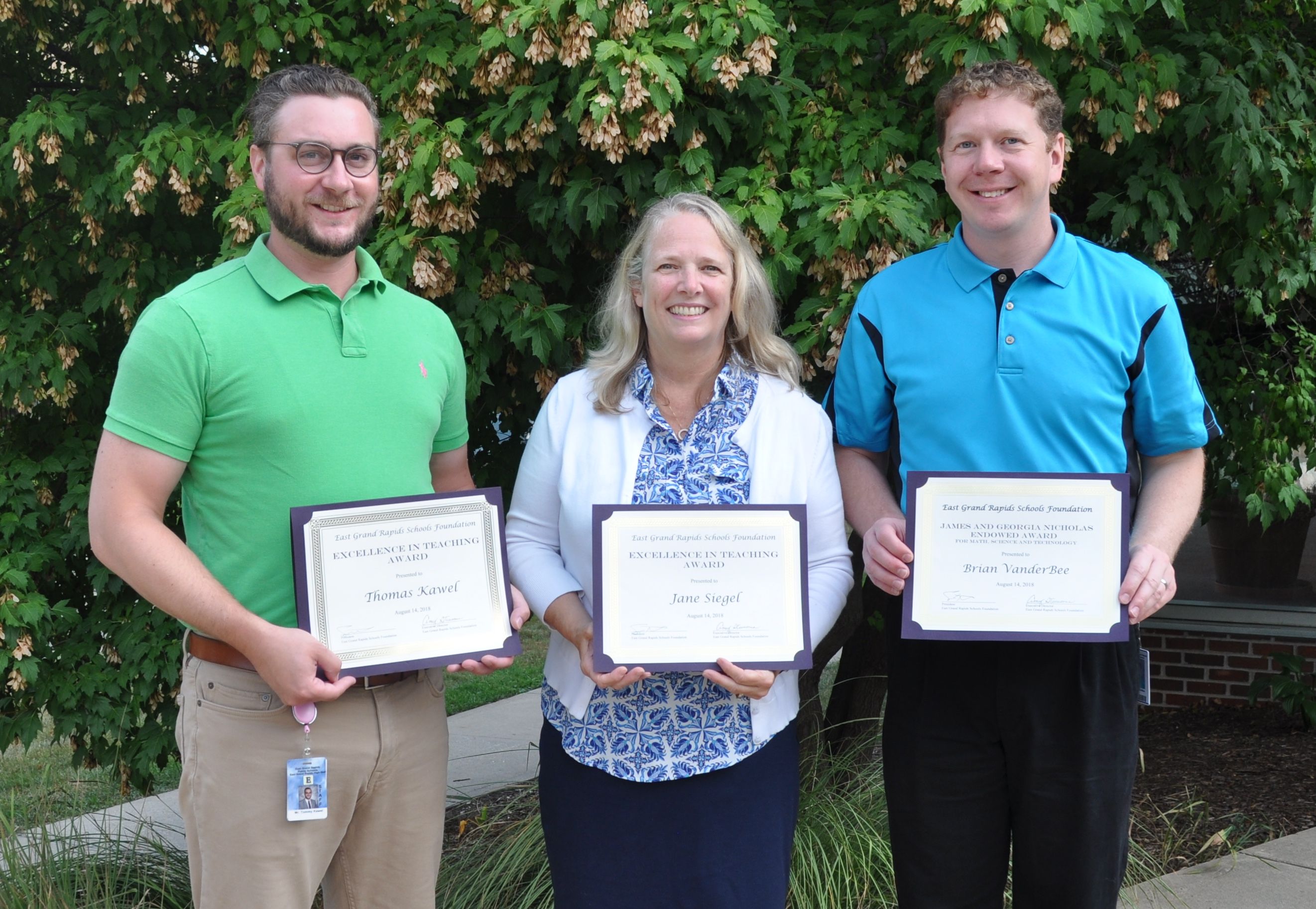 Choosing individuals to recognize from among all of East Grand Rapids Public Schools outstanding faculty members is always difficult. But at the annual all-staff opening day celebration of the new school year in August, the Foundation took on that near-impossible task by naming the winners of this year's Excellence in Teaching Awards and the James and Georgia Nicholas Endowed Award.
Every year, the Excellence in Teaching Awards are given to one elementary teacher and one secondary (middle school or high school) teacher who have been recognized for their outstanding service to our students and our schools. The purpose of this annual award is to recognize and encourage superior professional effort, to improve instruction and to cultivate the continuance of educational excellence in the East Grand Rapids Public Schools. The award is a monetary gift of $1,000.
This year's Excellence in Teaching Award winners are Jane Siegel, who recently retired as a kindergarten teacher at Wealthy Elementary, and East Grand Rapids High School English teacher Thomas Kawel.
In her nomination, Siegel's colleagues describe her as "a leader in her field, inspiring, a go-to gal, a pilot for many initiatives, passionate and admirable, our guide." Parents describe her as "engaging, nurturing, hard-working, tireless, an expert in her craft. Her classroom is the perfect introduction to learning. Parents know that if their children get her as a teacher, they have hit the jackpot."
Parents described Kawel as "an amazing teacher inside and out of the classroom.  He engages and exposes his students to a wide variety of learning experiences and material. He is passionate about teaching and the greater world, using his knowledge to teach his students to think beyond themselves and question the world around them. He meets daily with students after school to listen to them and further their understanding of the content. He is a true cheerleader for young adults who have varied levels of success in his subject area. He is a master at embracing and encouraging each students to find their strengths and lead them in building upon those strengths."
The James and Georgia Nicholas Endowed Award was created to recognize excellence in the teaching of math, science or technology. The award is a monetary gift of $1,500.
This year's winner of the Nicholas Award is East Grand Rapids High School math teacher Brian VanderBee. One student wrote of VanderBee, "What makes this teacher amazing is that he is dedicated to teaching math to EVERY student, no matter if the student is a math fanatic or someone who dreads the subject each and every day. He commits himself to providing the right materials for each individual student every day. He may be quiet at first, but he easily opens up to each student and the class because he is genuinely passionate about the material. He is dedicated to constantly improving his teaching style and accommodating every student along the way."  
Anyone can nominate a deserving teacher for either the Excellence in Teaching or James and Georgia Nicholas Endowed Award. Nominations for next year's awards are due May 4.