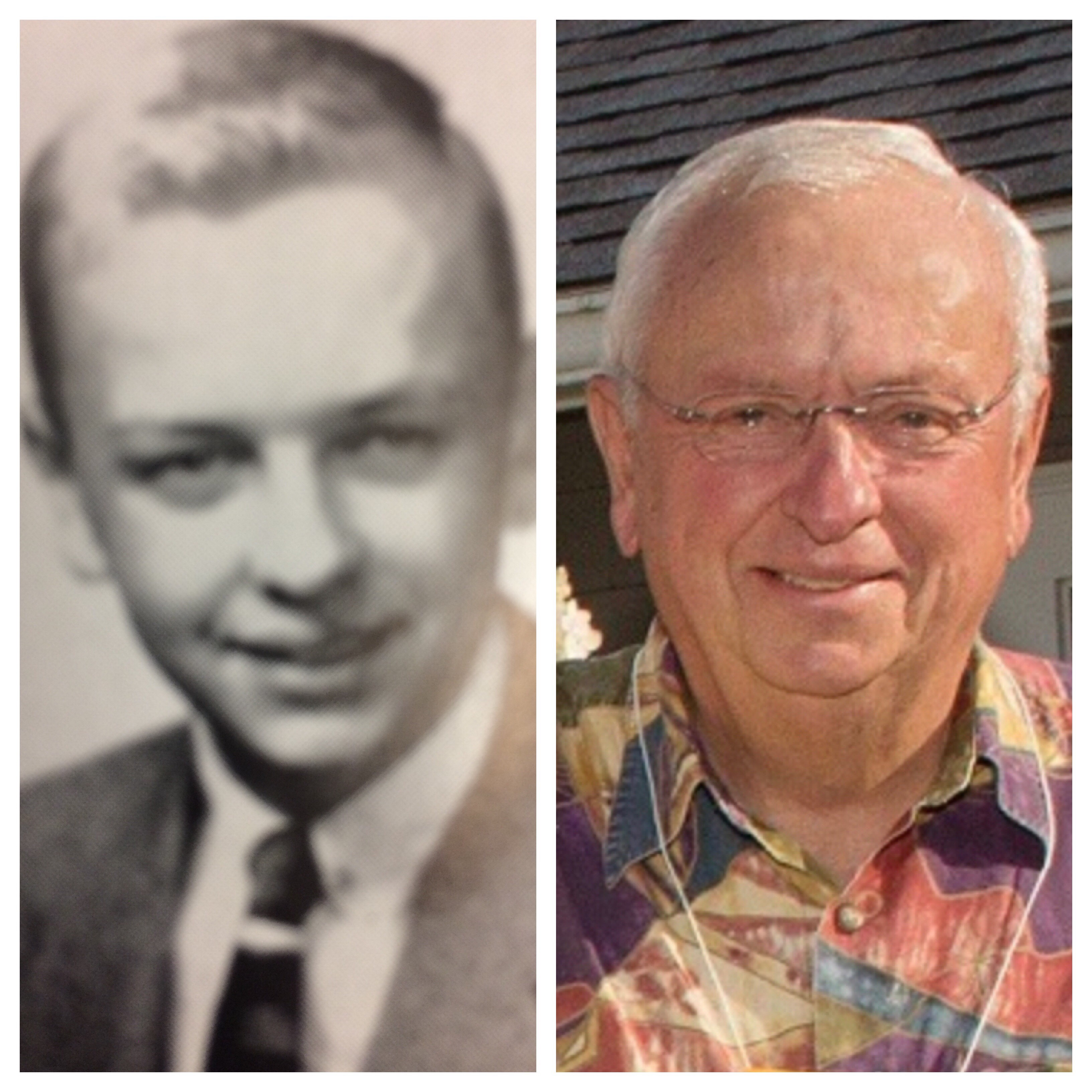 Ren Brander is a terrific storyteller. His life story touches upon some of the most interesting times and changes of the last 60 years. Read what he has to say:
"Before we get started, please understand East Grand Rapids schools were arranged differently in the years before 1955, the year we graduated. There was a lovely stone farmhouse that sat just east of what is now Wealthy elementary school. That served as our kindergarten in 1942. What are now the condominiums on Wealthy Street (that look like a school) housed Grades 1-6. Grades 7-12 were in what is now the elementary school. Also, there was the elementary at Breton, grades 1-6. The kids from Breton joined us in the 7th grade. Also Ramona Park was still operational and the Ramona boat still rounded Reeds Lake endlessly in the summer."
You can only have one: Rose's caramel corn, an ice cream cone from Jersey Junction, or a Yesterdog. Which do you choose?
None of the above. In the 50's, those places did not exist. Bud Rose was there, not selling caramel corn, but rather swimming lessons. There was a small narrow restaurant on Wealthy (where Rose's take out is located) that sold the best hamburgers in town. And my Mom's picnic lunch, taken to the Ramona boat where for a dime you could circle the lake as long as you wanted while listening to the player piano on the top deck.
Before getting to question # 2, I must tell you a story about an adventure my friend and classmate Ray Becker and I shared in the summer of 1954. Ray and I were seventeen and for reasons that still baffle me, our parents allowed us to take the Beckers' Nash Rambler convertible on a trip to the west coast. We caught up with Route 66 just outside St. Louis and for 3 weeks we went west, and then east visiting Mesa Verde, Grand Canyon, Kings Canyon, Yosemite (through the back way, on the Tioga Mine Road), San Francisco, Crater Lake, Columbia River Valley, Grand Tetons, Yellowstone, Black Hills and all the places in between. Throwing out sleeping bags and sleeping under the stars. This experience instilled in us confidence, independence, and a taste for travel and adventure.
What was your path from East Grand Rapids to where you are now in life?
1) We graduated in 1955, and that summer, Ray and I had another adventure in the West, but that is another story. Ray went off to Dartmouth and I enrolled in Calvin College, at the old campus on Franklin Street. My parents were of modest means and living at home made college possible. In that school's environment, I was unhappy and applied and was accepted to the University of Michigan. In those days the cost of college was reasonable (tuition $150 a semester) and I discovered that it was possible to attend school away from home and support myself. I could earn and save about $700-800 in the summer and working meal jobs and other employment (men's stores, engineering library) could survive, have some spending money, drink some beer and have a lovely time, graduating just a little late in January of 1960. In December of 1959, I applied for and was accepted into the U.S Navy Officer Candidate Program and went off to Newport, RI.
Upon graduation in June, I was assigned to the USS Koiner (DER 331) stationed on Treasure Island, San Francisco, and began serving in the Operations Department, first as the CIC officer and later as the Communications Officer. Having San Francisco as home base in 1960-63 was great for this was where the action was. The "Beat Generation" was in full flower. The clubs on Broadway were eye openers for a kid from Grand Rapids. The whole city and its environs were a feast for the senses.
Attending many Navy schools in San Diego greatly spiced up my career in the military, especially during the Cuban missile crisis in October 1962. Because I was in Communications Officers school and had a top secret cryptographic clearance, I was pressed into service as a message courier. Transporting messages from Headquarters to the Navy ships in the harbor. For a day or two Marines were transported down Highway 1 (the road was closed to other traffic) and loaded on board these ships. As you might expect, tensions were running high at the Naval Base as preparations were made for the Cuban blockade.
After working all night Friday, on Saturday morning at the University of San Diego I took the Law School admissions exam. Subsequently, I was admitted to the University of California (Hastings) and the University of Washington. After discharge from the Navy, I returned to the midwest and decided I was a midwesterner at heart. After applying for law school at Wayne State, I was accepted, and graduated three years later. In Grand Rapids, I went to work for the Kent County prosecutor and tried many criminal cases before going to work for an insurance defense firm, leaving in 1997 to start a firm handling asbestos cases for a couple of manufacturers statewide. Then I retired.
What specific thing did you learn in East that has enabled you to be successful?
East made it all happen. It was a wonderful education taught by exceptional teachers. I think we always felt safe, well cared for, well treated and fortunate to be in this system. East taught us the importance of education, the value of higher education and what that could do to improve our lives. Our class was 93 and only about three or four did not go on to college.
What were you like in school?
I was neither an athlete nor a scholar, but I was friends of both those that were and those that were not. I was quiet and friendly and tried to be fair with everybody. I tried to be helpful and contribute to the class and school in some way.
Did you have a favorite teacher or class?
I was neither a great student nor a teacher's pet but looking back I respect all the teaching staff for their dedication to students' welfare. My hero is Principal Mel Bushman, who so successfully made East Grand Rapids great during this period.
If you had to choose one moment in one location to serve as the signature moment of your East school experience, what would it be?
I don't have one of those. But I am still haunted by the memory of being on the JV basketball team in a game at Hastings when I tipped a ball into the wrong basket and scored two points for the opposition.
What do you know now that you wish you'd known then?
I have always thought it important to be honest, truthful, fair and humble. Now I understand the importance of being civil. I don't remember being uncivil, but I know now, in our current environment, we seem to have lost this attribute.
Do you stay in touch with many people from East Grand Rapids?
I do stay in touch. I maintain the class contacts list and am sort of the go-to guy in Grand Rapids.
What advice do you have for young East alums who are just starting out?
With social media it is easy to stay in touch with your classmates. Make it a point to do so. Be honest, with yourself and others. Stay true to your friends, family, and your community. Work hard, have fun, travel often, and give back your time and if possible your resources.
Who else would you like us to have a virtual cup of coffee with?
Besides Einstein and Picasso, I would love to share a cup with any of my classmates. Doris Cole, Ray Becker, Dave Berles, Glen Young, Alice Dodgson, George Damoose, Dick Klinkner, Phil Chamberlain, Jim McColl and Dave Leavenworth come to mind, and 40-50 others.
Bonus question: What are you glad we didn't ask you about?
Did you ever spend time in jail?