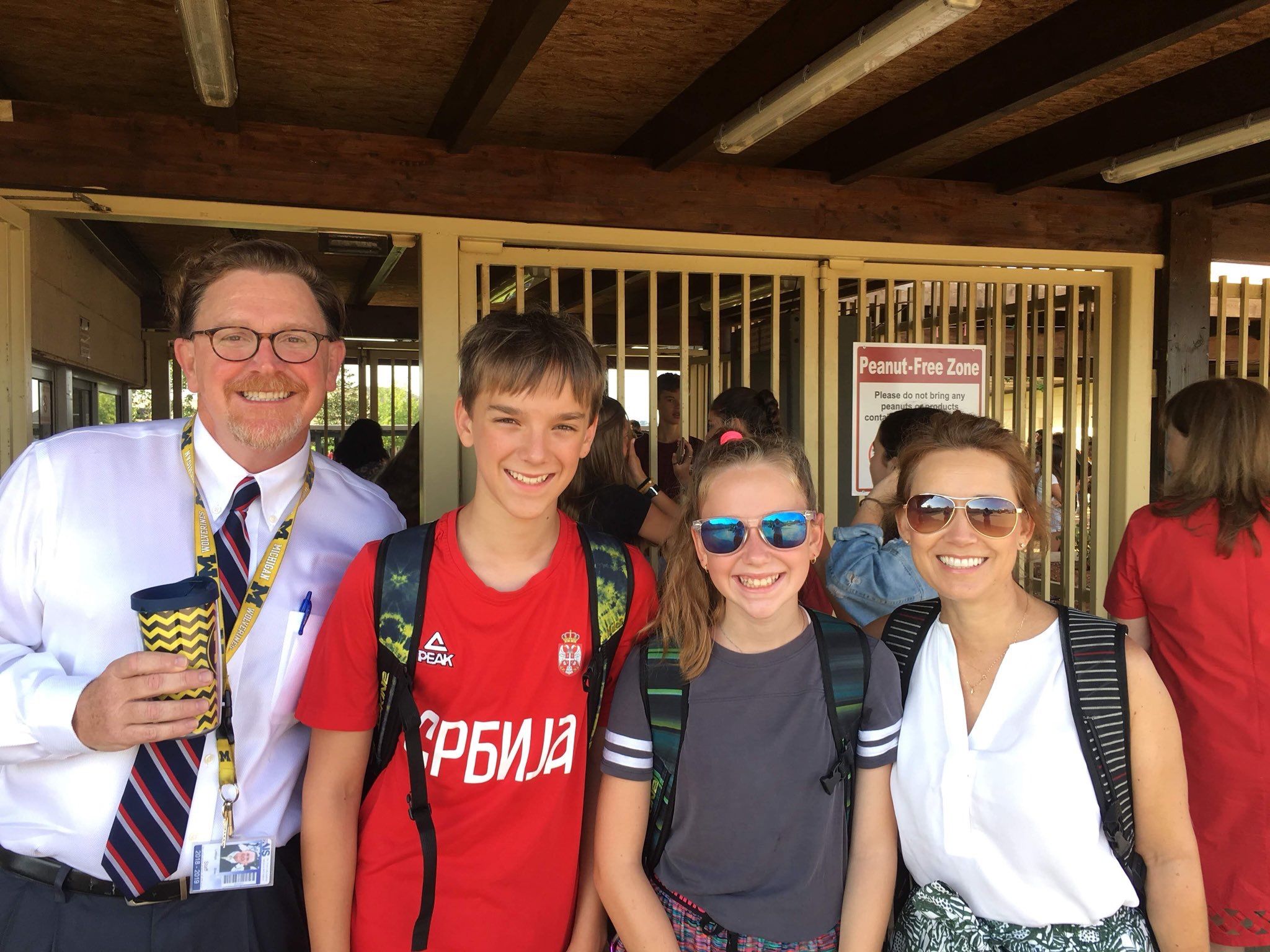 Brian Lettinga '87 is the current Middle School Principal at the Walworth Barbour American International School (WBAIS), located in Tel Aviv, Israel.  Brian has lived overseas for the past twenty-three years. Posts include grade four teacher, grade five teacher, Elementary School Principal (PYP), IB Diploma Coordinator (DP), Upper School Principal (MYP/DP), and Middle School Principal. Brian is married to Annalisa Paulson Lettinga and has two children, grade seven and grade nine. Brian spends his summers in Traverse City. 
You can only have one: Rose's caramel corn, an ice cream cone from Jersey Junction, or a Yesterdog. Which do you choose?
Tough one for my generation. Roses was a real gem back in the 80's. Screen doors, Bud Rose smoking behind the counter at the griddle, and a super crooked porch on the back. But, I  will go with four Cheddar Dogs, no mustard and double pickles, please, and a bag of BBQ chips. Corner booth in the back or the standing bench at the mirror just as you walk in.
What was your path from East Grand Rapids to where you are now in life?
Mmmm...interesting, to say the least. My parents were both teachers, so I glean my path from them. After EGR I headed to WMU in Kalamazoo to Aquinas college via Taiwan and the USSR. I spent some time studying politics in the former USSR via my time at Western and ended up traveling to Taiwan to visit my wife's dad, an international teacher at the time. We traveled Taiwan on a motor scooter for a while and then ended up back in GR for graduate school at Aquinas for teaching. I guess that is where we fell in love with international travel.  
Then on to the Island of Saipan, Northern Marianas Islands in 1995. Then to Venezuela, then Kenya, then back to Venezuela, then Serbia, and now Israel. We spent the last 7 years in Serbia where I served at the ES principal of an IBO World School and my wife as DP maths teacher. Life as an international teacher has so many benefits! My family currently lives in Tel Aviv where I am the MS Principal at an international school. My wife is a math teacher in our MS as well. I married my best friend from college, Anna Paulson, an amazing woman from Cadillac, MI. Our kids are what the world calls Third Culture Kids, knowing and growing up abroad. Both born while we were living in Kenya yet never living full-time in the states. Home base in the summertime is now Traverse City. We haven't lived full-time in the MI for twenty-three years now. You can follow me here if you care to do so: @ISBLSPrincial via Twitter. 
What specific thing did you learn in East that has enabled you to be successful? 
I learned a lot about making and keeping connections and always trying for your best. 
What were you like in school?
Depends on where you look. Freshman year, pretty reserved and by the time I graduated pretty outspoken and outgoing. Fairly engaged in school but found sports and friends far more interesting at the time. EGR is a hard place to find a niche. Knowing that it is hard to be an introvert, EGR can be tough for many. 
Did you have a favorite teacher or class?
Probably more memorable, not so much favorite classes--Bar, Zy, Ed Semyn, Heir Partin, Kemper, Mrs. Ford, Mr. Nestor, Grahmbo, Zim, Coach Albro--the usual suspects from the late 80's.
If you had to choose one moment in one location to serve as the signature moment of your East school experience, what would it be?
Not sure of one, so I'll pass on specifics. But many, many signature fun times. Playing football under the lights at Memorial Field with Bar at the helm and Jimmy Gerken chatting us up on the sideline certainly places in the top three experiences! 
What do you know now that you wish you'd known then?
I wish I had the mindset to get things done the way I now know they should have been done.
Do you stay in touch with many people from East Grand Rapids?
Well, many. Another great aspect of the EGR friendship tree. I see a lot of friends from EGR every time I am in the states. We have a home now in TC so we get together there or in EGR. The James Hale Memorial was a great way to see our crew for many years.
What advice do you have for young East alums who are just starting out?
I suggest they stay in touch with their friends as much as possible. We just passed my 30th reunion date and I know so, so many still. While I could not attend, I still have contact with many.  Keeping up with friendships is important and it takes time and effort. I would also suggest that young alums get out and see the world first hand. Travel, travel, and more travel. EGR is a pretty comfy place, and if you do not venture out, you might just find yourself there when you're older, which is amazing and the world is amazing, too.  
Who else would you like us to have a virtual cup of coffee with?
Perhaps Tony and Gwen Barnes, Randy Lovell, Pete Stuursma, Mark Bernecker, Greg Conway, Becky Lowry, Pam Pranger, Jerre Coretti, Jenny Spindle, Jason Bell, Christian Trost. These are a few of the friends I still keep in touch with one way or another, and yes, they cross a few years below, but hey, that's EGR. The above bunch have some great stories to tell, and a few that I have lost touch with: Jeff Hoekman, Wendy Weiss, Steve Rogee, Pat Steers...
Bonus question: What are you glad we didn't ask you about?
If liquid lunches were a real thing. And, "Did you ever make StreetBeat?"