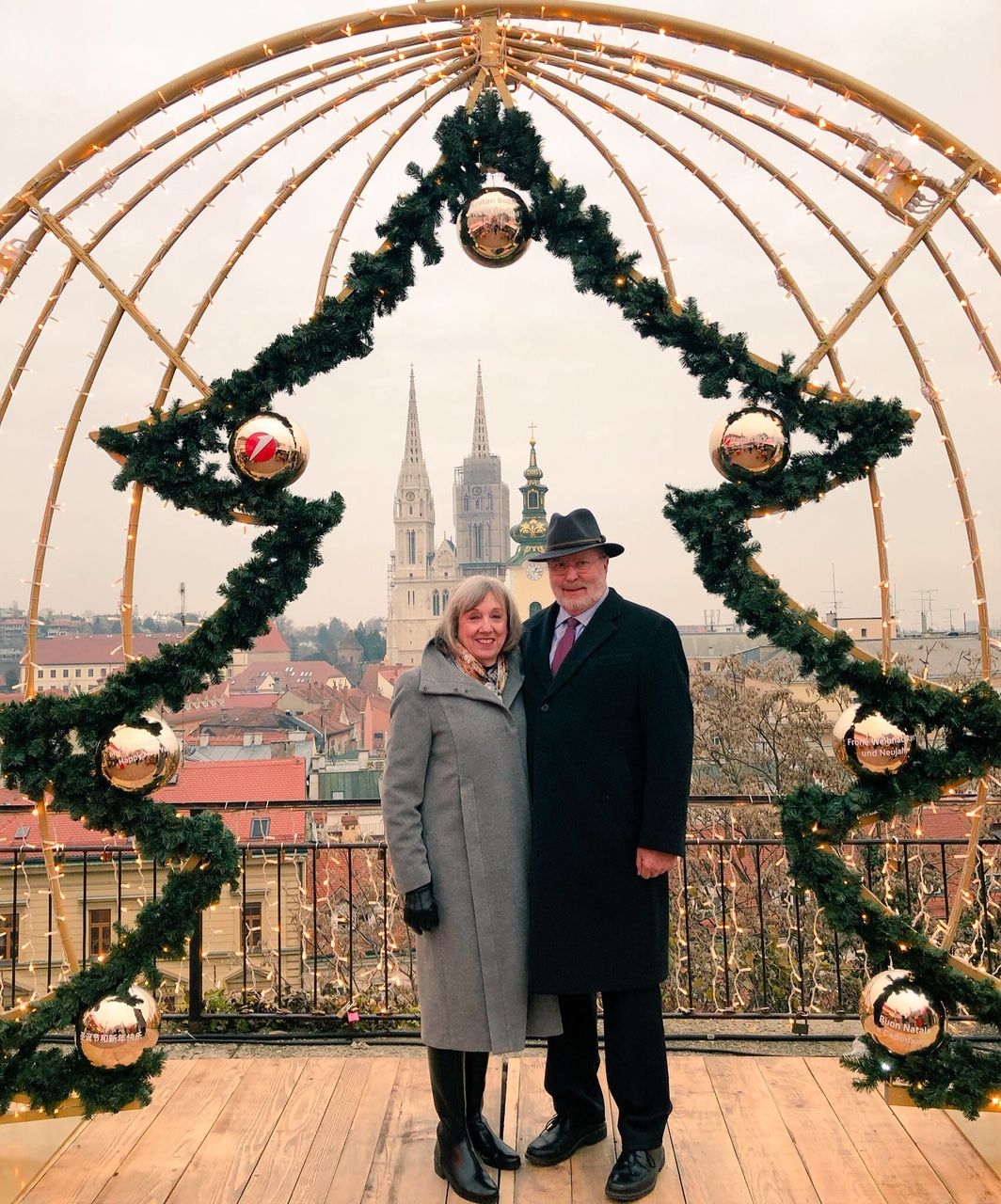 Shelley Allen '69 is married to the U.S. Ambassador to Croatia, but that's not the whole story. We'll let Shelley tell you the rest: "For the last 40 years I have lived in Pasadena, CA, with my husband, Bob Kohorst, and our two sons, Kevin (34) and Matt (30).  Our oldest son, Kevin, is married to Kate and they have given us two grandchildren, William (5) and Charlotte (3). I met Bob when he was clerking for Judge Albert Engel in the 6th Circuit Court of Appeals and I was teaching in the Business and Industrial program for Grand Rapids Public Schools Community Education program. I thought you had to join the United States Navy to see the world, but all I had to do was meet Bob and the rest was history. We have traveled the world courtesy of his jobs and our membership in YPO and CEO and are now living in Zagreb, Croatia, where he has been the United States Ambassador to Croatia since January 2018."
You can only have one: Rose's caramel corn, an ice cream cone from Jersey Junction, or a Yesterdog. Which do you choose?
I have fond memories of ice skating at Rose's and the smell of caramel corn, which was not my favorite. Bob almost missed our wedding because his "ride" to the wedding thought it would be a good idea to have a Yesterdog as road food on the way. And who can resist Jersey Junction's ice cream? But I would have to say Rose's because I like the atmosphere now and my memories of the skating.
What was your path from East Grand Rapids to where you are now in life?
I graduated from Central Michigan University with a B.S. in Education, but wasn't sure I really wanted to teach. Jobs were hard to come by at the time so I substituted for about a year, including a few times at Lakeside, much to the chagrin of my younger brothers who were attending Lakeside.   Fortunately, my sister's close friend from EGR, Mary Jean Maccardini, introduced me to her mother, who ran a program for Grand Rapids Schools at Ottawa High School and from there I joined the Business & Industrial Program where we taught in factories like General Motors, Steelcase, Wolverine Brass, Kelvinator and more. Once we moved to California I chose not to teach and went to work in business. My last paid job was office manager for Ernst & Whinney's Los Angeles office. I left E&W to finish remodeling our house and take care of our children as we figured I could save us more money doing that than working. Once the boys entered school full-time I volunteered at their schools, served on the Board of Trustees of their schools, and joined some local charity groups. In 1990, I helped Bob start his real estate investment company, Everest Properties, which invests in apartment properties, mini-warehouse storage, and securities. When Bob was appointed ambassador, he resigned from Everest and our sons now run the companies. They assure us everything is going well, but we have yet to see a financial statement from them.
What specific thing did you learn in East that has enabled you to be successful?
To work hard and be prepared. EGR gave me a great education.
What were you like in school?
Quiet, curious, and involved.
Did you have a favorite teacher or class?
I remember so many teachers and classes. I think Mr. Hachmuth's Geometry class was a standout class for me; however, I cannot forget being one of two girls in Mr. Alguirre's class (Kris Krug was the other girl).  He liked to have us go to the chalkboard and solve a problem in front of the whole class. You always hoped it was the one you had solved for the homework. You had to stay there until you got the right answer! I also enjoyed my history classes with Mrs. Robinson.
If you had to choose one moment in one location to serve as the signature moment of your East school experience, what would it be?
Having the University of Michigan come to our school and tell you on the spot if you were accepted was incredible. I think this is probably not legal anymore. Of course, I turned them down late in the game because I needed more money for school and CMU offered more.
What do you know now that you wish you'd known then?
Everyone was worried about school and had the same angst.
Do you stay in touch with many people from East Grand Rapids?
Not really, as I have been gone for so long and haven't attended many reunions. I was reluctant to go to our 45th reunion, but I had a great time. I wish more people had been able to attend and hope to see more of our class at the 50th reunion this year.
What advice do you have for young East alums who are just starting out?
My husband and I sat down a few years ago to put our priorities into words so I am going to include a few of them: Above all, always enjoy time with family and friends. Minimize voluntary grief. Be kind. Be generous and give back to the community with money and time. I also learned that you should always ask, the worst someone can say is no.
Who else would you like us to have a virtual cup of coffee with?
Too many to name.
Bonus question: What are you glad we didn't ask you about?
You will never know….