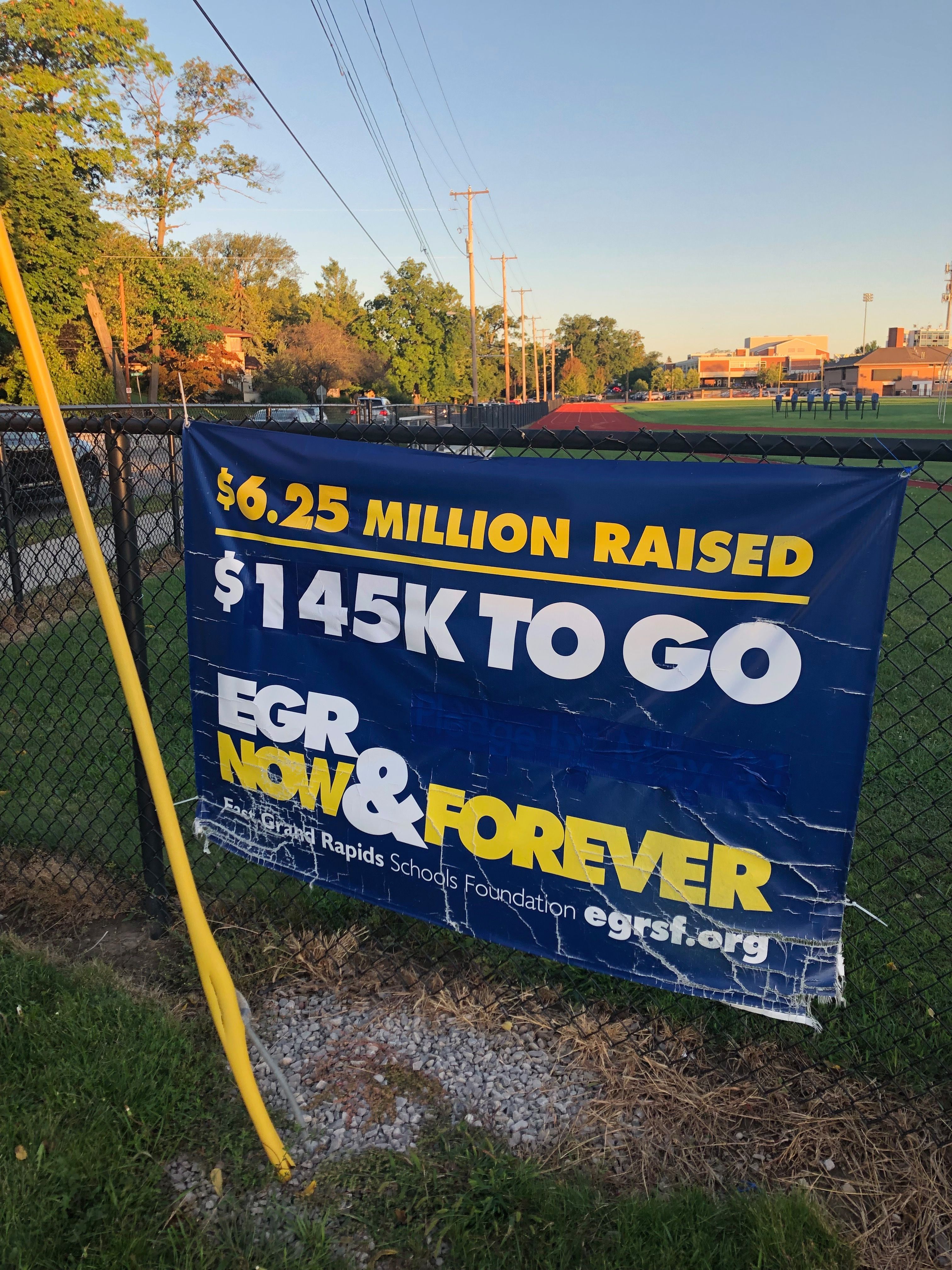 JOIN YOUR NEIGHBORS IN MAKING YOUR PLEDGE TODAY!
Just like the updated banner at the track, the East Grand Rapids Schools Foundation's historic Now&Forever campaign is near the finish line.  
Now&Forever will build the Foundation's endowment from $4 million to $12 million so the investment earnings will preserve vital school programs and expand East Grand Rapids Public Schools' educational offerings for generations to come. Once the goal is met, the endowment should generate approximately $600,000 each year to support our students and our schools.
"This is an innovative effort," says Foundation Executive Director Amy Stuursma. "Thirty-five years ago, our Foundation was one of the first in Michigan dedicated to a public school district. Now we're the first to lean on the endowment-funded model. It's never been done in Michigan at this level for significant, sustainable funding. We're leading the way. We're pioneers."
It's a big change. For seven years, the Foundation's annual EGRNOW! campaign raised hundreds of thousands of dollars every spring to save programs such as elementary gym, art, and music, along with the World Language program, elementary para-educators to teach early literacy, and the management of our beloved Performing Arts Center. Those programs might otherwise have been eliminated because of state budget cuts.
By growing the endowment with Now&Forever, donors to the Foundation will protect those programs--and continue to add to our educational offerings--this year, next year, and far into the future, without dipping into the principal that generates the income.
This school year alone, the Foundation will contribute $328,000 to our schools. Over the course of a child's time at East schools, the Foundation will contribute more than $3.5 million to his or her education.
The great news is that thanks to more than 800 families who have already made pledges to Now&Forever, the goal for the three-year pledge portion of the campaign is within reach. "We've raised more than $6.3 million of the $6.4 million goal," Stuursma says. "That means we're more than 98 percent of the way there. We're only $99,000 away from raising what we need in the immediate future to ensure our schools continue to offer the extraordinary education our families expect and our children deserve.
"With our target in sight, we need everyone, with a shared commitment, to pledge what we can. Together, we can make sure our schools remain a source of pride at the heart of our East Grand Rapids community."
To make a three-year pledge of your own, visit the Now&Forever donation page.