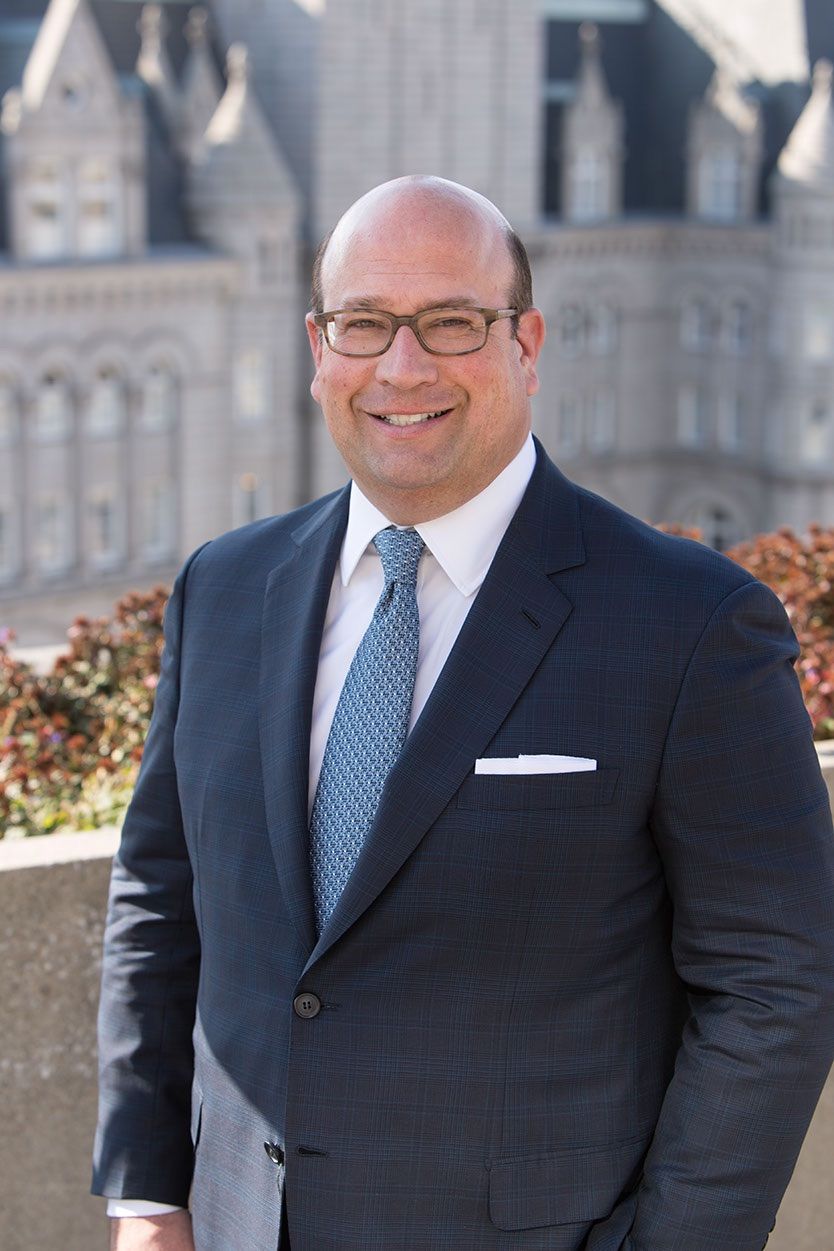 "A Virtual Cup of Coffee with…" Charlie Spies '91
Charlie Spies, now a Member at Dickinson Wright PLLC in Washington DC,  provides political law counsel to national political organizations and campaigns, having served as election law counsel to the Republican National Committee, then CFO and Counsel for Mitt Romney's 2008 campaign for president. He co-founded Restore Our Future, the largest conservative super PAC in history, and then Right to Rise USA (supporting Jeb Bush) in the 2016 election cycle. He frequently speaks on political and election law issues on Fox News, CNN, Fox Business Network and other national television and radio. He's a graduate of the University of Michigan and Georgetown University Law Center, and has been married to his wife Lisa for almost sixteen years.
You can only have one: Rose's caramel corn, an ice cream cone from Jersey Junction, or a Yesterdog. Which do you choose?
Let's go with Yesterdog with a Rose's caramel corn chaser. But I love all three of the traditions and with the proliferation of chains, it's great that each is local and has endured.
What was your path from East Grand Rapids to where you are now in life?
My law practice in Washington DC is representing politicians, as well as corporations and individuals that engage in the political process, and growing up in EGR gave me unique political opportunities, starting with my going as a 4 year old (I don't remember, but have a picture to prove it) to see President Ford vote in his hometown precinct, and later, while in high school volunteering on Congressman Paul Henry's campaign (with his daughter as one of my debate partners). I also volunteered on Ronna Romney's US Senate campaign when I was in college and have fond memories of her campaigning in Gaslight Village. At a more fundamental level regarding "path in life," however, I believe that the reason so many East grads go on to lead interesting and successful careers is because the community as a whole values education and has high expectations.  
What specific thing did you learn in East that has enabled you to be successful?
This one is easy. I spent most of my high school time focused on debating, and while I had some great partners (Stokes Young and Maggie Bergin) that helped lead the team to then record success, the driving force of the team was Coach Becky Knack. I'm confident that Mrs. Knack's willingness to invest   time and resources in the team was underappreciated at the time, but I now know that what she taught with debate was the building blocks for both life and career success. The most important skill for debating is learning and understanding both sides of issues so you can effectively advocate on either side. Now, almost 30 years after my high school, we live in a hyper-polarized world where people choose their news sources to affirm existing beliefs and rarely hear, much less learn, other sides of issues. It would be nice to have Mrs. Knack force Sean Hannity and Rachel Maddow to argue the opposite positions also!
What were you like in school?
Probably exactly what you would expect for someone who excelled on the debate team...
Did you have a favorite teacher or class?
It's tempting to just crib off my classmate Katie Michell's answers to this question because we had many of the same classes and I appreciate the middle and high school teachers that she listed. I would also add Mr. Sink, who went above and beyond helping me with math and again Mrs. Knack with debate.
If you had to choose one moment in one location to serve as the signature moment of your East school experience, what would it be?
Because I was so focused on debate it would have to have been the Harvard tournament. We were the first EGR team ever invited to the exclusive Harvard Round Robin...and bombed there. I still recall one of the other coaches snarking about how EGR shouldn't have been invited, so it was a great sense of vindication when we then recovered and made the finals of the full Harvard tournament.
What do you know now that you wish you'd known then?
For many families it's a sacrifice to pay higher taxes to live in East, and parents are willing to do that because of the quality of the schools and community.
Do you stay in touch with many people from East Grand Rapids?
I still have family in town and two nieces are now at the high school, which has made me start following high school sports again.
What advice do you have for young East alums who are just starting out?
You have the benefit of families and a community that expects excellence and is able to provide the tools to succeed.  Everyone will have challenges and high expectations can seem like a burden at the time, and personal and professional success will be defined in your own way, but at some point you will look back and know how blessed you were to go to EGR.
Who else would you like us to have a virtual cup of coffee with?
From my class: Adam Herz, Jeff MacKeigan and Bruce Conely (to talk about his military service).
Bonus question: What are you glad we didn't ask you about?
My win/loss record playing tennis…or whether I could swim faster than my sisters!