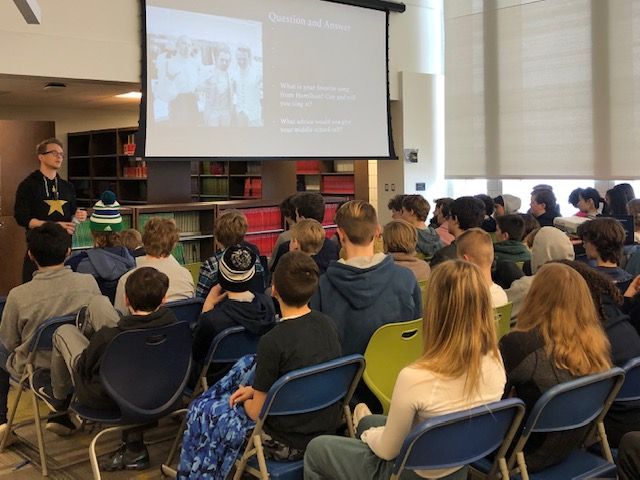 EGRMS 8th Grade Blown Away by Hamilton
By Stephanie Doublestein
The award-winning whirlwind that is Lin-Manuel Miranda's musical Hamilton just packed up and moved out of Grand Rapids after a sold-out three-week run. But last Thursday, just before it wrapped, East Grand Rapids Middle School 8th grade students were able to attend a matinee performance of the show, thanks to a grant funded by the East Grand Rapids Schools Foundation.
Pete Miller, EGRMS 8th grade social studies teacher and one of the grant writers, has been dreaming of sharing the show with his 8th grade students for years. Together, Miller and the Foundation worked out a plan for families to share the cost of tickets with the Foundation. A grant of $9,558, funded by donors to the Foundation, made it possible. "It ties directly with a huge chunk of our curriculum," Miller said. "Our job is to take something that might feel a little bit dry and make it relevant." 
Miller said "everyone seemed to be blown away by the show. Even some students who wouldn't consider a musical to be their thing still walked away with an awe that somebody created that from scratch."
One of those students is 8th grader Jack Goranson. "I'm not the biggest music guy but it was a really crazy experience, really cool, and something that I probably would do again," he said. "These songs were super loud and moving. They got you to focus and you always felt like something big was coming. It's explaining history by using a type of music that I listen to on a daily basis, like rap and pop."
Fellow student Marley Shelton, 8th grader, agreed. "I thought it was an amazing opportunity for all the 8th graders because we were learning about it, so to see it come to life was amazing."  
Eighth-grader Riley Padgett thought the show was "really exciting. It helped that we just had a unit in social studies; I don't know if I would have understood most of it if we hadn't. I had learned about the Hamilton and Burr duel, and it was cool to see what led up to that duel in the show because I didn't research that."
"This is what the Foundation is for," said Miller. "When unique opportunities present themselves that are within our curriculum, we can push forward and do it." 
Miller was able to provide another unique opportunity for the 8th grade last week as well: Mikey Winslow (EGRHS '04), a Hamilton cast member, came to the middle school on the morning of Friday, February 7 to speak to the entire grade in the Learning Commons about his experience in the cast of Hamiton, his journey from East to Broadway, and his dance comeback after a total hip replacement in 2018.
Winslow, who works as dance captain and swing for Hamilton, started his presentation by asking the crowd "Who liked it?" and every hand went up. He spoke for a few minutes about goals and dreams, dance training and backstage details, and then students peppered him with questions for almost an hour. 
While sharing his current favorite song of the production ("Yorktown") and the reason he started dancing as a kid (his mom signed him up to give him an outlet for his energy), Winslow reminded students that he had once been a student in the very same learning commons. "I was shy and middle school is hard," he said. 
And then he encouraged them to pursue their goals step by step, seize opportunities to dance in their own lives, do their best, and be themselves.
"Who you are is always going to come shining through. What we're doing [onstage] is trying to get the audience to see humanity with authenticity. We want to tell the truth, lead by example, and we have to be who we are," he said.