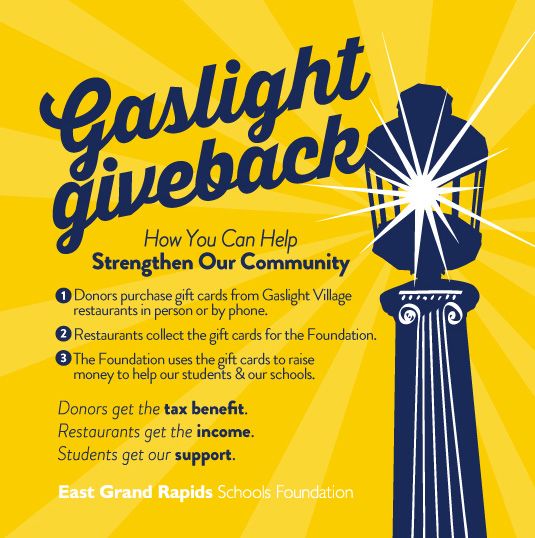 The Foundation's Gaslight Giveback program is off to a great start! In the first week since we introduced it, Gaslight Giveback has already contributed more than $3,000 in business to local restaurants that will lead to more than $3,000 in future support for our schools.
Gaslight Giveback is a partnership between our donors, Gaslight restaurants, the East Grand Rapids Schools Foundation, and our schools. Donors purchase gift cards to Gaslight Restaurants, then donate the gift cards to the Foundation. Later this summer or in the fall, the Foundation will use the donated gift cards to raise money to help our students and our schools.
The program is a win-win-win for our community. Donors get the tax advantage of the donation. Local restaurants get the income they need now. And our schools benefit from the donation down the road. 
The idea for Gaslight Giveback came from a member of the Foundation Board who was looking for a way for community members to help local businesses in the short term while also benefiting  our schools in the future. 
A big part of the early success of Gaslight Giveback has been the support of a group called EGR Dads. This dedicated group of volunteers has worked behind the scenes for years to help families in need. The EGR Dads together purchased multiple gift cards to Jose Babushka's and Big Bob's Pizza and donated the gift cards to the Foundation.
"This is a way for people to make a quick donation that will help local businesses right now when they need it most," says Foundation Executive Director Amy Stuursma. 
"We know that as our district plans for reopening our schools in the fall there will be another urgent need for support from the Foundation and our donors. As we look to the future, we know we will need the support of everyone in our community, including our donors, our businesses and our families. There are enormous challenges ahead, but we will meet them together."