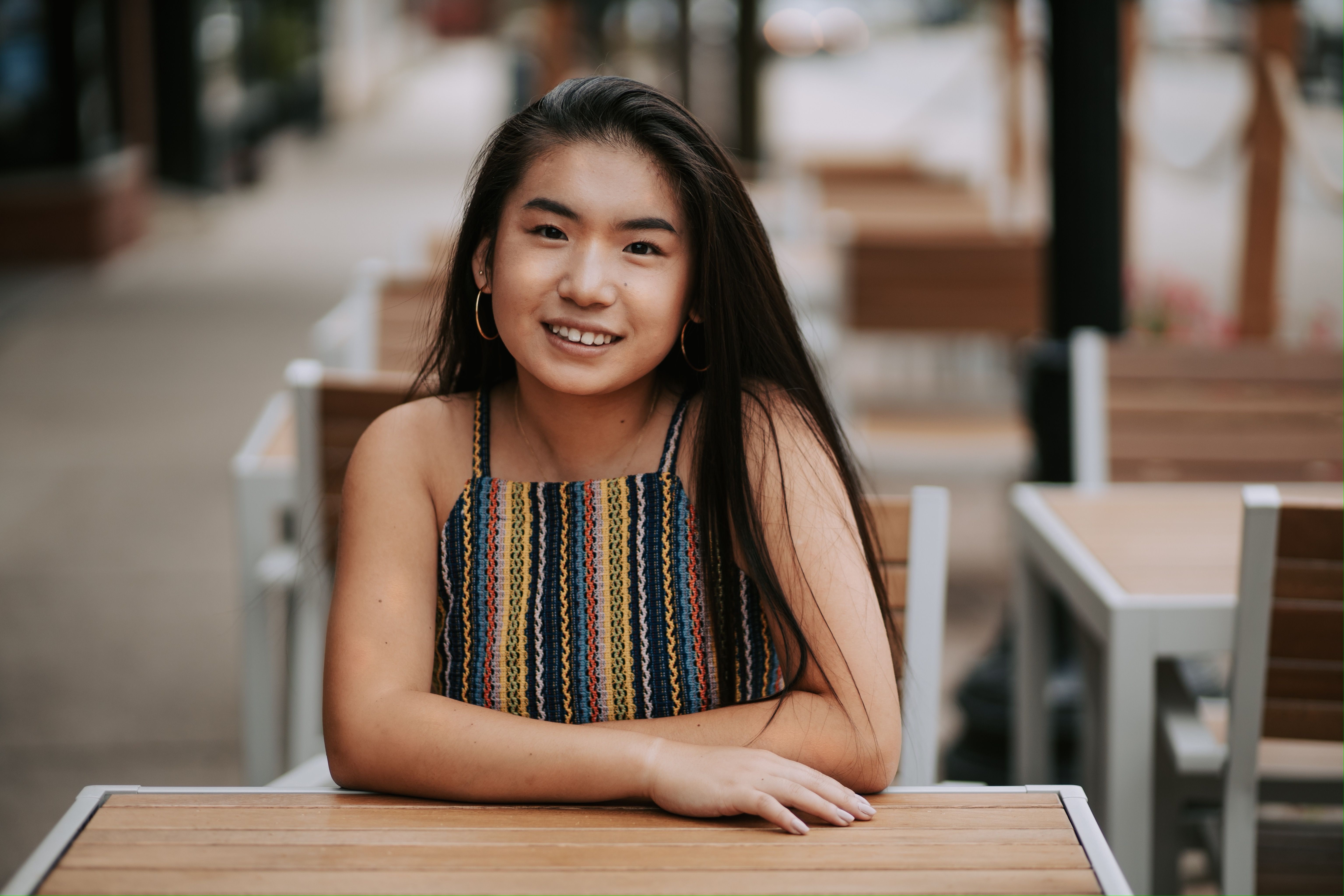 You can only have one: Rose's caramel corn, an ice cream cone from Jersey Junction, or a Yesterdog. Which do you choose?
Rose's caramel corn even though I've never had it before. I'm a sucker for caramel corn so it sounds the most appealing. Now I'm hungry.
What are your plans after graduation?
I will be attending Loyola University of Chicago where I will be majoring in Environmental Sustainability. We have yet to see which specific area I pursue however I hope to learn at least a little of everything. I am also really hoping to study abroad during college as I love to travel.
What have you learned in East that will enable you to be successful?
I learned how to be very versatile and helpful in many different situations. I learned a wide range of subjects, techniques, and skills that will help me in any situation I may face. I learned that I do not have a defined skill set and for a while that made me really insecure about my abilities. I am not refined in one particular area, but instead I am capable at doing a broad range of things and I have learned to use that to help me in my studies throughout high school. I have also learned how to work with a variety of people/personalities and I hope that will help me in collaborative situations in the future.
What were you like in school?
Before junior year, I was super quiet. I was the typical shy girl who would never raise her hand even if she knew the answer. I had super bad social and public speaking anxiety so honestly, simply being in a classroom stressed me out a lot. I would rarely talk to anyone other than my closest friends, and I hated having to ask the teacher for help. Outside of school I was my normal, loud, crazy self. But in school I was a whole different person. I had a fear of being judged so I never expressed who I really was. It wasn't healthy honestly my anxiety kept any self expression at bay. I was decently smart but I kept it hidden away as I hate to boast even the slightest bit. I focused on my studies quietly and worked hard. I always did my homework and turned it in on time. I kept my grades up and tried not to fall behind. My parents always said that they never had to discipline me because I was already self-disciplined. I was really hard on myself when it came to school and my other passions. 
Junior year I changed a lot. I broke out of my shell completely and I stopped caring about how others saw me. It wasn't like I didn't have any self-respect or dignity, I was still polite and friendly but I started to make myself more, well, me. I had refined how to battle my anxiety and although it remained a struggle still, I didn't let it affect my studies. I participated during class so much more than I had used to, and actually made quite a few school friends which was a rare occurrence before as well. Overall I became more vocal and eased up on myself.
Did you have a favorite teacher or class?
I admire Mrs. Carlson and Mr. Webb a lot. I had biology with Carlson and IB biology with Webb. Before I had Carlson sophomore year, I disliked biology so much. I'm not too sure why, I just had bad experiences with science classes before. That class changed me so much. I found a new passion for science and I absolutely loved going to her class every day. It sounds fake but I literally fell in love with biology from the first week and even if we weren't doing anything particularly "fun," I simply found the content that we were learning so enjoyable. It was so different than any other science class I had taken before and she totally had changed my perspective on science completely. Not to mention she was easily the sweetest teacher I have probably ever had. 

And then junior year I decided to pursue the IB Diploma Program so I took IB biology with Webb. I was really looking forward to this class because of how much I loved bio the previous year. IT WAS VERY DIFFICULT. But that class helped me in so many ways then just learning biology. Webb was also a really fun teacher and I always felt so comfortable in that class. I was honestly so scared that the difficulty of the class would make me not love biology anymore, but it actually made me appreciate it even more, especially after doing a biology-based Extended Essay. Due to that, I decided to major in environmental science (much of which is biology). Webb definitely played a role in that and I respect him immensely.
If you had to choose one moment in one location to serve as the signature moment of your East school experience, what would it be?
Sophomore year spring musical, sitting in the orchestra pit with my friends right after finishing the last show of Guys and Dolls.
What do you know now that you wish you'd known when you were younger?
She loved you, even though you'll never know that. Don't blame her for something that was inevitable. If you don't learn to accept yourself, you will never stop being angry.
Who from East do you think you'll stay in touch with in the future?
I doubt I will stay in touch with many people. I am really bad at consistent communication and I struggle with reaching out first. I definitely will stay in touch with my closest friends but probably not anyone besides them simply because if I'm not already talking to them now, I probably won't talk to them in the future ¯\_(ツ)_/¯ .
What advice do you have for young East kids?
Your mental health is the most vulnerable part of you during high school. Please do not put it on the back burner! This is coming from someone who did, and wishes they hadn't.
Bonus question: What are you glad we didn't ask you about?
Where do I see myself in 10/20...etc. years. That question is overused in my opinion. Alternative answer: growing up.
Want to read more Celebrating Our Seniors Virtual Cups of Coffee? Visit the page. And to help educate the next Pioneers during this crisis, contribute to One East.