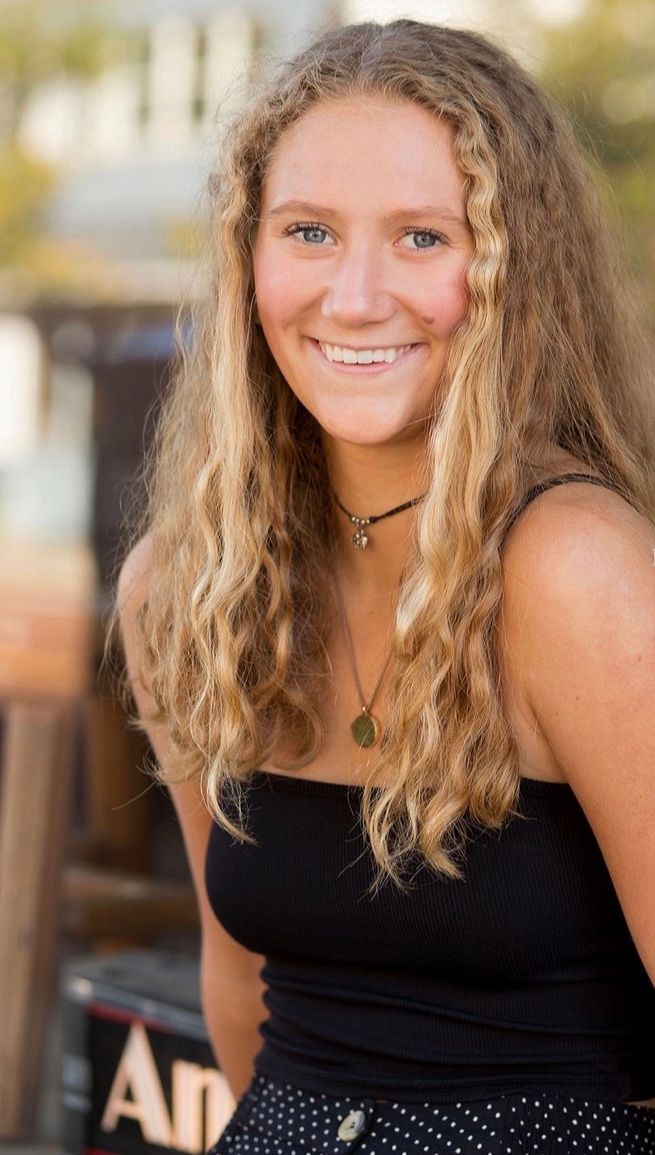 You can only have one: Rose's caramel corn, an ice cream cone from Jersey Junction, or a Yesterdog. Which do you choose?
I would definitely choose raspberry ice cream from Jersey Junction!! The raspberry ice cream never gets old and I love the environment of Jersey!
What are your plans after graduation?
I plan on attending University of California Santa Barbara and studying global studies.
What have you learned in East that will enable you to be successful?
I have learned from East that if you have a very strong work ethic you will see the results you want to see. East has taught me to challenge myself and to always put my best work forward in order to do well.
What were you like in school?
It depends on the class, but I would say I was very outgoing in school especially when I had my close friends in my classes. I was also the student that was always stressed about my grades and classes (all of my teachers can attest to it) even though there was no reason for me to worry that much.
Did you have a favorite teacher or class?
My favorite class content wise was U.S. history. But the class I had the most fun in was probably journalism with Mrs. Michell because of the freedom I had to be creative. I also loved Mr. Weiner's chemistry class and We the People with Mr. Horos.
If you had to choose one moment in one location to serve as the signature moment of your East school experience, what would it be?
One of the best moments of my East school experience was beating Rockford in lacrosse last year on our home field. Rockford had been undefeated for a couple of years and winning that game was the equivalent feeling as winning the state championship. I had never seen the stands so full for a girls lacrosse game. After the game, the whole team slept on memorial field in honor of winning, and that is a memory I will never forget.
What do you know now that you wish you'd known when you were younger?
I wish'd I'd known that things will work out especially with grades. I spent too much time stressing out over the smallest things with school, and I wished I'd known that one grade is not the end of the world.
Who from East do you think you'll stay in touch with in the future?
I have no doubt that I will stay in touch with all of my friends in the future. We are already planning visits to see each other at college. I have known many of my friends since elementary school and we aren't ready to part ways just yet (shout out to toast and aablaricini). East has given me so many close friendships that I know will continue on after high school.
What advice do you have for young East kids?
My advice for young East kids would be to reach out to as many of your classmates as possible. Some of the best friendships I have had in high school have been from my table mates in certain classes. I have made the best and funniest memories from those friendships. I would also strongly suggest to get involved in as many things as possible. Join all the clubs, run for student council, try different sports or join the music/drama department. There is no harm in trying new things, and I am really grateful for all the experiences and memories I have from the different aspects of school. My last piece of advice would be to not take anything for granted. When you have the choice to go to a sporting event, or out to eat with friends, or any after school activity, just do it! Those will be some of the best memories of high school and you'll never know if they may be cut short, so experience as many of them while you can!
Bonus question: What are you glad we didn't ask you about?
My least favorite class.... (sorry for crying while taking your tests Mr. Horos).
Want to read more Celebrating Our Seniors Virtual Cups of Coffee? Visit the page. And to help educate the next Pioneers during this crisis, contribute to One East.