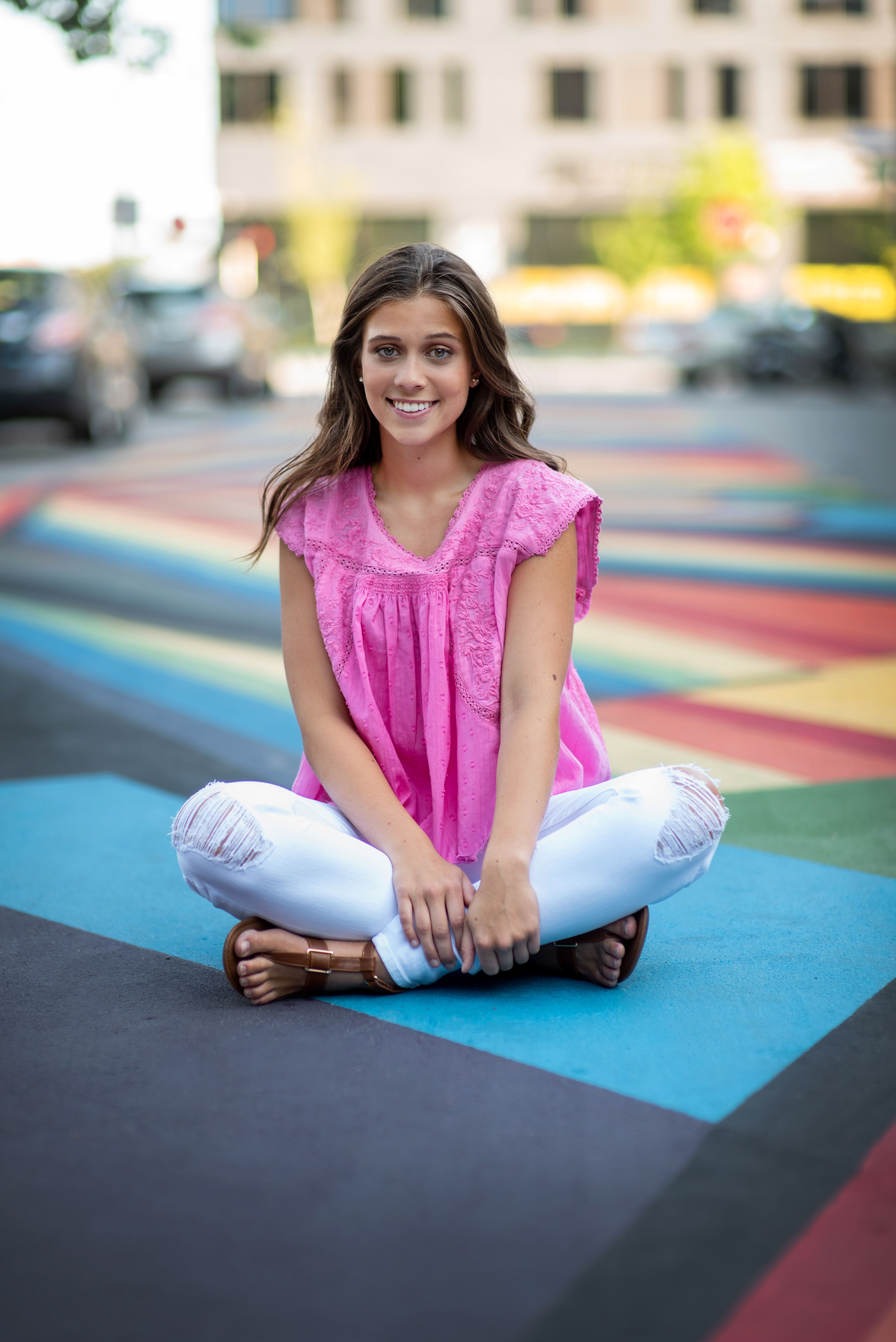 You can only have one: Rose's caramel corn, an ice cream cone from Jersey Junction, or a Yesterdog. Which do you choose?
Definitely Jersey Junction. The Raspberry Dark Chocolate chip is my absolute favorite ice cream. Going to Jersey reminds me of hot summer days with my friends and going on walks or bike rides with my family and stopping there afterwards as a treat. It's probably my favorite place in Gaslight.
What are your plans after graduation?
I will be attending The University of Michigan to study Political Science. I hope to go to law school after finishing my undergraduate degree and then either pursuing a career as a lawyer, lobbyist, or something in politics.
What have you learned in East that will enable you to be successful?
I think East really encourages students to be well rounded. Through pushing myself to take challenging classes while also participating in sports and clubs, I think I have learned how to manage my time well. As I go into college and the rest of my life I think this skill will allow me to succeed at everything I'm involved in and make time for all the things that are important to me.
What were you like in school?
It really depended on the class. In some classes I was louder and would answer more questions and make jokes. But in a lot of my classes I wouldn't answer many questions and I would definitely be on the quieter side. I think it depended who was in my class and how comfortable I felt. I think around the hallways, though, I was pretty outgoing and I liked to say hi to people and found myself making small talk with people before classes.
Did you have a favorite teacher or class?
I think my favorite class might honestly be AP Literature with Mr. Stabile senior year. The class was always interesting and as Mr. Stabile dissected books that we read, I felt as though a new world was opening up to me. He brought up symbols or themes that I would have never picked up on by myself. I also liked how the class was structured. You read and then you discussed, and I think discussions create a deeper understanding. Of course We The People is also one of my favorites but this was less like a class and more like a team to me.
If you had to choose one moment in one location to serve as the signature moment of your East school experience, what would it be?
It's hard to pick one moment. I have three that come to mind when thinking about my overall high school experience. One for sure is winning the We The People state competition. This showed me how effective teamwork is and how hard work pays off. Secondly, Panera Fridays with my friends senior year; lunches were always a special time for me to take my mind off school for an hour and debrief about the day with my friends. Finally, the first football game of my senior year after it got rained out. The whole student section went to the gym and danced around while the band played. This just shows how amazing the community is and how much fun it is to be raised in such an awesome place.
What do you know now that you wish you'd known when you were younger?
I think now I've learned that no one is judging you or watching you as much as you think (shoutout to AP Psych and the spotlight effect). For this reason, I think it's important that you try to be yourself in every aspect and try to be involved in anything that makes you happy and not worry about how others view it.
Who from East do you think you'll stay in touch with in the future?
I will definitely stay in touch with The Wolfpack (yes, this is the name of my group of friends). We've been friends for a really long time and I can't imagine having gotten through school without each and every one of them. I can't wait to watch them succeed in the future and continue to develop our friendship.
What advice do you have for young East kids?
For young East kids, I think it's important that if you feel overwhelmed with schoolwork and sports you take one thing at a time. As you start checking things off of your list of things to do, you'll feel a lot less anxious and realize that you are capable of getting everything done.
Bonus question: What are you glad we didn't ask you about?
I'm glad you didn't ask about how I feel about losing lots of important events from my senior year as talking about it just makes me more sad.
Want to read more Celebrating Our Seniors Virtual Cups of Coffee? Visit the page. And to help educate the next Pioneers during this crisis, contribute to One East.