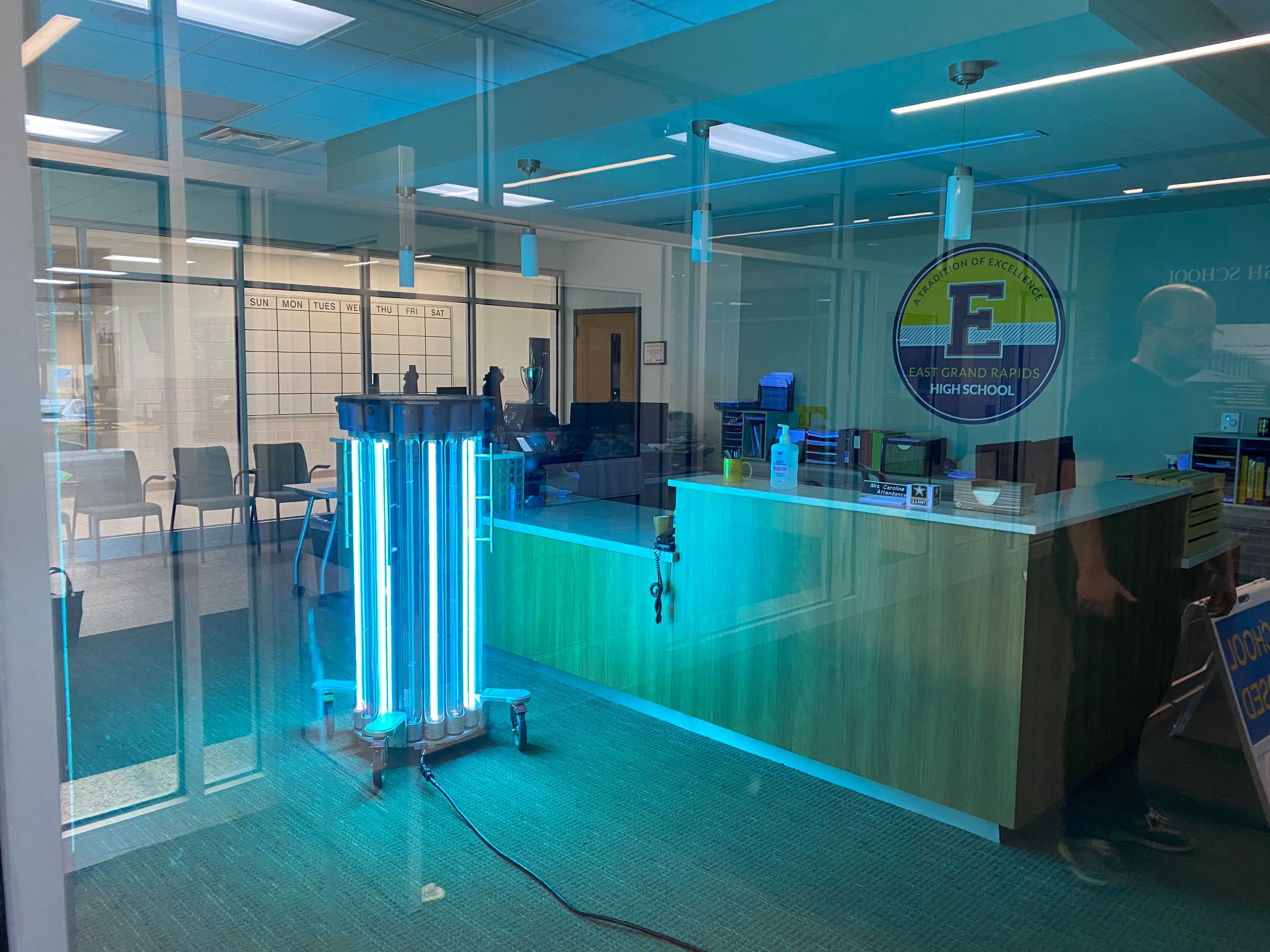 Thanks to our donors, the Foundation was able to grant money to the district to purchase state-of-the-art robotic sanitizing machines that are making the return to school safer for our students and staff. 
The machines, which are produced by Skytron, a locally based manufacturer, use ultraviolet light to eliminate bacteria and viruses from buildings one room at a time. The next-level cleaning system promises to kill germs in the air, on surfaces, and anywhere else in the room. The cleaning power of the machines is so intense that people can't even be in the same room while the machines are operating.
"The Skytron machines are being integrated into our regular cleaning routines at each elementary school," says EGRPS Assistant Superintendent of Finance and Operations Anthony Morey.  "Our initial plan is for each classroom to be 'treated' once per week and the main office every day.  The main office serves as a health room and also sees staff from across the building so that logic underpins the daily cleaning protocol. We have a trailer designed for easy transportation to other buildings if needed."
The machines are already making a big difference in the return to school.  "I know having these machines available have been a significant boost to staff confidence in returning to school and elevates the cleanliness of our elementary spaces significantly," Morey says. "You can't measure things that don't happen but the science behind them is sound.  That gives me confidence that overall rates of illness transmission will go down, including routine cold and other viruses. As with everything, we will evaluate and evolve as conditions warrant."
Back in March, less than 24 hours after the Foundation board voted to purchase them for the school district, the robotic sanitizing machines were already cleaning school buildings. On Friday, March 20, the machines were first put to work sanitizing the preschool facilities and district offices at the James Morse Administrative Center at Woodcliff. During the shutdown, the machines were used to sanitize district offices and preschool facilities. The district also loaned them to the city to sanitize city offices and the Public Safety building.
"We were presented with a unique offer to purchase these leading-edge machines by a member of our community," Foundation Executive Director Amy Stuursma says. "We felt it was an opportunity we couldn't pass up, and we wanted to put the machines to work right away. We held an ad hoc meeting of our full board on Thursday, March 19 via Zoom conferencing, and everyone on the board agreed to get them right away. The health and safety of our students has always been the first priority for our Foundation and for our district."