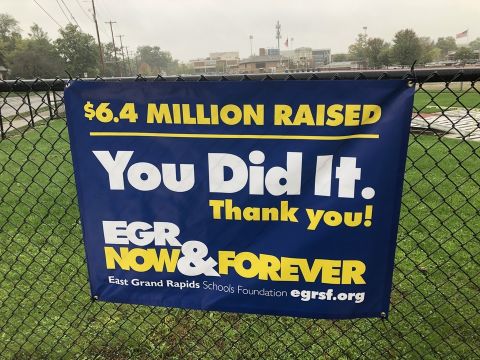 Don't you love it when people do what they say they were going to do?
For years, we've been telling you about our plans to build the Foundation's endowment. We told you that if we were able to raise the funds needed through the Now&Forever campaign, we'd be able to make enormous contributions to our schools without a major annual fundraising drive.
This week, we made good on that promise. At its meeting Tuesday, April 27, the Foundation Board approved a $410,000 contribution from our endowment to our schools for next school year. Those funds were generated by investment income from the endowment, which recently grew to more than $12 million thanks to the incredible generosity of donors to the Now&Forever campaign.
The $410,000 contribution is possible without a desperate plea for funds this spring. You might have noticed there were no EGRNOW! or One East yard signs. No bake sales, silent auctions, galas, or garage sales. That's the power of having built the endowment. That's the power of Now&Forever. That's the power of your support for the Foundation, our schools, and our students.
That money will be put to work funding programs and enhancement grants in all our schools. Our district will determine which programs can be created, maintained or restored thanks to those funds. Our teachers are working on grant requests to provide new enhancements to their classrooms. 
Best of all, these contributions will continue for many years to come. In future years, we project that investment income from the endowment will allow us to contribute more than half a million dollars to our schools every year. It's all part of the plan, and it's all thanks to you.
Thank you for your support!