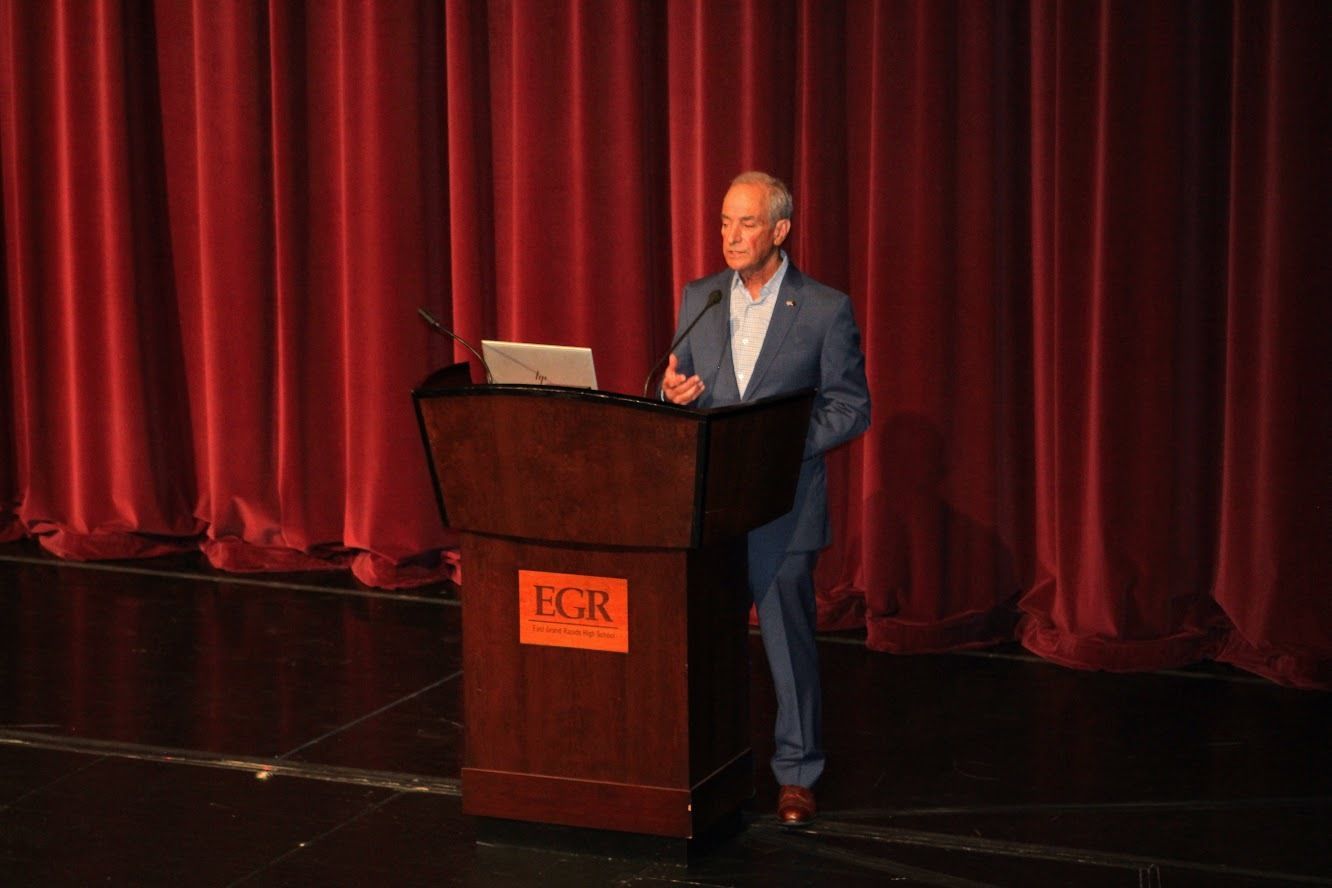 This year's East Grand Rapids Schools Foundation Distinguished Alumni honoree, Commander Bill Krissoff, MD, Medical Corps, United States Navy (Ret.), who graduated from EGRHS in 1964, visited East Grand Rapids High School Thursday, September 30, to speak with students. 
Commander Krissoff is an orthopedic surgeon who honored his fallen Marine son, Nate, in an extraordinary way. After Nate was killed in action in Iraq, Dr. Krissoff, at age 60, decided to walk away from his thriving practice to join the United States Navy Medical Corps. He served in both Iraq and Afghanistan, caring for injured soldiers. Major General Larry Nicholson, who had been Nate's regimental commander in Iraq, served as the top Marine general in southern Afghanistan during Krissoff's time there. "Bill made a difference for good every day," said Nicholson. "There can be no greater act of love by a father for his fallen son than to take his place in the ranks in the midst of war."
Krissoff spoke to students in the school's Performing Arts Center. He advocated to the students about the importance of service to their country, quoting President John Kennedy's famous line, "Ask not what your country can do for you. Ask what you can do for your country."
That service, Krissoff told the students, can be in the military, but it doesn't have to be. He listed several other programs--the Peace Corps, Teach for America, Habitat for Humanity, and the Civilian Conservation Corps among them--as ways young people can give back to their country. "It's an opportunity to be part of something that's bigger than yourself," he said. "It's not all about you."
After speaking to all the students in the PAC, Krissoff had lunch with a smaller group of students in the high school's Learning Comments. For more than an hour, he shared stories and answered the students' varied and insightful questions about being a doctor, serving in Iraq and Afghanistan, and what his biggest challenge was after joining the Navy Medical Corps. Even after the bell rang to end the hour, Krissoff stayed to answer students' questions for another half hour.
Commander Krissoff will be honored at the East Grand Rapid Schools Foundation's Community Service and Distinguished Alumni Awards Dinner Thursday night, September 30.