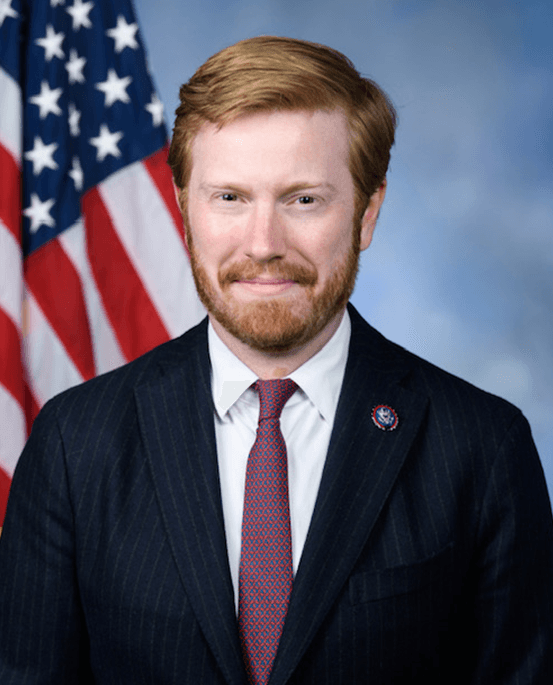 Peter Meijer '06 is a proud fourth generation West Michigander. Peter's grandfather, Fred Meijer, inspired Peter to pursue a path of purpose and service, and instilled in him a love for West Michigan. After graduating from EGRHS, Peter's first step on his path of purpose was spending a year at the United States Military Academy at West Point. Soon thereafter, Peter enlisted in the Army reserves and deployed to Iraq. A passion for service, and for West Michigan, compelled Peter to continue to serve his community by running for Congress. With the unwavering support of his team, family and wife Gabriella, Peter Meijer was sworn in as the Congressman for Michigan's 3rd Congressional District on January 3rd, 2021.
You can only have one: Rose's caramel corn, an ice cream cone from Jersey Junction, or a Yesterdog. Which do you choose?
Jersey Junction ice cream cone. The flavor is weather-dependent. When it's hotter out, then a fruit-based flavor. When it gets a little cooler, then chocolate. I'm a big fan of cookies and cream too.
What was your path from East Grand Rapids to where you are now in life?
I started out at West Point right out of high school. I loved the army, loved the military, but I decided I didn't want to make a career as a commissioned officer. And I didnt want to take a spot at West Point from someone who did.
At the end of my first year, I transferred to Columbia, and immediately enlisted in the reserves. Between my junior and senior year, my reserve unit was called up and we were deployed to Iraq. That delayed my time at Columbia by three semesters. 
After graduation, it was a time of budget cuts and staff reductions in the military. I became active with the Student Veterans for America and helped get the post-9/11 GI bill passed. I was also involved with Team Rubicon and worked in disaster response since I'd trained as an EMT during my time at Columbia. I worked a job in Afghanistan for a couple of years. 
Later, I got my MBA and worked in real estate development for a while before taking a look at the political climate in west Michigan and deciding to run for Congress.
What specific thing did you learn in East that has enabled you to be successful?
One of the most impactful things I learned was a real, profound interest in the Constitution. That came through Mrs. Yates and "We the People," which is just an amazing program. When I was at Columbia, I took a class with Lee Bollinger that was similar to a first-year law school class and I felt like my experience in We the People had prepared me extremely well for it.
What were you like in school?
Definitely not a jock. I did run cross country, but only because the extent of the coordination required was to put one foot in front of the other. I think I engaged with a lot of people. I was involved with We the People and the school newspaper, The Vision. I took academics seriously, but I was also up for cooking some steaks on a charcoal grill at a tailgate before the football game.
Did you have a favorite teacher or class?
I was fortunate enough to have so many outstanding teachers that it's very difficult to single out one or even a group of them. They were all terrific.
If you had to choose one moment in one location to serve as the signature moment of your East school experience, what would it be?
It was during a Homecoming parade. The cross country team was riding along in a 1970 orange Jeepster Commando and the engine died. We had to put it in neutral and push it for the rest of the parade. Fortunately, it's a very light vehicle.
What do you know now that you wish you'd known then?
You only get to go through high school once. It's hard to appreciate the things you wish you would've done in the moment. 
Do you stay in touch with many people from East Grand Rapids?
A good number. You make a lot of friends along the way. Some slip away over the years, but I stay in touch with a tremendous cohort of people who are leading wonderful lives and doing amazing things.
What advice do you have for young East alums who are just starting out?
The sky is the limit. East Grand Rapids will always be there for you. It's an incredible place and it's important to recognize the privilege and opportunities that come with growing up in a place like East Grand Rapids. You might not appreciate that fully until you've had a chance to compare and contrast it with someplace else. I know many people I grew up with who went off and did wonderful things but then returned to East Grand Rapids to raise their families. Grand Rapids is a grand place. It's big enough to have everything you need but not so big that you can't make a difference. 
Bonus question: What are you glad we didn't ask you about?
How close I came to not graduating from high school on time. I'd already earned a 5 on the AP US History exam but I hadn't finished the essays for the year-long online course. About two weeks before graduation, Principal Cwayna told me I was on the list of people who wouldn't be able to graduate, along with all these people who'd been expelled or suspended. I got the essays done, though, and I can assure you that I graduated from high school in good standing.