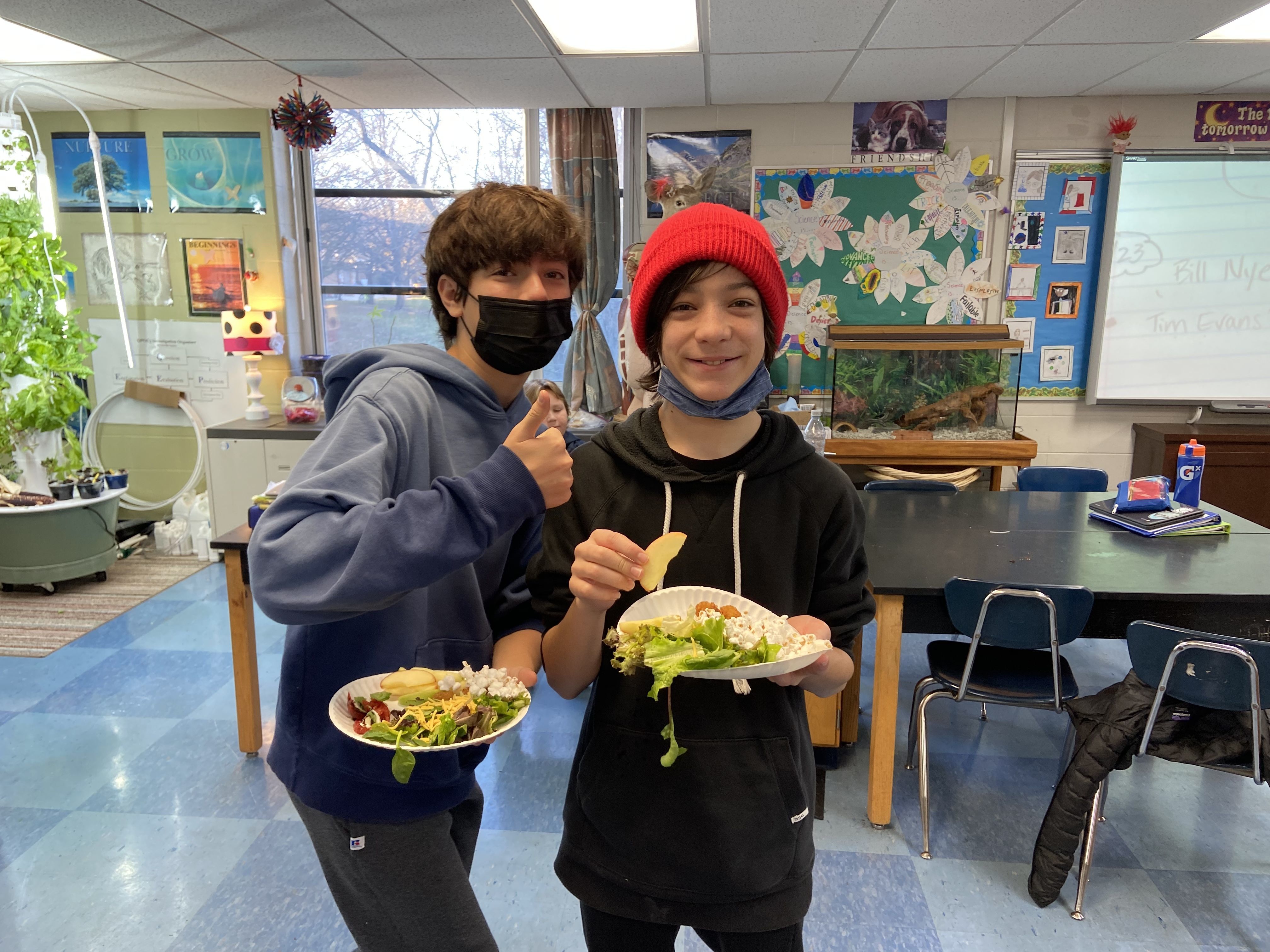 Elementary, middle and high school students have literally been reaping the rewards from the Tower Gardens that are growing in six classrooms around the district. 
The gardens were a gift to the Foundation from EGR alum Cynthia Daverman Gompers '64. Teachers and students throughout the district have been tending the gardens, providing hands-on learning about biology, ecology, and other concepts. 
On the Tuesday before Thanksgiving, middle school teacher Becky Martin's science classes ate plant-based meals that included lettuce and other plants from their Tower Garden. Elementary students have been eating the fruits of their labors as well.
"Fifth Graders have had an awesome time with the tower garden!" says Wealthy Elementary teacher Megan Miller. "I put it together before school started. In September, our plants were wilting and not flourishing, so we read about how much sunlight we were giving it and realized it was not enough!  As good scientists, we changed our plans. Then, over Thanksgiving break, we experienced a drought (forgot to check the water amounts in base). Some were able to be revived and some partners needed to reseed. It was a good learning experience.  
"At the beginning of January, we were happy to see that it was harvest time and we had our first salad taste test of kale, chard, various lettuce, and basil. Chard actually made the top three in taste! Fifth graders have declared that salad is good! Please thank Cynthia! It has been a wonderful addition to our science classes!!"
Adds Breton Downs 4th grade teacher Cheryl Radecki, "We are learning a lot!  Our most recent 'aha' moment was when we realized why some of our plants were not producing fruits or vegetables. We learned about self-pollinating vs pollinating plants. Looking for a solution for our non-pollinating plants, the kids decided it would not be a good idea to release 100,000 bees in the school. So, students came up with other ways to pollinate the plants, including using the end of a pipe cleaner (acting like the bees). Students are learning to problem solve and enjoying the process. Thank you for this opportunity!"
"We have loved our Tower Garden!" says Lakeside kindergarten teacher Hannah Bailey. "We planted the starter kit and the kinders and I LOVED the salads! We even made lettuce rolls and harvested lettuce for the kids to take home to their families! This next round of gardening is based around Valentine's Day! We planted edible flowers, strawberries, watermelon and tomatoes and threw in a little lavender purple color! Next year, we're going to find a location so that it is the school garden or something for the upper grades to experience. I am very grateful!!"