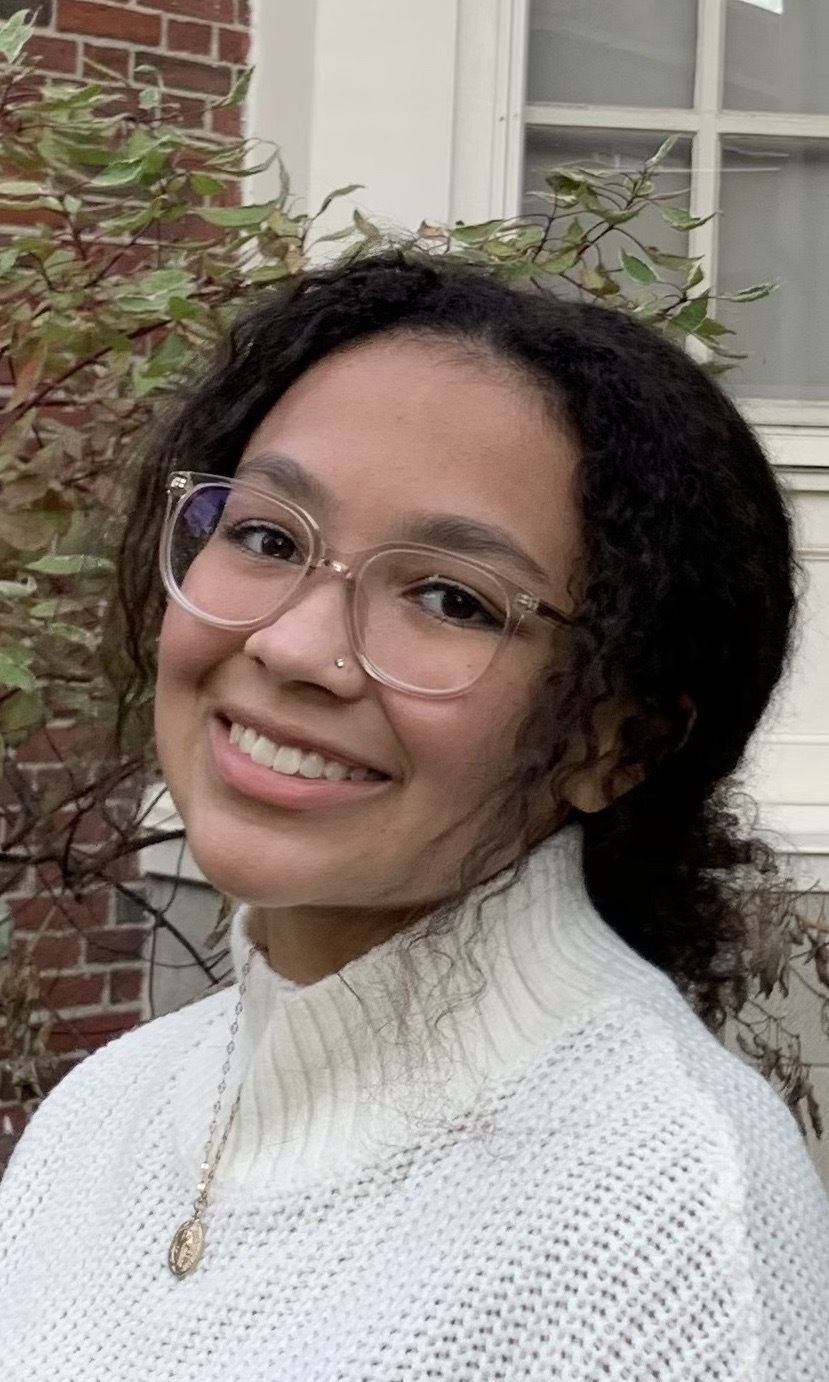 Raenah Lindsey '20 blazed her own trail to East Grand Rapids Public Schools. At the end of middle school, she researched local school districts and chose to attend East through the School of Choice program. After four years of academic success at EGRHS, including two years as an East Grand Rapids Schools Foundation Student Board Member, Lindsey was accepted to Harvard as a member of the class of 2024, where she is studying Government and Classics.
You can only have one: Rose's caramel corn, an ice cream cone from Jersey Junction, or a Yesterdog. Which do you choose? 
I'm not a huge fan of caramel corn, and you'll rarely see me eating a hot dog. However, I love ice cream and all of its variations (shakes, malts, flurries) so I'd probably opt for a Jersey cone! 
What was your path from East Grand Rapids to where you are now in life?
I was a "new kid" freshman year of high school and the whole experience was daunting for me: I was starting high school while also entering a new environment. Some things were made abundantly clear to me: East was "the" school, most of its students grew up together, and similarly, very few students were new to the community so late in the game. I wasn't entirely sure what to expect, but I anticipated the adjustment being a challenging one. In many ways, it was. Thankfully, though, I began high school with a pretty clear vision of what I wanted to do and where I wanted to go, so I was able to keep myself relatively grounded while I navigated all the novelty. Fortunately, I was also able to meet a handful of amazing friends while making the most of many incredible opportunities. My academic experiences in East – along with the many lessons I learned outside of the classroom – have definitely helped me adapt to college and life beyond high school. All in all, I'm really grateful to have become a part of such a great community and I know that it has contributed greatly to where I am now and where I will go.
What specific thing did you learn in East that has enabled you to be successful?
I learned (and I'm continuing to learn) that success doesn't always manifest in the ways we expect or want, but that doesn't mean our efforts are worthless. Sometimes I would tirelessly study for a test or edit a paper to "perfection" only to receive a grade I didn't think properly "rewarded" my hard work. This obviously applied to more than academics, but in situations when I didn't get what I think I bargained for, I found that there are always lessons to be learned. East has taught me the value in looking for those lessons rather than just accepting the disappointments.
What were you like in school?
This definitely depends on who you ask! All throughout high school, and especially in the beginning years, I was on the shyer side. I was really focused on doing as well as I could in school. Like most people, though, there was a really goofy and witty side to me that often took a certain person or situation to let out (thanks, Grace Griemsman!). I would say that I started to open up more junior and senior year and many friendships grew as a result of that!
Did you have a favorite teacher or class?
I had so many incredible teachers and classroom experiences. However, now that I'm in college, I can say that my favorite classes were 'We the People' with Mr. Horos (a classic) and AP Literature with Mr. Stabile. Anybody could tell you that Mr. Stabile's classes are notoriously difficult — and great prep for college — but I have since learned that I really like literature! His gusto and the works we read in the class are to thank for that. As for Weeple, I'm indebted to the program for a few of my closest friendships, for fond memories, and for a wealth of knowledge in political history and philosophy. Unsurprisingly, I'm studying government and classics and I'm considering pursuing both in graduate school. Thanks to Mr. Horos & Mr. Langholz (and to everybody who has and continues to make Weeple what it is).
If you had to choose one moment in one location to serve as the signature moment of your East school experience, what would it be?
It's not one singular moment, but a lot of signature memories took place in the lunchroom. Most of my friends would stick around school during lunch time, so we'd spend that time studying for tests later in the day, playing games of Coup, or wishing for snow days.
What do you know now that you wish you'd known then?
This can be hard to do and I know it sounds cliché, but seizing the moment and living in the present is the way to go! I'll often drive by the high school and get a deep sense of nostalgia for when I would spend the majority of my time there. I enjoyed my time, but I wish I would've paid even more attention to that enjoyment because it all went by so fast (and ended so abruptly). Thanks to the pandemic, I had no idea that my last day of school was my last and that really taught me to make the most of every moment. 
Do you stay in touch with many people from East Grand Rapids?
Even after making some incredible friends in college, I'm lucky and proud to say that my closest friendships from high school have continued to deepen. I've met so many amazing people who I know I can rely on for anything!
What advice do you have for young East alums who are just starting out?
If it seems worthwhile, keep a diary or journal to document all the highs and lows of your experiences. I documented many of my experiences and emotions throughout high school and I continue to do so while in college. I love going back to read what I wrote! The angsty moments are funny and the random commentaries on "cool" things happening in my life at the time allow me to reflect on how far I've come and how much (and in some cases, little) I've changed. Beyond photos, I'm glad I have something tangible to refer to whenever I want to reminisce. 
Who else would you like us to have a virtual cup of coffee with?
Katie and Ashley McGraw! They were my very first friends in East and made the transition a whole lot easier for me. I love them a ton! We have a lot of inside jokes that we need to collectively revive.  
Bonus question: What are you glad we didn't ask you about?
What finding a spot in the senior lot was like (especially during winter).