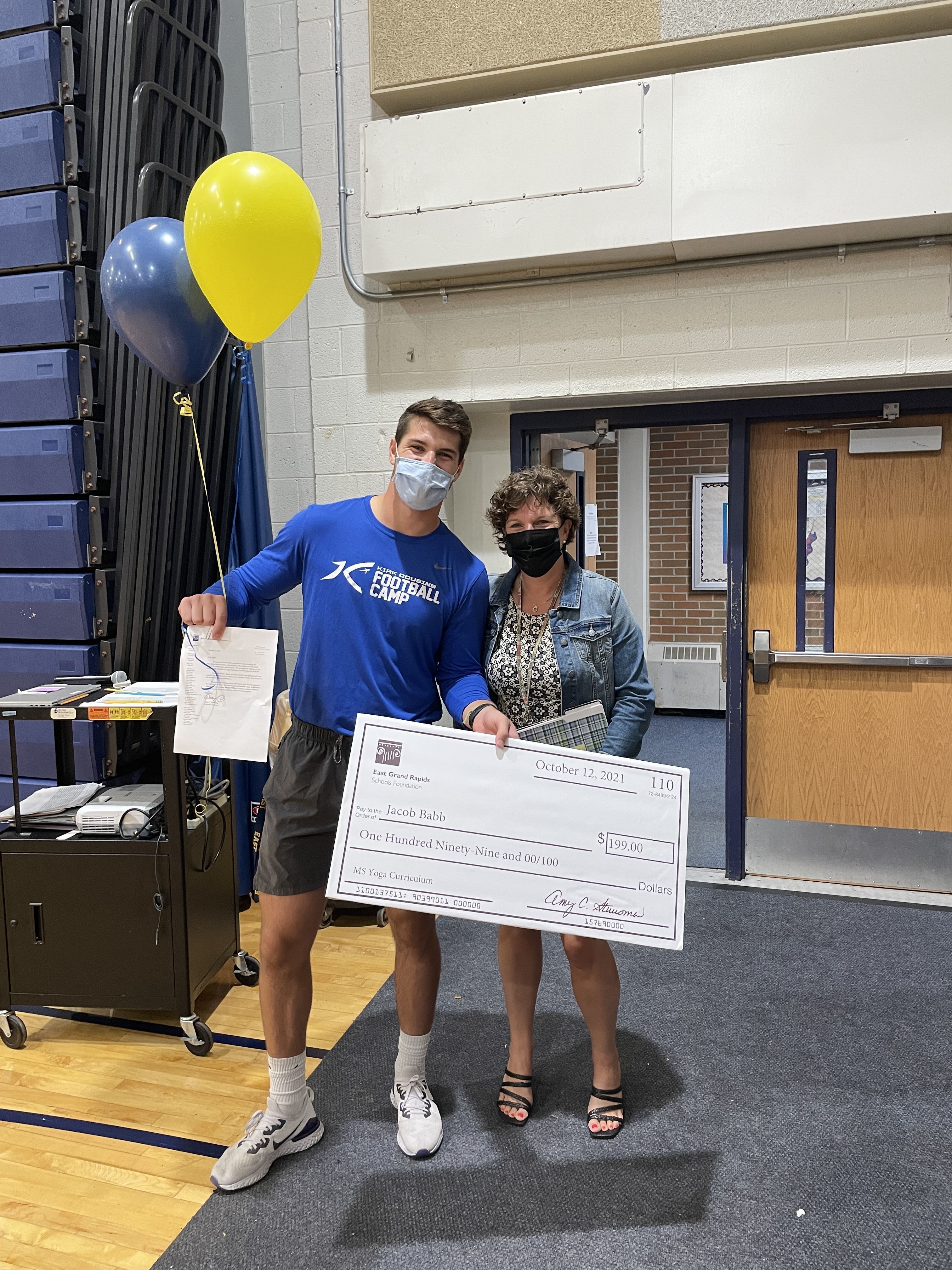 If you still think gym class is just dodgeball and climbing that giant rope, then you haven't been paying attention. In fact, it's not even gym class anymore; it's physical education. 
Jacob Babb, who teaches physical education at the middle school, is making sure his classes keep up with changing times. So this past winter, he applied for a grant from the Foundation to fund curriculum materials for an 8th grade yoga class. 
"Our students at EGR Middle School are benefiting from this grant in a multitude of ways, which I am so excited about!" Babb says.  "After going through such a tough year last year, the students are gifted the opportunity to practice stress management techniques during yoga class.  Yoga class also meets every student exactly where they are in their fitness journey.  
"I love being able to teach yoga because it allows every student to succeed in class, regardless of their background.  This grant has altered the way that I teach PE, allowing me to incorporate different mindfulness breathing techniques, push students in their flexibility, and find ways for each student to succeed.  All of these things greatly benefit our students in and outside of yoga class!
"A big thanks to all who helped to make this possible for our incredible student body at EGR Middle School!"
Babb, who also serves as offensive line coach for the varsity football team, says the yoga classes will reach beyond 8th graders too. "I also am planning on implementing yoga practices with our football team next year," he says. "In football, we spend lots of time becoming bigger and faster in the weight room, but sometimes neglect our bodies throughout the season once we get busy. 
"Coach Shattuck says he wants to incorporate yoga once or twice a week with our football team to stimulate muscle recovery, increase feelings of calmness after a hard football practice, and promote flexibility, which in turn will lower injury rates. 
"I will be leading those yoga classes with our football team, thanks to the money that paid for my training from the foundation."