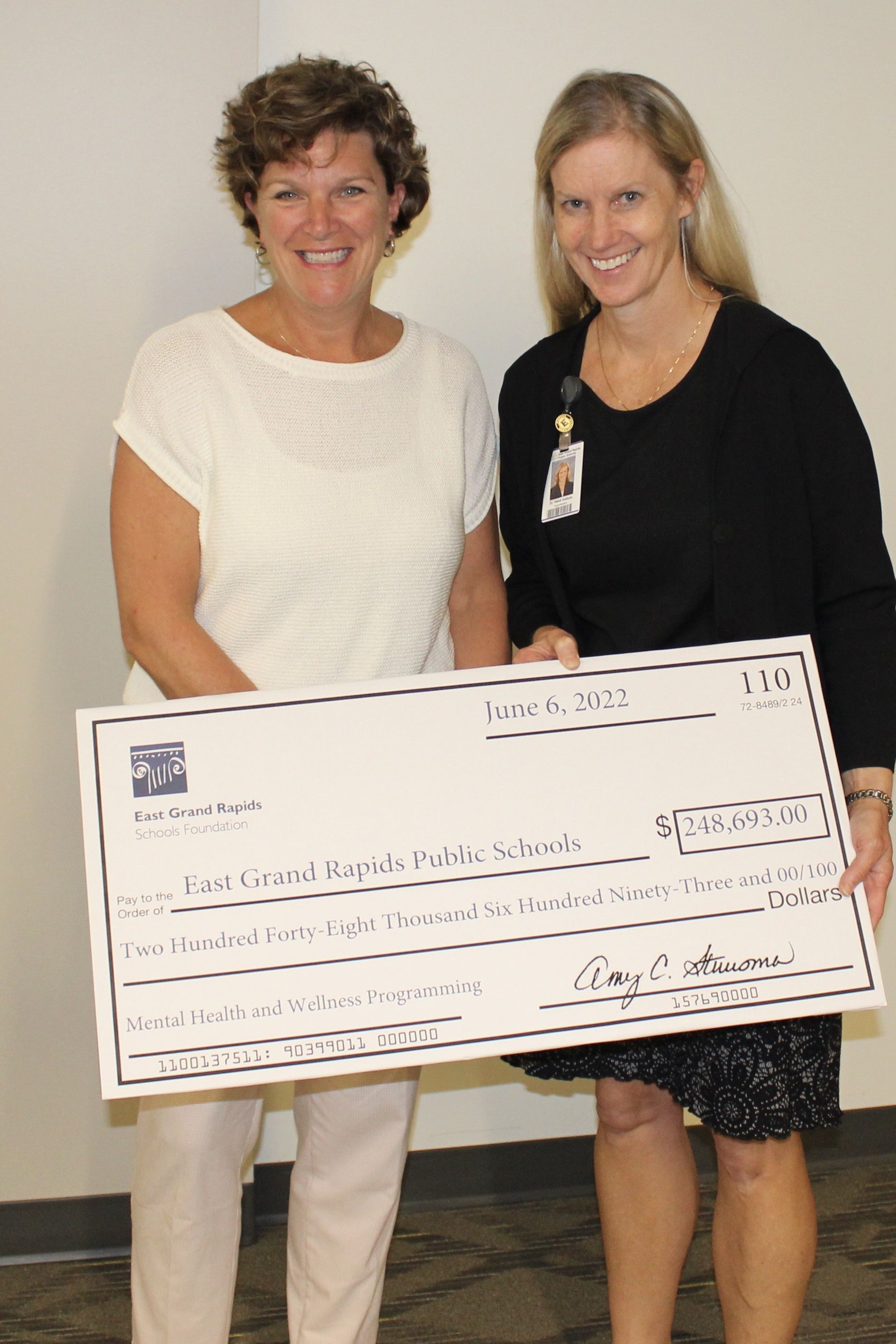 Thanks to its donors, the East Grand Rapids Schools Foundation has agreed to fund $750,000 in personnel and services to support students' mental health at all five K-12 schools in the district. The money will be spent over the first three years of the program, but the plan is for the services to continue permanently. 
The Foundation is the first school foundation in the state of Michigan and perhaps the first in the country to make a commitment like this to supporting students' mental well being. That head start should enable the district to find the best professionals available to fill the necessary roles.
The funds will be presented in a "big check ceremony" at 6:00 p.m. Monday, June 13 at the Board of Education meeting at East Grand Rapids High School. 
East Grand Rapids Public Schools requested the program funds from the Foundation in May. If other money becomes available for the program–such as state or federal funding–that amount would be returned to the Foundation's endowment. 
"I am thrilled that the Foundation is taking a big step in supporting the whole child and the mental health and wellness of our students," says Foundation Executive Director Amy Stuursma. "As recent events have tragically made all too clear, our students' mental well being must be a priority. We're proud to be making this significant, strategic, and forward-thinking commitment to our schools."
"We are extremely grateful for the ongoing and critical support of our Foundation," says Dr. Heidi Kattula, East Grand Rapids Public Schools Superintendent. "Over the last two years, we have seen a dramatic increase in students' mental health needs and our students need us now more than ever. With the Foundation's support, we will add a systems-based model to support our K-12 students' mental health and wellness. This tremendous step towards proactively addressing mental health needs, is essential for our students' long-term success." 
Over the next three years, the Foundation will fund: 
A new Coordinator of Wellness that directly supports high school students and K-8 social workers
An added half-time Social Worker at the Middle School
Materials, supplies, and training for all K-12 staff and students
Once the program is in place, the district will have the equivalent of six full-time employees dedicated to social work every day. Each school would have a dedicated social worker. In addition, a Coordinator of Wellness would provide Tier I and Tier II interventions for high school students and provide leadership to K-12 staff in social work.
"This commitment will put East Grand Rapids at the forefront of addressing the student mental health crisis," Stuursma says. "We're leading the way in pioneering this program."