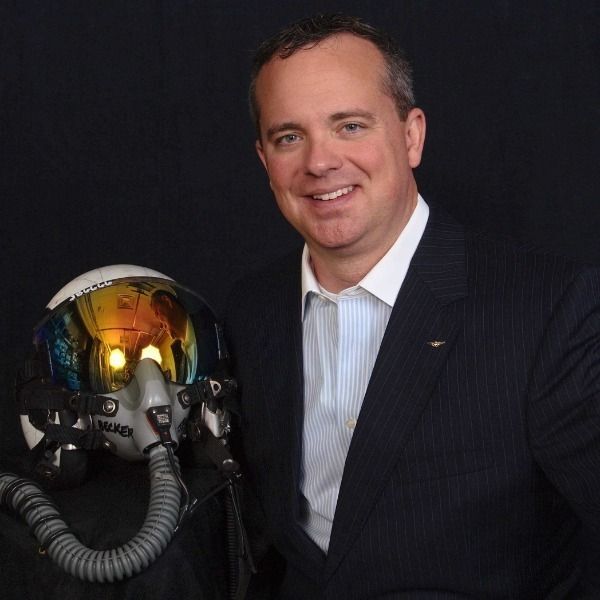 Lieutenant Commander Jack Becker '94 attended the United States Naval Academy and then became a career naval aviator, flying the F/A-18 Hornet and Super Hornet. After retiring from the Navy, he formed Flight Level Solutions, a company that helps organizations perform with fighter pilot-like precision. Becker is also a wide-body captain for FedEx Express.
You can only have one: Rose's caramel corn, an ice cream cone from Jersey Junction, or a Yesterdog. Which do you choose?
Yesterdog.  Oh how I miss that on the east coast!
What was your path from East Grand Rapids to where you are now in life?
After graduating from EGRHS in 1994, I attended the U.S. Naval Academy in Annapolis, MD.  My years at Annapolis were amazing.  I was the assistant captain of the hockey team, and walked on the Div. 1 football team.  I graduated with a B.S. in political science in 1998, and was commissioned as an officer in the U.S. Navy.  From there, I attended flight school in Pensacola, FL, Corpus Christi, TX, and Meridian, MS.  I completed the Navy's Advanced Jet Training Pipeline as a Distinguished Graduate and a member of the Commodore's List with Distinction. I earned my naval aviator "Wings of Gold," and chose to fly the (then) latest and greatest fighter jet, the F/A-18 Hornet.  
I spent a career, both active duty and in the naval reserve, flying the F/A-18 Hornet and Super Hornet.  Early in my career, I flew 29 combat missions in the middle east.  And through some very good fortune, I was given the opportunity to become an instructor pilot. I was also chosen two summers in a row as an airshow demonstration pilot, performing at airshows across the country in the F/A-18. I remained an instructor pilot for the remainder of my career. I retired from the naval reserve in 2018. 
I stayed close to my fighter pilot roots by founding a company, Flight Level Solutions, Inc. My team at FLS aids corporations and associations in reducing mistakes and performing with fighter pilot-like precision. I am very lucky to give keynote speeches and workshops to thousands every year. 
To satisfy my flying itch, I am a Captain at FedEx. I am a Line Check Airman (instructor pilot) on the MD-11 wide-body aircraft. It is an amazing job that allows me to fly literally all around the world.  
I live in Virginia Beach, VA with my beautiful wife, three amazing young daughters, and a dopey golden retriever. 
What specific thing did you learn in East that has enabled you to be successful?
From East athletics specifically, I learned the tenacity and drive that has allowed me to become who I am today. 
What were you like in school?
In school, I was a bit of a jack-of-all-trades, master of none. I was very active in sports, playing football, hockey, and tennis. I also performed in the Talent Show and the graduation baccalaureate playing the piano and singing. 
Did you have a favorite teacher or class?
I really like physics class with Mr. Jenkins.
If you had to choose one moment in one location to serve as the signature moment of your East school experience, what would it be?
Winning the football state championship in the Pontiac Silverdome our senior year was unforgettable. What an awesome experience.
What do you know now that you wish you'd known then?
What a truly special place East Grand Rapids really is. I think that is simply taken for granted by those raised there…but it is magical.  
Do you stay in touch with many people from East Grand Rapids?
I stay in touch with several of my childhood friends from EGR. I even get Friday night football updates from one of them!! Thanks Bub! 
What advice do you have for young East alums who are just starting out?
Treasure your time at East, but go out and see the world! Try new things and find your passion! 
Who else would you like us to have a virtual cup of coffee with?
Jim Boylen, former NBA coach.
Bonus question: What are you glad we didn't ask you about?
My callsign! Real callsigns in the Navy are not like Maverick and Iceman. They are normally very derogatory and embarrassing. You don't choose your own. It is assigned by the other pilots in your squadron. My callsign is not politically correct, so that stays a secret for now.