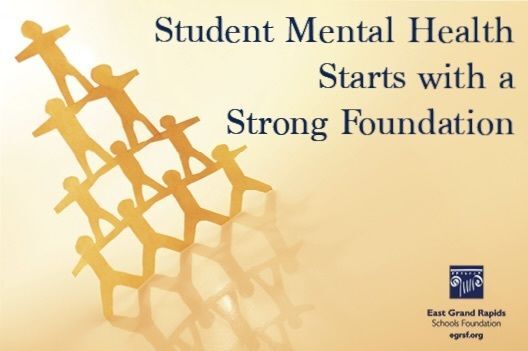 A committed alum has made the largest individual gift ever to the East Grand Rapids Schools Foundation. The donation will support student mental health in East Grand Rapids Public Schools in honor and memory of "Tallie" Frey.
The million-dollar gift has established a Mental Health and Wellness Fund that the Foundation will administer for the district. Last month, two more donors pledged $50,000 each in matching gifts to encourage community support for the fund. Numerous donors have already contributed to take advantage of those matching gifts.
Student mental health is a nationwide problem. More than 75 percent of schools surveyed last year said teachers have reported concerns about student depression, anxiety and trauma. A federal study showed 45 percent of high school students nationwide said they were so persistently sad or hopeless they were unable to engage in regular activities. Almost one in five said they had seriously considered suicide.
In June of 2022, the East Grand Rapids Schools Foundation, at the request of East Grand Rapids Public Schools, made a $750,000 multi-year commitment to support student mental health at all schools in the district. Since then, EGRPS has hired a wellness coordinator and an additional social worker. Training and additional programming is already happening, giving kids and teachers tools and resources to recognize a problem before it becomes a crisis.
Plans call for the Mental Health and Wellness Fund to grow to a multimillion dollar endowed fund. Once that goal is reached, investment income from the endowment will fund the Wellness Coordinator position–as well as ongoing training for teachers and staff and additional resources for students–in perpetuity, without ever reducing the principal.
"I'm grateful to all our supporters for recognizing that our students are our greatest resource," says Foundation Executive Director Amy Stuursma. "It's up to us to provide students with tools and training to navigate their ever-changing, unpredictable world. This is a sustainable solution that will allow for greater student self-awareness, provide strategies for navigating stress and anxiety, and help students form healthy, strong relationships."
The East Grand Rapids Schools Foundation enriches the experience of all EGRPS students by investing in programs and educational enhancements that support the whole child. During students' time in East schools, from kindergarten through graduation, the Foundation–thanks to its donors–plans to contribute more than $6 million to their education.