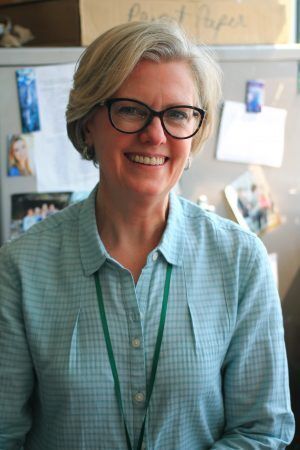 When East Grand Rapids High School English teacher Jane Hazle retired, she took with her many years of experience bringing the works of William Shakespeare to life for her students. Her colleagues in the English department, Anne LaGrand and Katie Michell, thought it was a shame to lose all that acquired knowledge, so they decided to do something about it.

LaGrand and Mitchell wrote a grant application to bring Hazle–whom they call the "EGR Bard"--back to the high school to share her expertise with current students.

"Students will benefit from the 'EGR Bard' grant, because it gives them an authentic theater and literary experience," Michell says. "The EGR Bard is an expert in teaching Shakespeare 'on your feet,' and comes with daily and weekly lesson plans and materials that have been honed in classrooms for over a decade. Students come away with a deep understanding of the texts, and an appreciation of the beauty of drama because of the masterful instruction and process.

"Thank you, Foundation donors!"