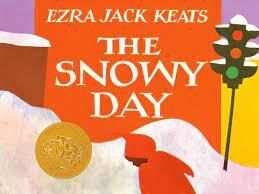 "Down fell the snow–Plop!--on top of Peter's head."

That's a line from The Snowy Day, by Ezra Jack Keats, but you probably knew that already. You probably read that book when you were little, or had it read to you, or both. And you probably never forgot it.

That's one of the reasons Lakeside Elementary kindergarten teacher Hannah Bailey applied for a grant from the Foundation to fund the purchase of new copies of classic picture books for kindergarten classes in all three elementary schools to replace the ones that are worn out from years of repeated reading.

The titles include The Snowy Day, The Three Billy Goats Gruff, The Three Bears, Brown Bear Brown Bear, Are You My Mother? and other beloved classics.

"Storybooks teach to the potential of our earliest readers," says Wealthy Elementary kindergarten teacher Kerry McKee. "Elizabeth Sulzby states that storybook reading facilitates language development and plays an important role in preparing children for success in school.

"As children hear the same story over and over, their understanding of story structure and story language will grow. They will get better at studying characters to make meaning and predictions, which fuels comprehension skills. In addition, they will begin to match the written word with the spoken one as they repeat familiar slogans like, 'Who's that tripping over my bridge' (in The Three Billy Goats Gruff)?"

"The addition of this grant puts new and traditional storybooks in the hands of our district's youngest learners. It feeds their imagination and fosters the love of reading."