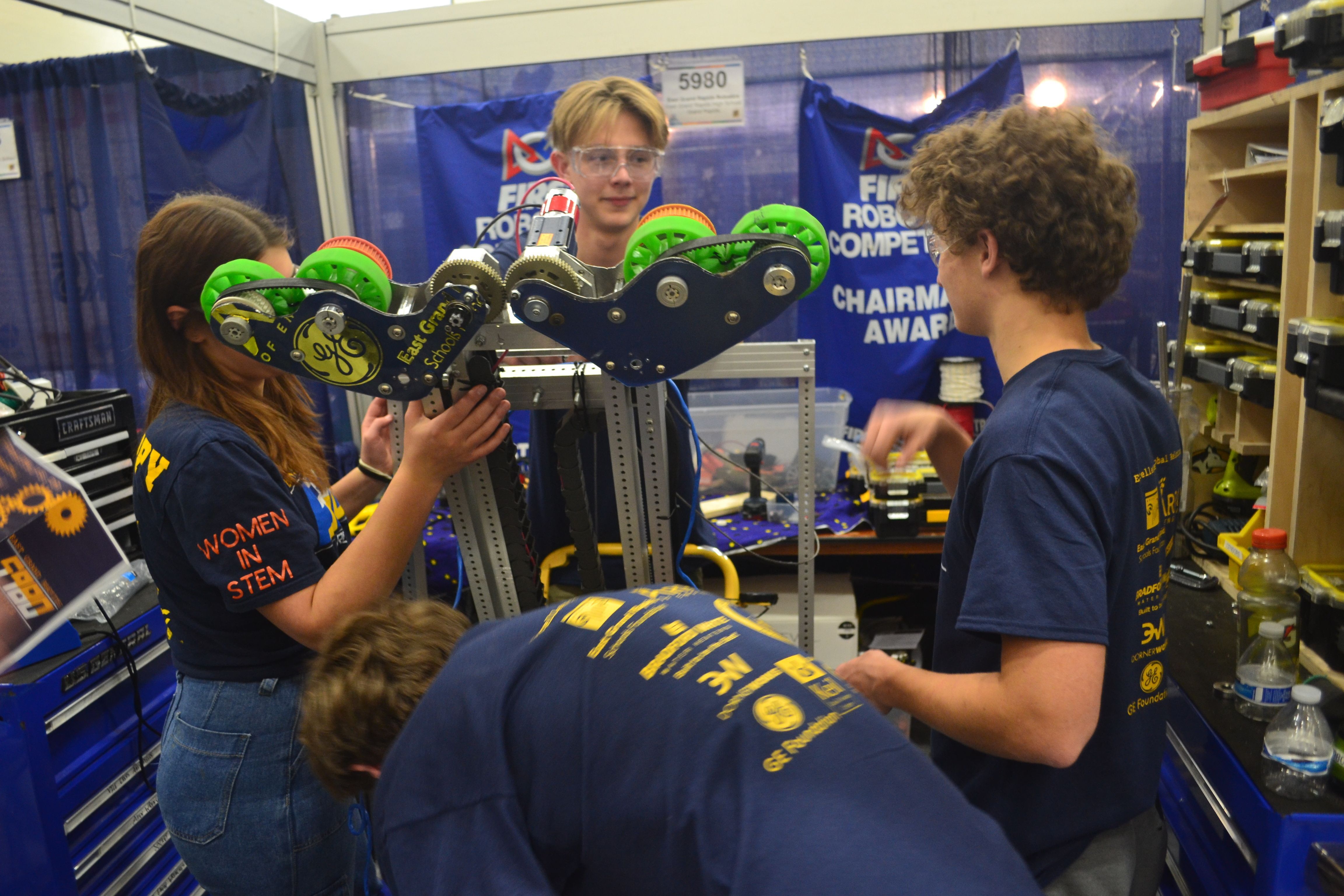 EGRHS student Tim Knape has been doing such an amazing job of updating us on the EGR Robotics team that we're simply sharing exactly what he wrote in response to the simple question, "How did the grant from the Foundation help you?" (If Tim decides not to make a fortune in robotics, he may have a bright, low-paying future in communications.)

November 15, 2022:
"This grant will help our team a lot this year. EGR Robotics was started in 2015 by high school students so we could participate in the global competition made by FIRST Robotics. FIRST is a non-profit organization that aims to educate kids in the fields of science, technology, engineering, and mathematics, all while having fun and teaching the values of working on a team and being professional. Every year FIRST launches a new game with certain objectives and opportunities to score points using a custom-built robot. EGR Robotics competes with teams across Michigan and connects with teams from all over the world. We're proud to have won the Chairman's Award 3 years in a row, which is the most prestigious award that recognizes a team who embodies the mission of FIRST and sets an example for all other teams. Our team consists of students from every grade level with different backgrounds and experiences, helping bring a diverse set of ideas and talents to our team. This year we plan to build a robot and compete at two district competitions (with the opportunity to advance to the state tournament and world championship). To register and compete at these two competitions costs a total of $6000. The Foundation grant will allow us to pay for these entry fees, which will take some pressure off our budgeting and allow us to invest more in building our robot and other expenses. East Grand Rapids Robotics is shaping the lives of students locally, and globally, and we're beyond thankful the Foundation could help provide further opportunity!

January 23, 2023:
"We've officially entered our 'build season.' We learned what this year's competition and game will be at our kickoff event on the 7th and now are in full swing. During the build season, we brainstorm, design, prototype, and crack down on building the best possible robot to compete. Our code team works during this time educating team members and researching new technologies to program the completed robot in late February.

"Our district competitions will be this spring. We'll be competing in St. Joe, and at Grand Valley State University. At either of those competitions, we'll have the opportunity to qualify for the Michigan State Championship, which will be at Saginaw Valley State University. Michigan's State Championship is the largest FIRST Robotics competition outside of the World Championship, due to Michigan's booming auto industry and expanding tech companies.

"Thanks to the Foundation's grant, we were able to cover competition entry fees, which will allow us to direct more of our funds toward purchasing tools and parts for the robot. There's no question that this grant took lots of stress off our team, as outside of the robot, the competition fees are the largest expense we face every year.

January 25, 2023:
"We've begun inviting 8th-grade students to practices to help them learn and build interest for their upcoming high school careers. It benefits us as a team because it ensures we'll have experienced freshmen for future years to remain sustainable. It also benefits the 8th graders since middle school robotics lost traction during covid, so it gives them a way to participate in the amazing opportunities available from our program."
May 3, 2023
"I've got a quick update for you all. We returned from our final competition at GVSU a little over a month ago. The past few weeks have been used as time to clean up our workspace, celebrate our seniors, and start getting some plans organized for this summer, next fall, and the foreseeable future of our team! Currently we're meeting with district administrators to discuss plans to expand our reach as a program over to EGRMS. We're also working with high school administrators to discuss the upcoming proposals for building renovations, and the exciting opportunity that this brings for our future workspace!
"Coming this summer and fall, we're continuing our close work with FIRST Global Team Iceland. They're preparing for their season, which will compete in October this year. Our goal is one on one meetings over video conference this summer to help mentor them and establish their pathway to sustainable team infrastructure.
"Our team wouldn't be here without the support from the Foundation, so from all our graduating seniors, and every current team member, we say thank you! We've got exciting plans in the works that we can't wait to tell you about!"

Thanks, Tim! You can follow the team's progress on Instagram @egrrobotics5980