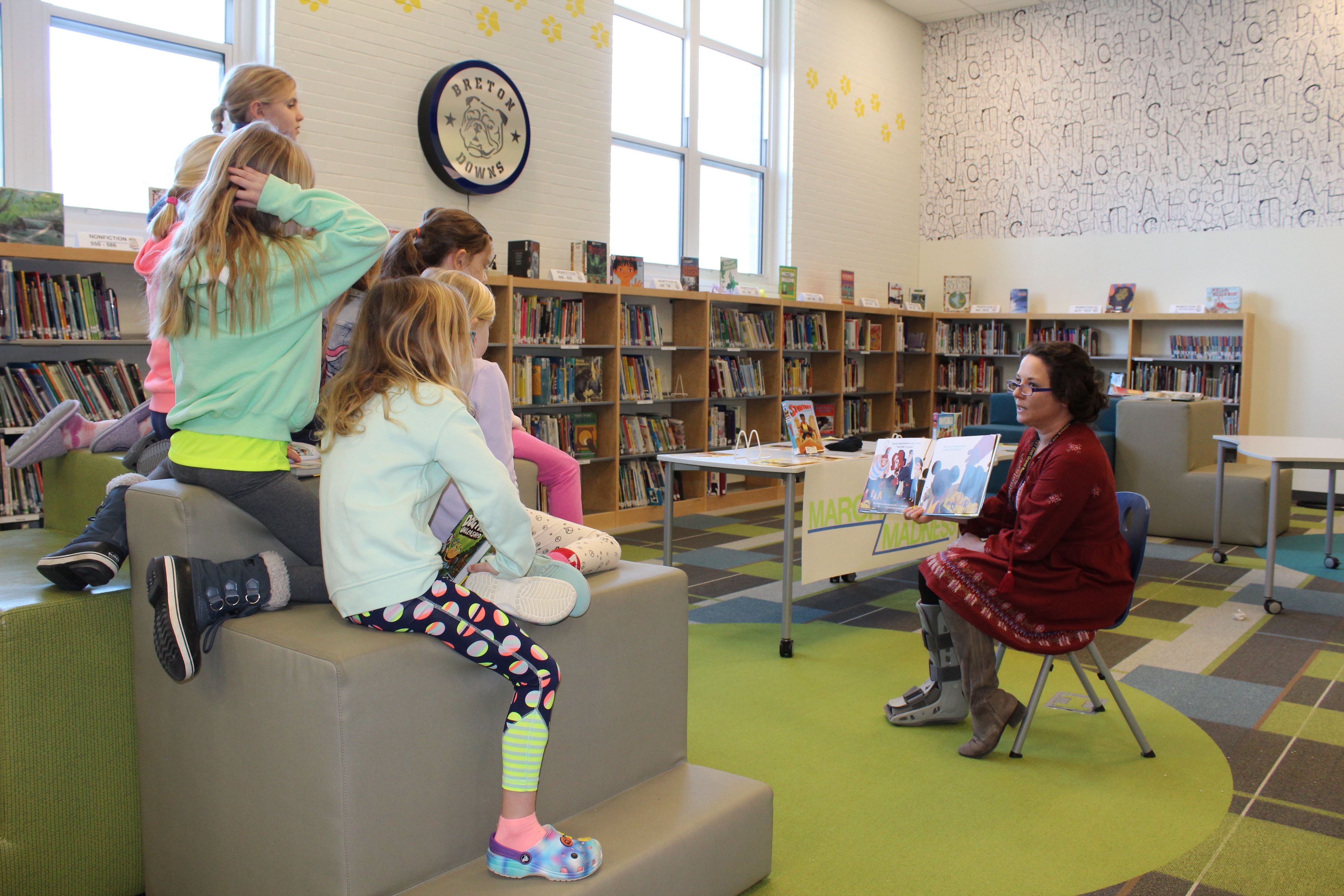 Watching Sarah Webber read to a group of children, the students' rapt attention demonstrates the simple pleasure of a book being read aloud. The children appreciate the book, of course, but if they knew everything Webber is doing for our schools, they might appreciate her even more.
Sarah Webber began volunteering in the Breton Downs Learning Commons when her daughter started kindergarten. A transplant from Florida with a background as a wildlife biologist, Webber was a dedicated volunteer until the pandemic closed the Learning Commons and prevented anyone from volunteering in our schools.
When libraries reopened and students and volunteers returned, they discovered something alarming: Hundreds of books were missing. "It was really, really bad," Webber says.
Webber and the other Learning Commons got to work. Together, they took inventory of what was left, identified books and categories they wanted to add to the collections, and figured out ways for the district to obtain them.
Last winter, Webber and two other volunteers, Kelli Mulderink and Dana Parent, applied for an "Elementary Learning Commons Inventory Revitalization" grant from the Foundation. The Foundation, thanks to our donors, approved thousands of dollars in new book purchases. "That made a huge difference," says Webber.
Then last spring, the district asked the Foundation to fund a new paid Elementary Learning Commons Coordinator position. It's been more than a decade since elementary school librarian jobs were eliminated due to budget cuts, but the Foundation was able to fund this new position. Webber applied–and got the job.
"I'm just so glad that we live in a community that supports our schools and is willing to invest in books for our students," Webber said recently, while surrounded with shelves filled to overflowing with books. "The Foundation has been amazing through all of this."
In January, Webber organized a Children's Used Book Sale. Volunteers sorted through the Learning Commons collection to find outdated or no-longer-in-demand books–or titles that just had too many copies–and sold them at a two-day sale in the Community Center. The sale raised hundreds of dollars for the district to buy new books, and the remaining books that were in good condition were donated to school libraries at Muehlig Park, Godwin Heights, and Martin Luther King Leadership Academy.
Webber will use the proceeds to buy new books for the elementary schools. First, though, she and school staff are organizing March Book Madness, another Foundation-funded project that has students voting for their favorite books in an NCAA tournament-style bracket format. "It's amazing how excited these kids get for March Book Madness," Webber says.
"I love my job," Webber says with a smile, before adding, "I mean, I did it for free so…I just love it."