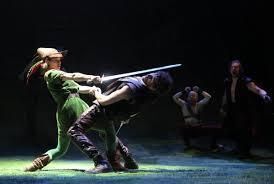 Fights in plays may be staged, but that doesn't mean they're not dangerous. So when the high school fall play wanted to make it's staged swordfights as safe as possible, drama director Marcus Chapman applied for a Foundation grant for a fight choreographer.
The resulting production had plenty of drama, and thankfully no bloodshed. "Robin Hood had a great run in November!" says Chapman.
"The show featured eleven stage combat scenarios, all carefully choreographed and planned out. We hired Kateri Kline-Johnson, the artist behind these fights, through the generosity of the EGR Schools Foundation and its donors."
"Kateri has over 40 years of experience," Chapman continues. "Kateri is able to fill the stage with bursts of action that move the story forward and entertain. Using swords, quarterstaffs, and sticks, the students spent over 40 hours learning how to safely and flawlessly execute their choreography. The result was a fantastic show that left the audience captivated!"