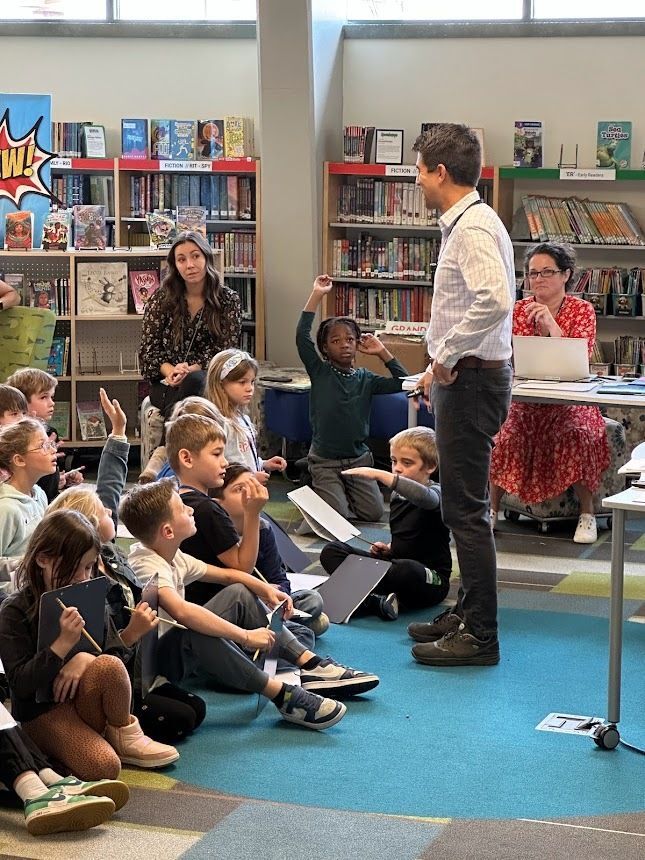 Tuesday was a big day for our students and the Foundation. Our teachers don't know it yet, but it was a big day for them too.
Throughout the day Tuesday, Caldecott Medal-winning author and illustrator Jason Chin met with students at Wealthy Elementary School. Chin's visit was funded by a grant from the Foundation, as part of a partnership with the EGR Friends of the Library.
Students had a chance to draw along with Chin while learning about his incredible nonfiction picture books. Chin shared his process with the kids and answered numerous questions from the excited students. Chin was scheduled to visit Lakeside Elementary on Wednesday and Breton Downs Elementary on Thursday, with an appearance at the library Wednesday evening that was open to the public.
Tuesday evening, just hours after Chin wrapped up his Foundation-funded day at Wealthy, the Foundation board met to consider dozens of new grant proposals from teachers and students in the district.
Over the course of more than three hours, the board had in-depth discussions of how the proposed grants would enhance teaching and learning with innovative programs that would support the whole child.
Teachers and students whose grant applications were approved will find out on Friday, when representatives from the Foundation appear in their classrooms with big checks and balloons.
So, Friday will be another big day for our students, our teachers, and the Foundation. Thank you, Foundation donors, for making all of this possible!