Class News
Here it is.
A place to keep track of what your East friends are up to and to share milestones in your life with your classmates and all East alums. Graduations, weddings, reunions, babies, new jobs, retirement, grandkids, that chance encounter at the base of the Eiffel Tower with another Pioneer. Just send what you want to share to the Class Agent listed for your year. Don't see a class agent listed? Sign up to be one by emailing Maria Allen or calling (616)235-3535.
Click the decade to jump to more about each class within that period.
Class agent: Auden Elliott
Class of 2017 Senior Retreat
From Class Agent Auden Elliott: 
"Everyone seems to be doing well and finding their place in their respective universities and new professions. Allison Hubbard performed in a showcase at Roosevelt University in Chicago where she is a part of the theatre conservatory. She sent along this quote: 'Life in a theater conservatory is really crazy busy but my classes are really awesome. I get to study under some of the best people in the business! I got to perform in the Freshman Showcase five weeks into school which was wonderful! Each student got the chance to be showcased in a dance, song, or scene and we all performed in group numbers that had all seventy of us involved. It was a great way for us to be introduced and welcomed into the theater conservatory!'" Here's a picture of Allison performing (photo by Megan Grosso):
Class agent: Emily Milanowski
2016 EGR Alumni (l-r) Midshipman Georgia Deems, Cadet Nathan Hein and Midshipman Andrew MacGregor met up at the 118th Army-Navy Football Game December 9, 2018.
(submitted by Kathy MacGregor)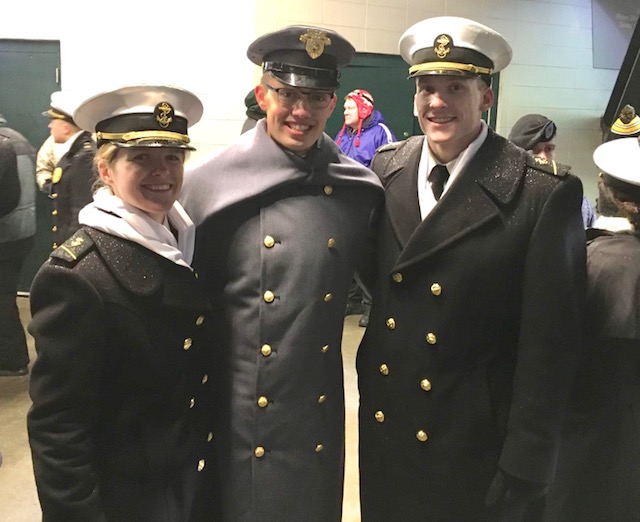 Class agent: Margaux Aquino

5th Reunion
December 22, 2017 at Gray Skies Distillery 9pm - Midnight.
Reunion information and registration.
Class agent: Olivia Avery
Class agent: Kaitlin Ronda Merpi
10th Reunion
Friday December 22, 2017 at Carolina Low Country Kitchen at 7pm
Contact Spencer Merpi with reunion questions.
Class agent: Sarah Stillo
Class of 2006 Reunion Photo
Updates: 
Katherine Khorey and  a friend won Chicago Startup Weekend back in April. They're working on launching their platform now. It's a mobile app for short stories: updates are on the Shortfics website.

Valerie (Walworth) Dawson has two children: Ana Ray, 3, and Maximillian, 1.  Her new address is 1513 Sterling Oaks Dr Moncks Corner, SC 29461.
Irene (Casillas) McKenzie and husband Taylor bought their first condo in Chicago.  Irene works at Ann & Robert H. Lurie Children's Hospital as a nurse practictioner for a pediatric brain tumor program.  Her husband Taylor recently started his own lighting company called McKenzie and Keim (based in Chicago).
Alex (Fairchild) Oates and Tyler Oates welcomed baby Olivia in July.
Kayla (Kalmbach) Williams and husband moved back to Michigan in June 2017 after spending 2 years in China.
Marla (Kalmbach) Woodward is completing her MBA at the University of Oxford in cold and rainy England.
Rachel Shapley married Steven Brusca summer 2017 here in Grand Rapids, Michigan. They live in Hoboken, NJ. 
Casey Milroy married Michael Beaudoin summer 2017 in Milwaukee, WI.  She is completing her masters in education through the University of Wisconsin.
Natalie (Corbett) McCarty is completing her masters through the George Washington University family nurse practioner program. 
Kelsey (McDonald) Macintosh and her husband Kyle welcomed baby #2, Eva, in October, 2016. 
Mary Fix is having a big year as a photographer. Her work is being featured in Elle Mexico, Nylon, Elle Indonesia, L'Officiel Singapore, Eileen Fisher, New York Magazine, etc. To see more, her web site is www.maryfix.com or you can follow her on instagram @maryfixfix.
John Abraham graduated from Harvard Law in the summer of 2016.
Class Agent: Andrea Segovia
Class of 2005 Yearbook Photo
Class agent: Andrew Martin
Class agent: Morgan Evans
Class agent: Carly Johnston
Class agent: Jane Stancil-Steele
Brienne (Ritzenhein) Postema has helped open Carolina Lowcountry Kitchen in Gaslight Village! GR Magazine article featuring Brienne. 
 
Class agent: Sarah Stiehl Tupper
20th Reunion
July 28, 2018 at Grand Rapids Downtown Market - 8pm
Reunion information and reservation. 
Class agent: Sarah Straveler
The Class of '97 celebrated its 20th year since graduation with a reunion at H.O.M.E. in The BOB Saturday, August, 5, 2017. Over 90 Pioneers (excluding those still serving a study hall detention) gathered for food, fun and friendship. Truly a wonderful evening of renewal for all. Reunion activities continued Sunday with a tour of the high school and a family picnic at Manhattan Park.  Contact Sarah (Marshall) Straveler at egrclass1997@gmail.com for more information.

Class of 1997 Reunion Photo
Class agent: Conor Dugan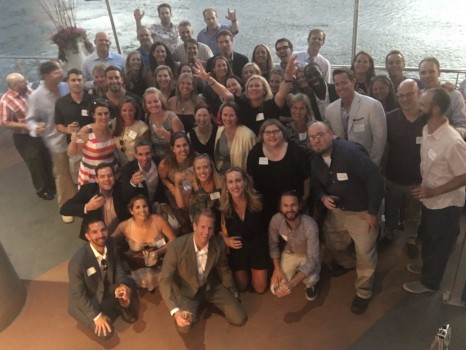 Class of 1996 Reunion Photo
Class agent: Rachel Lee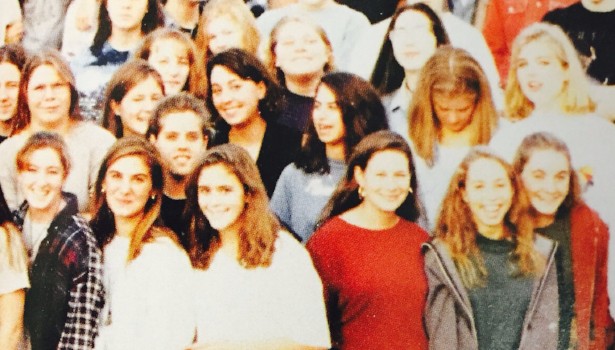 Class of 1995 Yearbook Photo
Class agent: Sarah Conway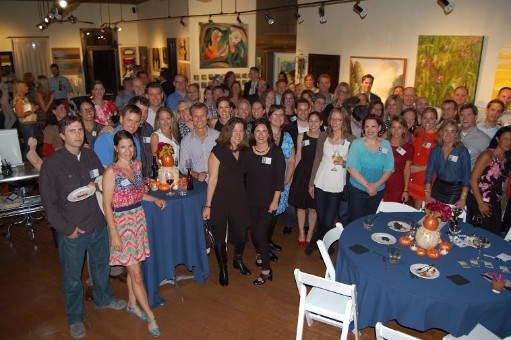 Class of 1994 Reunion Photo
Class agent: Margo Toms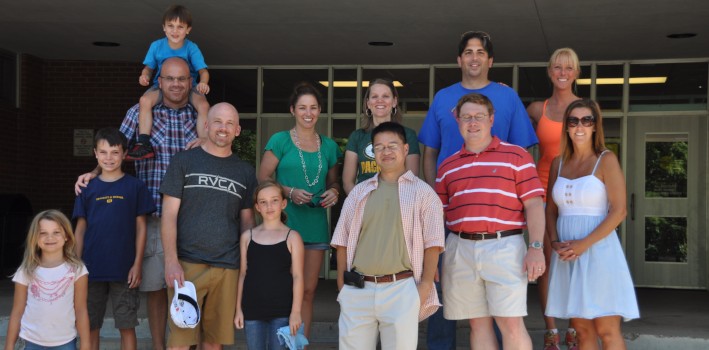 Class of 1993 Reunion Photo
Mike Baker married Kimberly Slendak July 3rd. Here's a picture from their wedding: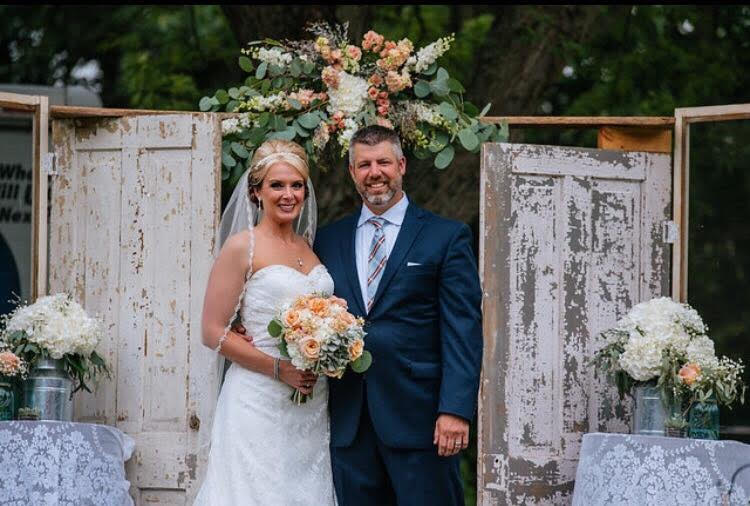 From Class Agent Margo Toms: "Jackie (Campbell) Hanson is opening a yoga studio in Versailles, KY, called 'Yoga Room.' It turns out three people from our class live in KY: Jackie, Megan (Dembinsky) McFarland, and Mike McColl."
Class agent: Geoff Laham

Class of 1992 Reunion Photo
Class agent: Parker Frost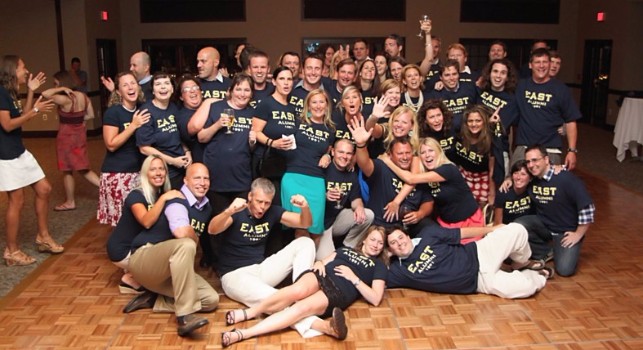 Class of 1991 Reunion Photo
Class agent: Sarah Mulvihill
Aaron and Amy (Bearss) Kaufman welcomed Oliver Baron Kaufman into the world on Sept. 5, 2017 at Lenox View Hospital in New York City. Oliver weighed 8lb. 14oz. and is the couple's first child.
Class agent: Elizabeth Welch
Class agent: Tory (Stuart) Duca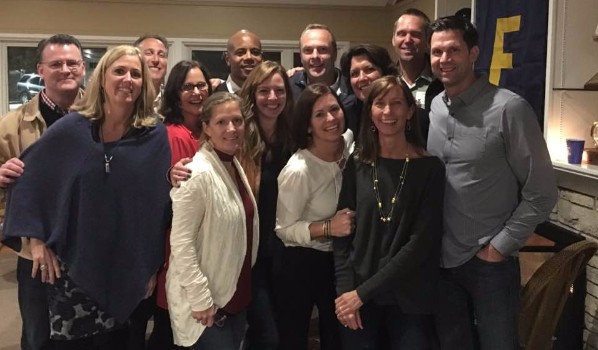 Class of 1986 Reunion Photo
Class agent: 
Class agent: Michael Allen
Class agent: Mark Davis
Class agent: Suzanne Wickman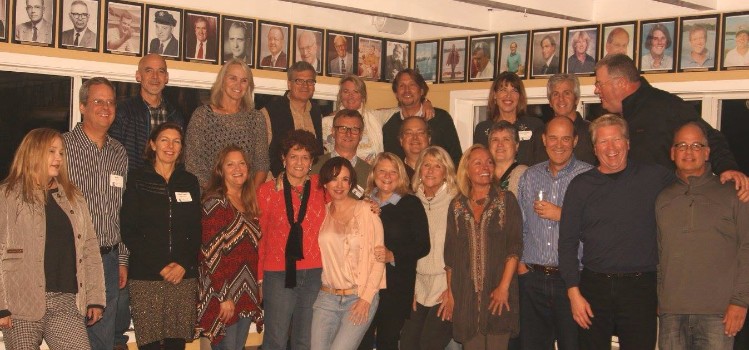 Class of 1981 Reunion Photo
Class agent: Lynne Marino

Class of 1977 Reunion Photo
Class agent: Steve Edison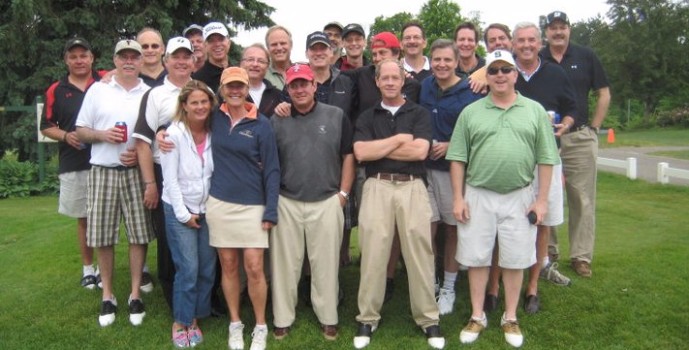 Class of 1976 Reunion Photo
Class agent: Meg Goebel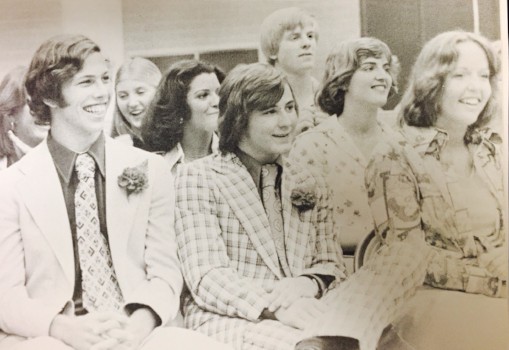 Class of 1975 Yearbook Photo
Class agent: Molly Murray, Linda Siebold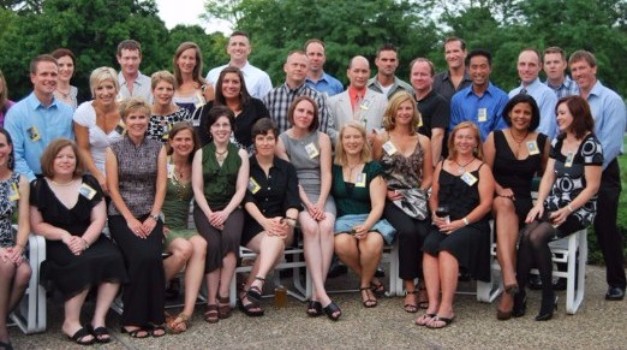 Class of 1973 Reunion Photo
DAVID BOWERS RECEIVES THE FLORIDA BAR
"GERALD T. HART OUTSTANDING TAX ATTORNEY OF THE YEAR" AWARD          
The "Gerald T. Hart Outstanding Tax Attorney of the Year Award" is presented annually by The Florida Bar Tax Section to the individual who has made "major contributions to the advancement of the practice of Tax Law and who exemplifies the highest standards of competence and integrity." Bowers, a shareholder and Board member of Jones Foster, is a Florida Bar Board Certified Tax Attorney.  He has over thirty years of experience in estate planning, business planning and tax planning.  He is a former Chair of the Tax Section of The Florida Bar (a member for over 30 years); former Chair of the Tax Law Certification Committee of The Florida Bar; former Chair of the Palm Beach Tax Institute; and former President of the Palm Beach County Fringe Benefit Council.  He earned his law degree from Ohio Northern University and his LL.M. from the University of Florida (1981).  David is a graduate of East Grand Rapids High School 1973 in Michigan.
Class agent: Sue (Massingham) Camp
Class of 1971 Reunion Photo

Class of 1971 Reunion Photo
On the move:  Classmates are using their time these days to travel and enjoy new experiences.  During 2017, traveling classmates included Amy Miller to Italy with family, Susan Massingham (and Joe) Camp to Galapagos Islands and Machu Picchu, Pam Champion Franklin to Michigan from California, Peggy Cowan from Alaska to the Grand Canyon, and many more.  What a great way to take advantage of the golden years!
Congratulations:  This past July, JoAnn Maloley Abraham was appointed to the Clark Retirement Community Executive Team as Vice President of Development and Executive Director of Clark Foundation.
Sympathy:  We regret to announce the passing of classmate Sandra Ryan Brailey in September after a short battle with leukemia.
Class agent: 
Class of 1970 Yearbook Photo

Class of 1970 Yearbook Photo
Class agent: Lisa Wenger-Menerick
Shelley (Allen) Kohorst writes: "My husband, Bob Kohorst, has been appointed the U.S. Ambassador to the Republic of Croatia.  We leave January 9th for our post."
Save the Date: Reunion September 21-23, 2018
Class agent: Margaret Idema

Class of 1967 - 50th Reunion
Class agent: Gary McInerney

Class of 1966 Reunion Photo
Class agent: Mike Sebastian
Visit the Class of 1965 Website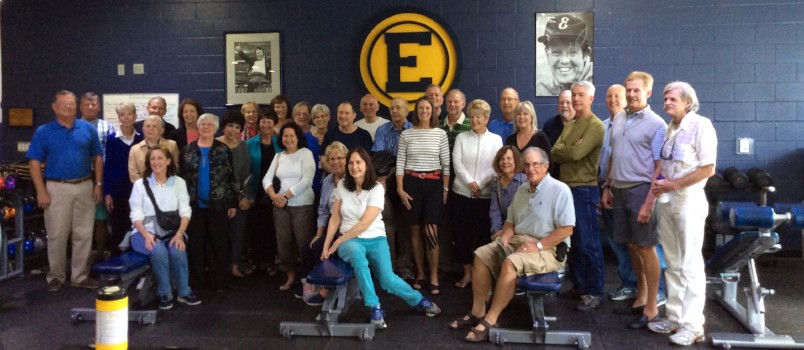 Class of 1965 Reunion Photo
Class agent: Lou Murray
Class agent: Robbie VanSolkema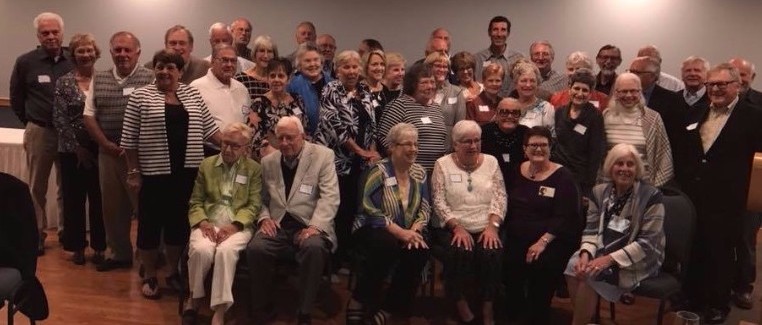 Class of 1962 Reunion October 6.2017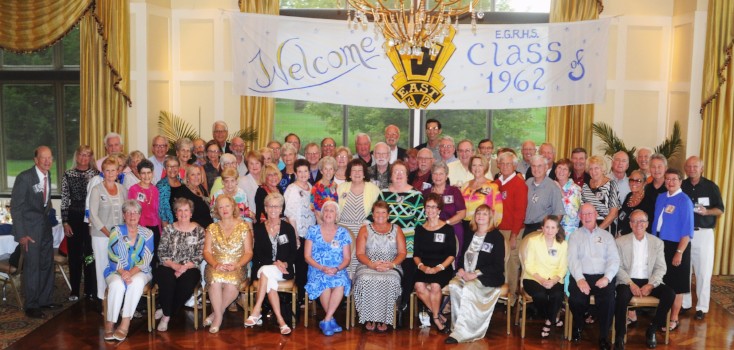 Class of 1962 Reunion Photo
Register now for the Class of 1958 - 60th Reunion
June 8-9, 2018 in Grand Rapids, MI
Class agent: Libby Headrick
Class of 1957 Reunion 2017

Class of 1957 Reunion 2017

Class of 1957 Reunion 2017

Class of 1957 Reunion 2017
The Class of 1957 held their 60th Class Reunion over the October 13 & 14th weekend. Friday night was a beautiful evening so about 30 people took the bus to the football field to witness a celebration for our own Dave Mehney, who was honored at his retirement after 28 years as freshman football coach. Following the ceremony we traveled back to our old High School (which is now Wealthy Elementary School) to tour the facility, enjoy "Yesterdogs" and all their trimmings, and reminisce with old friends.

Saturday afternoon about 40 people enjoyed a light luncheon and tour of the Brookby House (also known as the Blodgett Estate). For those who attended, the experience was extremely rewarding and informative.
 Saturday evening found 70 classmates and spouses at Reds at Thousand Oaks. We had folks from California, New Mexico, Oregon, Texas, South Carolina, Nevada, Kentucky and Florida. In spite of the inclement weather, all enjoyed a delicious meal and lots of conversation. Our delightful MC, Chuck Jennings, led us in invocation, and entertaining tidbits from days gone by.
 All in all, the weekend was perfect. Everyone enjoyed themselves and it was so good to catch up with old friends. We are now busy working on a class directory and will mail a copy to all our classmates when it is available.
Before the 2017 Homecoming football game, Dave Mehney was honored for his 28 years of service as an East Grand Rapids football coach. Surrounded by family, friends, fellow coaches, and many of his former players, Mehney used the occasion to thank everyone who had helped him along the way.

Near the end of his remarks, Mehney also made a big announcement: He's pledging $100,000 to the East Grand Rapids Schools Foundation in the form of a matching gift. "I'm pledging to match every dollar that's donated up to $100,000," Mehney said to the crowd including his 1957 classmates who were in attendance, "and I'm hoping you'll soak me for all of that amount."
Dave Mehney at 2017 Homecoming Game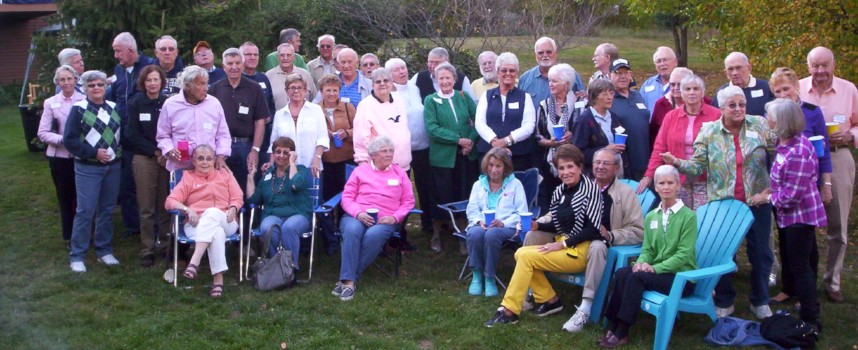 Class of 1957 55th Reunion Photo
Class agent: Sue Allen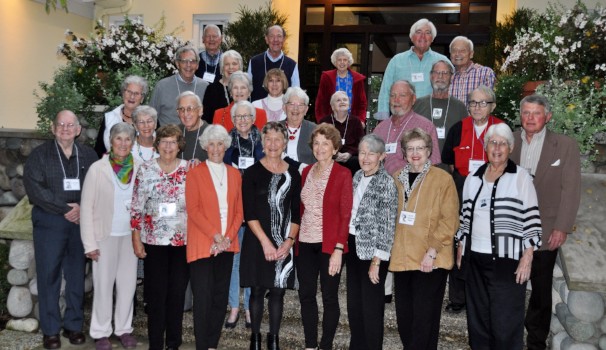 Class of 1956 Reunion Photo
Class agent: Ren Brander

Class of 1955 Reunion Photo
Class agent: John Rose

Class of 1953 Reunion Photo
Suel Novak reports that she and her husband Art are safe and ok. All of their community (Santa Barbara and Montecito) is mourning the loss of life and property due to the wildfires and subsequent landslides and flooding in the stormy weather afterward. They hope the new year will be better for all.
Class agent: Elizabeth Crosby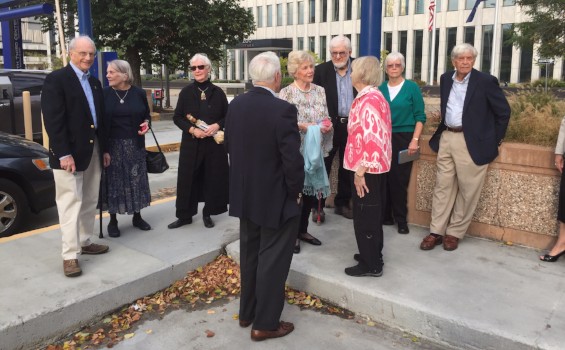 Class of 1952 Reunion Photo
From Betty Jo (Muir) Crosby: "The Class of '52 had to develop 'Plan B' after their Saturday night reunion dinner on October 7 at the University Club was canceled because of a power outage in downtown Grand Rapids. An impromptu reunion planning meeting was held in the parking lot at the Fifth Third Bank building with cell phones going at full speed. The party was moved to Kent Country Club where a very good time was had by all who made the connection. Alumni from Florida, North Carolina, California, New Mexico and Wisconsin as well as the 'local' alumni attended the reunion, which was the 65th for the class."
Class agent: Jean Swaney
A few 1950 and 1951 alumnae gathered in August to reconnect and reminisce. 
Standing: Fran (Whinery) Hall, '51, Patti (Sligh) Ver Sluis, '51, Sandy (Reynalds) Olds, '50, Jean (Grigware) Swaney, '51, and Judy (Ford) Landman, '51
Seated: Nancy (Bosch) Bow, '51 and Susie (Fentress) Allen, '50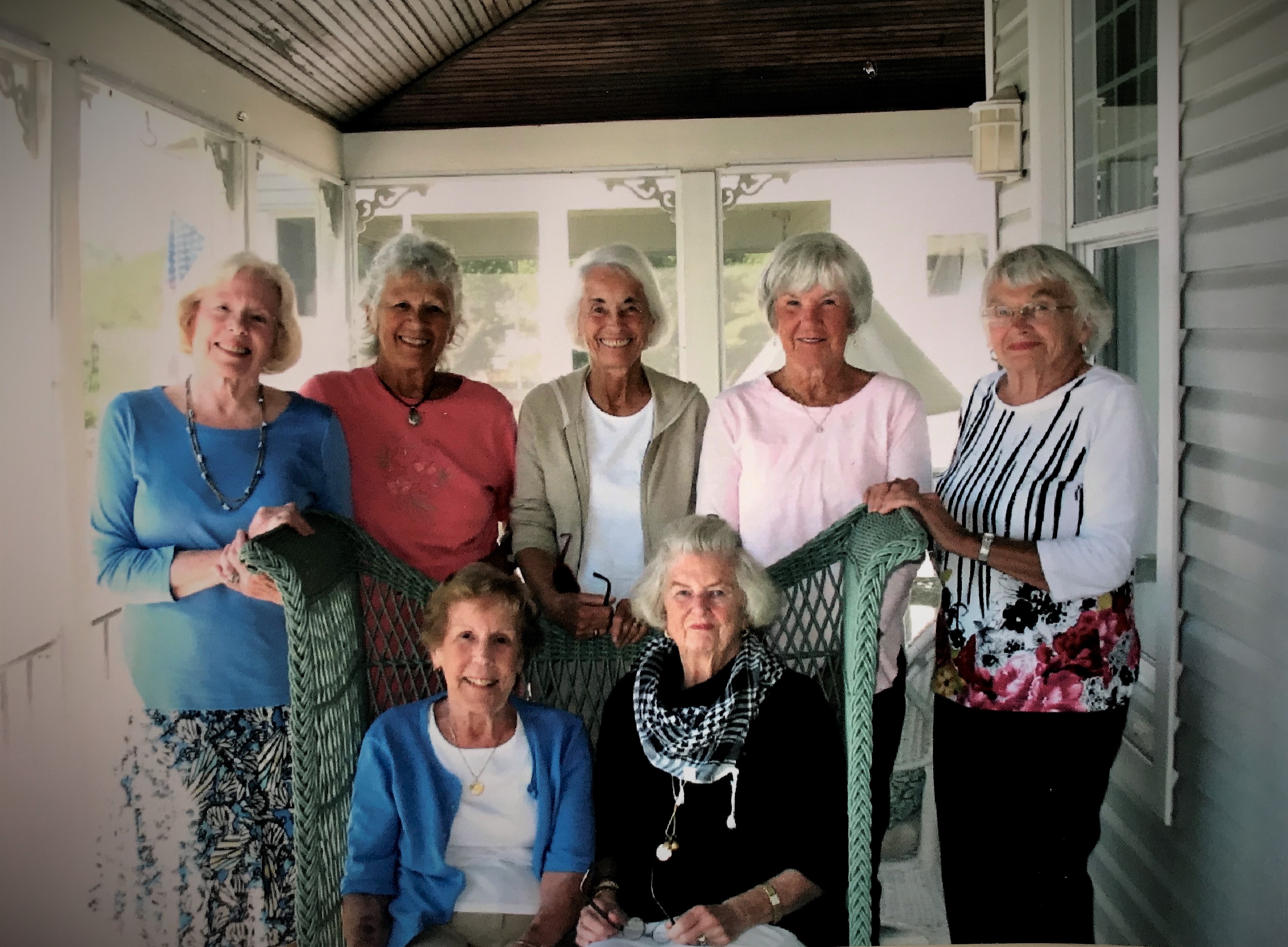 Class agent: Bob Allaben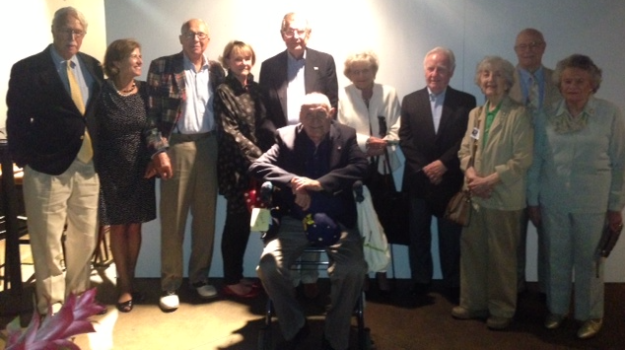 Class of 1948 Reunion Photo
Class agent: William Kopp