Class News
Here it is.
A place to keep track of what your East friends are up to and to share milestones in your life with your classmates and all East alums. Graduations, weddings, reunions, babies, new jobs, retirement, grandkids, that chance encounter at the base of the Eiffel Tower with another Pioneer. Just send what you want to share to the Class Agent listed for your year. Don't see a class agent listed? Sign up to be one by emailing Maria Allen or calling (616)235-3535.
Click the decade to jump to more about each class within that period.
Class of 2020
Class agent: Megan Tinerella and Raenah Lindsey
Class agent: Quinn Allchin or McKeathan Robertson
Class agent: Susie Deems or Owen Stecco
Class agent: Auden Elliott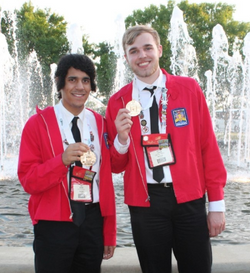 Waters & Takens with Gold Medals
Ben Waters (left) and Keith Takens (right), freshmen in Ferris State University's Digital Animation and Game Design program, show off their gold medals from the SkillsUSA 3-D Animation and Visualization competition. Waters and Takens competed at the National Leadership and Skills Conference held June 24-28 in Louisville, Kentucky.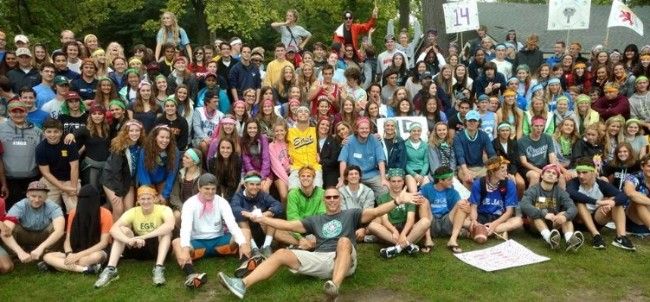 Class of 2017 Senior Retreat
From Class Agent Auden Elliott: 
"Everyone seems to be doing well and finding their place in their respective universities and new professions. Allison Hubbard performed in a showcase at Roosevelt University in Chicago where she is a part of the theatre conservatory. She sent along this quote: 'Life in a theater conservatory is really crazy busy but my classes are really awesome. I get to study under some of the best people in the business! I got to perform in the Freshman Showcase five weeks into school which was wonderful! Each student got the chance to be showcased in a dance, song, or scene and we all performed in group numbers that had all seventy of us involved. It was a great way for us to be introduced and welcomed into the theater conservatory!'" Here's a picture of Allison performing (photo by Megan Grosso):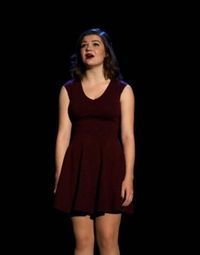 Class agent: Emily Milanowski
Currently, there are no 2021 reunion plans for the class of 2016.
Andrew MacGregor - United States Naval Academy and Nathan Hein - United Stares Military Academy (West Point), swam in the same pool for the final time in December 2019.  The 2019 Army-Navy Swim Meet was the culmination of 10 years of swimming, friendship, leadership and competition.  As seniors at East they co-captained the boys swim team.  

Andy was commissioned as an Officer in the Navy's Explosive Ordnance Disposal community and Nathan will be commissioned as a Field Artillery Officer in the US Army in May 2020. They are back together, on the same team, serving our country.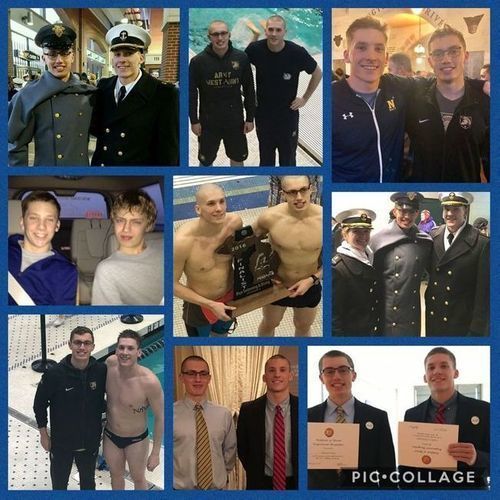 Exciting news for Alexandria Lian Walschots! She is in a feature film, and one of the lead actors, playing Alice in a family movie called Sk8 Dawg. It is available OnDemand, Amazon and iTunes, and at all Targets and Walmart, even showing in Europe. It has a good message and for all ages.  Alex has also done an episode for NBC's "Disappeared". Her future plans include "Friends with" Snow White in the coming year at Disney World Orlando.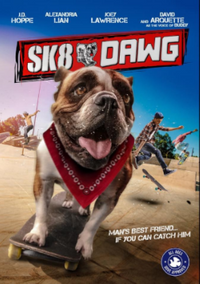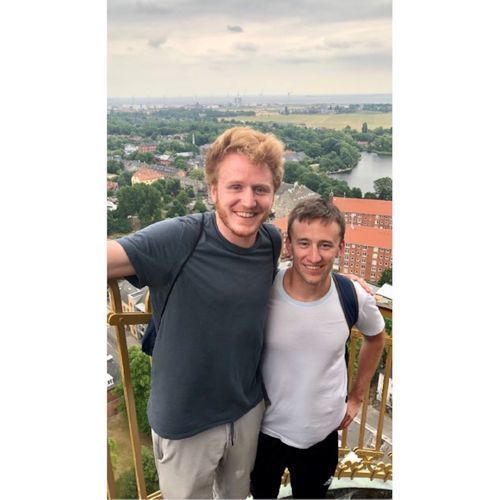 Sam Forstner and Sam Adams sent this picture from their trip to Sweden, Denmark, and Germany in June. The photo was taken on a spiral staircase on the outside of the spire of the Church of the Savior overlooking Copenhagen.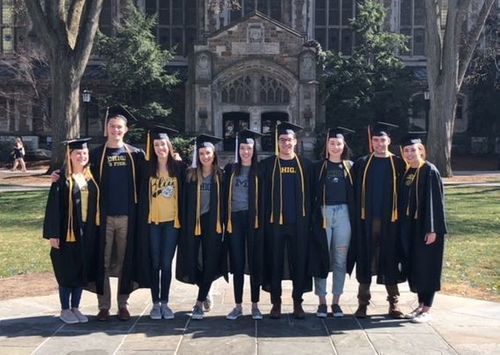 Here are nine of the Class of 2014's new University of Michigan grads: Caroline Kremers, William Laffrey, Laura Donohue, Dakota Bernard, Allaire Donohue, Peter Mack, Katie Keane, Joe Donohue, and Sophie Brown. 
Class agent: Margaux Aquino

5th Reunion was held December 22, 2017 at Gray Skies Distillery 
Class agent: Olivia Avery
Updates:
Congratulations to Daniel Herington, who got married in October 2016.
10th Reunion was held Friday, November 23, 2018 at Paddock Place in Grand Rapids

Contact Natalie Fratto, Max Mikelic, or Meredith Rizzo  with any questions.
Class agent: Kaitlin Ronda Merpi
Congratulations to Kaitlin (Ronda) Merpi for receiving the Excellence in Education award from the Michigan Lottery. 
Class agent: Sarah (Goebel) Stillo
Currently there are no 2021 reunion plans for the Class of 2006.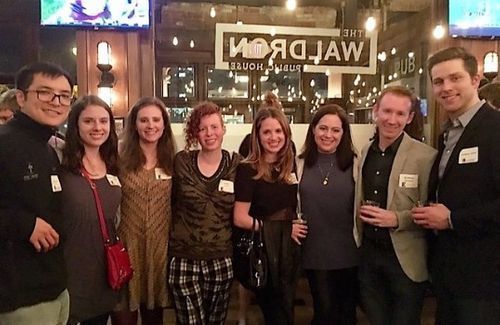 Class of 2006 Reunion Photo
There are currently no 2021 reunion plans for the Class of 2006. 
Contact EGRSF or Sarah (Goeble) Stillo if you have updates or additions to this news from a few years ago:
Katherine Khorey and  a friend won Chicago Startup Weekend back in April. They're working on launching their platform now. It's a mobile app for short stories: updates are on the Shortfics website.

Valerie (Walworth) Dawson has two children: Ana Ray, 3, and Maximillian, 1.  Her new address is 1513 Sterling Oaks Dr Moncks Corner, SC 29461.
Irene (Casillas) McKenzie and husband Taylor bought their first condo in Chicago.  Irene works at Ann & Robert H. Lurie Children's Hospital as a nurse practictioner for a pediatric brain tumor program.  Her husband Taylor recently started his own lighting company called McKenzie and Keim (based in Chicago).
Alex (Fairchild) Oates and Tyler Oates welcomed baby Olivia in July.
Kayla (Kalmbach) Williams and husband moved back to Michigan in June 2017 after spending 2 years in China.
Marla (Kalmbach) Woodward is completing her MBA at the University of Oxford in cold and rainy England.
Rachel Shapley married Steven Brusca summer 2017 here in Grand Rapids, Michigan. They live in Hoboken, NJ. 
Casey Milroy married Michael Beaudoin summer 2017 in Milwaukee, WI.  She is completing her masters in education through the University of Wisconsin.
Natalie (Corbett) McCarty is completing her masters through the George Washington University family nurse practioner program. 
Kelsey (McDonald) Macintosh and her husband Kyle welcomed baby #2, Eva, in October, 2016. 
Mary Fix is having a big year as a photographer. Her work is being featured in Elle Mexico, Nylon, Elle Indonesia, L'Officiel Singapore, Eileen Fisher, New York Magazine, etc. To see more, her web site is www.maryfix.com or you can follow her on instagram @maryfixfix.
John Abraham graduated from Harvard Law in the summer of 2016.
Class Agent: Andrea Segovia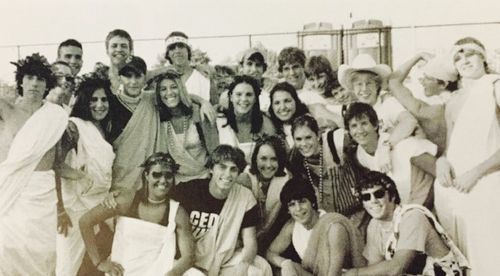 Class of 2005 Yearbook Photo
Class agent: Andrew Martin
Class agent: Morgan (Hartwig) Evans
Contact EGRSF or Morgan (Hartwig) Evans if you have updates or additions to this class news from a few years ago:
Anna Gering Vandenburg and Eric Vandenburg, both '03, had a baby girl and moved back to Grand Rapids last year. 
Dylan Cassard and his wife had a baby girl. Dylan also accepted a job as the Presentation Technology lead at Celebration Cinema North. 
Jennifer Walworth is getting married in August. 
Courtney Rawlings Brown got married on April 14th and is spending her honeymoon in Ireland, the UK, and Rome. She lives in Zeeland and works at Magna Mirrors in Grand Haven as an advanced manufacturing engineer.
Megan E. Smith Jovanovich traveled to Kyoto, Japan in April with her family, including sisters Jennifer ('04) and Abby ('09), for their brother, Andrew's ('09) wedding. 
Katy Schousen and Sean Roslaniec, both 2003, currently work at the same hospital in Seattle. 
Nick Schultz and his wife, Laura, retired from professional ballet dancing with Grand Rapids Ballet in December and have relocated to New Zeeland with their 2 year old to work as ballet masters with the Royal New Zeeland Ballet. 
Traci Corl Millet has gone back to work at Lakeside Elementary after being a stay-at-home mom for 10 years. 
After taking some time to travel this spring, Shannon Sutton made a career transition from advertising to residential real estate in Chicago.
Tricia Somerdyke put together a 3-on-3 basketball tournament for her daughter, whose team beat East Grand Rapids. 
Shelly Swainston Houghton bought a house and started her own kitchen cabinet re-finishing business. She also spends time with her 3 kids playing soccer, and with her husband who is almost one year cancer free.
Sarah Faasse is getting married in Grand Rapids in November. She is also working on her pediatric gastroenterology internship and applying for pediatric transplant hematology internships. 
Allison Miller Kaulfuss lives in Rochester Hills with her Husband and 1-year-old daughter. She currently works for Steelcase, but is transitioning into a role at her family's business, Grand Rapids Chair, as a member of the product development team. 
Katie Lich MacCallum recently returned to work in Pharmaceuticals for R&D after staying home with her kids for 4 years. 
Sam Rhodes Verplank is living in Spring Lake and working in real estate. 
Rosa Vinas Crawford lives in Colorado with her kids. She is a portfolio manager and real estate broker. In her free time, she trains and performs circus acrobatics. 
Anna Estrada Bullis lives in Cascade with her husband and four kids. She stays busy homeschooling her kids and working part time in financial services. 
Class agent: Carly Johnston
There are no 2021 reunion plans for the Class of 2001.
Class agent: Jane Stancil-Steele
Brienne (Ritzenhein) Postema has helped open Carolina Lowcountry Kitchen in Gaslight Village! GR Magazine article featuring Brienne. 
 
Class agent: Sarah Stiehl Tupper
20th Reunion was held on July 28, 2018 at Grand Rapids Downtown Market. 
Class agent: Sarah Straveler
The Class of '97 celebrated its 20th year since graduation with a reunion at H.O.M.E. in The BOB Saturday, August, 5, 2017. Over 90 Pioneers (excluding those still serving a study hall detention) gathered for food, fun and friendship. Truly a wonderful evening of renewal for all. Reunion activities continued Sunday with a tour of the high school and a family picnic at Manhattan Park.  Contact Sarah (Marshall) Straveler at egrclass1997@gmail.com for more information.

Class of 1997 Reunion Photo
Class agent: Conor Dugan
Currently, there are no 2021 reunion plans for the class of 1996.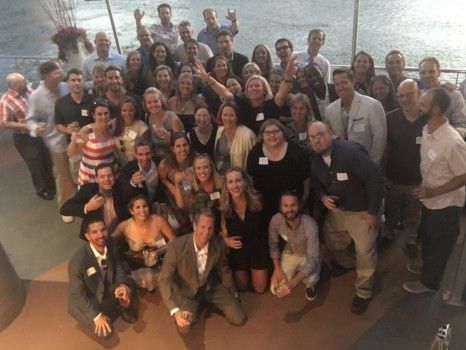 Class of 1996 Reunion Photo
Class agent: Rachel Lee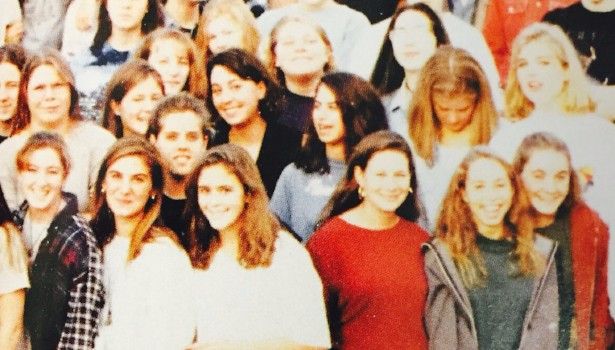 Class of 1995 Yearbook Photo
Class agent: Sarah Conway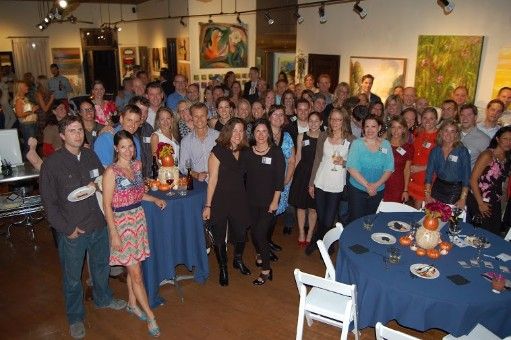 Class of 1994 Reunion Photo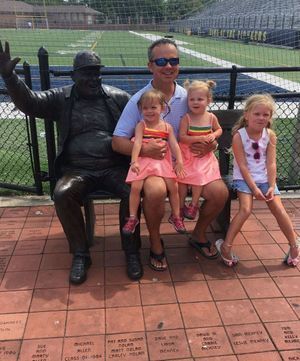 John "Jack" Becker visited East from his home in Virginia Beach. While in town, he introduced his kids to the Jimmy Gerken statue in Gerken plaza.
Class agent: Margo Toms
Chris (right) on set with the director Mike Caron and Cooper Barnes (aka Captain Man).
Chris Nowak '93, has been a writer & executive producer for the hit TV show, Henry Danger, on Nickelodeon for the past few years. The show is ending, but Chris has created a spin off called Danger Force that will begin soon. Congratulations to Chris and we look forward to watching your new show!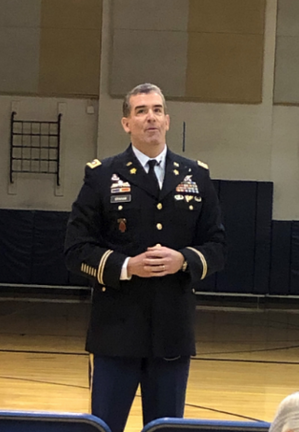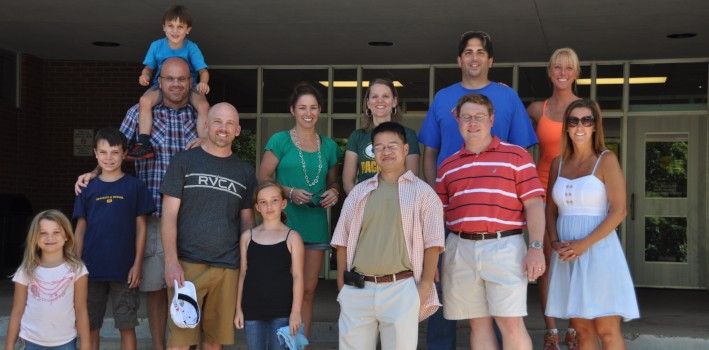 Class of 1993 Reunion Photo
Mike Baker married Kimberly Slendak July 3rd. Here's a picture from their wedding: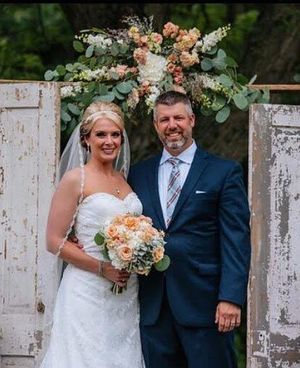 From Class Agent Margo Toms: "Jackie (Campbell) Hanson is opening a yoga studio in Versailles, KY, called 'Yoga Room.' It turns out three people from our class live in KY: Jackie, Megan (Dembinsky) McFarland, and Mike McColl."
Class agent: Geoff Laham
Class of 1992 Reunion Photo
Class agent: Parker Frost
The class of 1991 is considering a 2022 class reunion.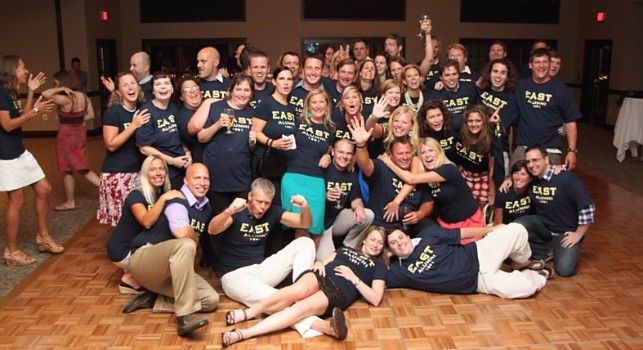 Class of 1991 Reunion Photo
Class agent: Sarah Mulvihill
30th class reunion is scheduled for October 22-23, 2021. Please check back for reunion information.
Aaron and Amy (Bearss) Kaufman welcomed Oliver Baron Kaufman into the world on Sept. 5, 2017 at Lenox View Hospital in New York City. Oliver weighed 8lb. 14oz. and is the couple's first child.
Class agent: Please contact Maria Allen if you are interested in being the '89 Class News Agent.
Class of 1989 - 30th Reunion was held Saturday, July 27, 2019, at Paddock Place in Grand Rapids. Class news and information can also be found on the East Grand Rapids High School - Class of 1989 Facebook page.
Class agent: Elizabeth Welch
The Class of 1988 30th Reunion was held on September 28-30, 2018.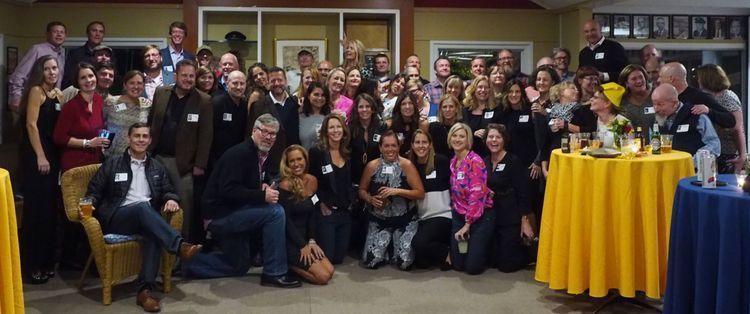 Class agent: Tory (Stuart) Duca
Currently, there are no 2021 reunion plans for the class of 1986.
When Hurricane Michael tore through Mexico Beach, displacing families and leaving destruction behind, restaurant owner and chef Dave Snyder knew exactly how to help. Read the article about Dave.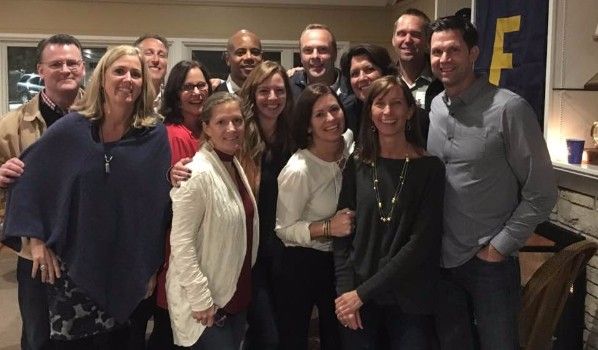 Class of 1986 Reunion Photo
Class agent: Please contact Maria Allen if you are interested in being the '85 Class News Agent.
Class agent: Michael Allen
Class agent: Mark Davis
Class agent: Suzanne Wickman
40th class reunion is scheduled for September 25, 2021 at the Grand Rapids Yacht Club. 
Additional information may be found on the Class of 1981 website and EGR Class of 1981 Facebook page.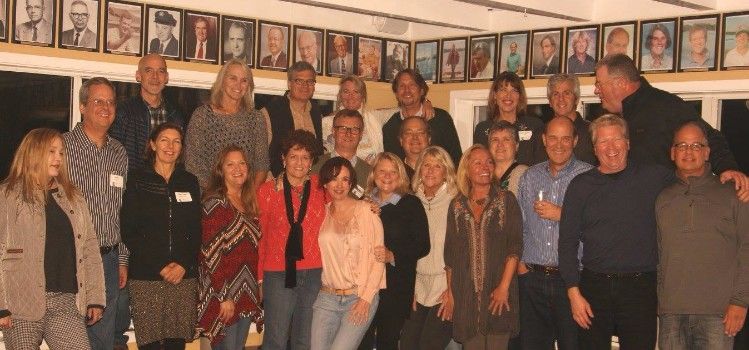 Class of 1981 Reunion Photo
Class agent: Please Contact Us if you would like to be the 1979 class agent. 
The Class of 1979 gathered for their 45th reunion on June 14 and 15, 2019. The reunion weekend started with a golf outing at Boulder Creek and a fun Friday evening at the Whitecaps baseball game. The reunion party at Aquinas College provided more enjoyment, reminicsing and reconnecting than the reunion planning group hoped for. Contact Anne Chamberlin for more information regarding the reunion. If you would like to be part of future reunion events, please contact EGRSF. 
Class agent: Please Contact Us if you would like to be the 1978 Class Agent.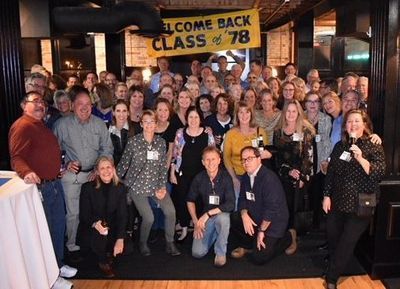 40th Class Reunion was held October 4-5, 2018. In conjunction with its 40th reunion, the Class of 1978 made a class gift to the East Grand Rapids Schools Foundation to honor members of the class who have passed away.  Classmates who donated to the gift were listed in this year's annual report. A list of all 20 of our departed classmates, along with an article about the gift, will be in the Spring 2019 edition of the Pioneer Post alumni newsletter. 
Questions regarding any of this can be directed to either Jim Fuger (jimfuger@me.com) or Maria Allen, Alumni Relations Coordinator EGRSF (mallen@egrps.org).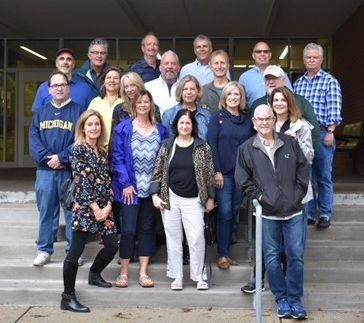 Class agent: Lynne Marino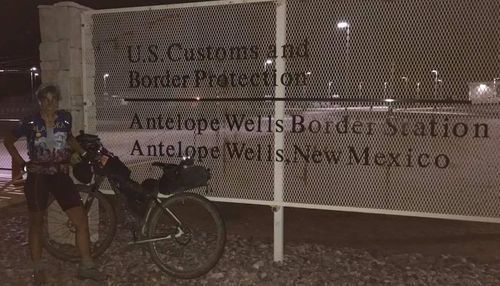 From Elisa Joseph Anders: "A huge round of applause for our awesome classmate, Corrine Leistikow!!! She biked the Tour Divide, an ultra-cycling challenge to pedal solo and self-supported the length of the Great Divide Mountain Bike Route—2,745 miles from Banff, Canada to the Mexican border in New Mexico—as fast as possible! She finished just before midnight on the 30th day. WOW!!! Congrats, Corrine!!! Surely this puts you into the EGRHS '77 Hall of Fame!"

Class of 1977 Reunion Photo
Class agent: Steve Edison
Currently, there are no 2021 reunion plans for the class of 1976.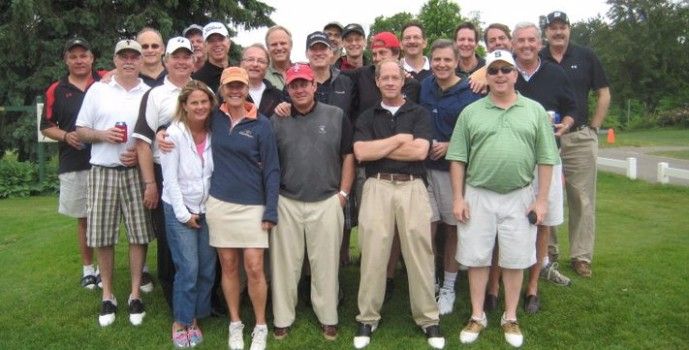 Class of 1976 Reunion Photo
Class agent: Meg Goebel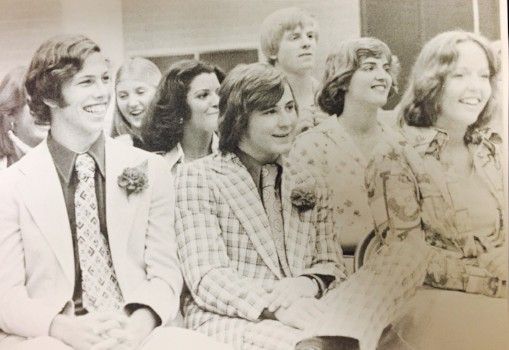 Class of 1975 Yearbook Photo
Class agent: Luci (Staples) McCall
Class agent: Molly Murray, Linda Siebold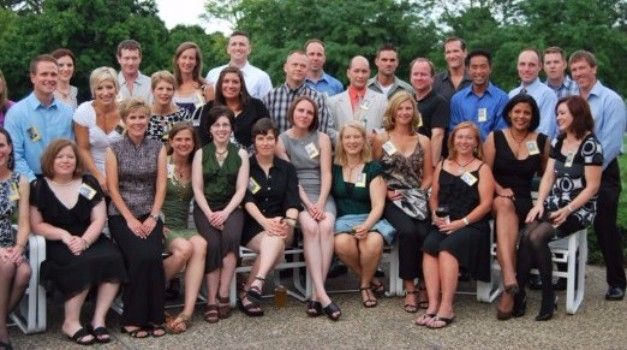 Class of 1973 Reunion Photo
DAVID BOWERS RECEIVES THE FLORIDA BAR - "GERALD T. HART OUTSTANDING TAX ATTORNEY OF THE YEAR" AWARD          
The "Gerald T. Hart Outstanding Tax Attorney of the Year Award" is presented annually by The Florida Bar Tax Section to the individual who has made "major contributions to the advancement of the practice of Tax Law and who exemplifies the highest standards of competence and integrity." Bowers, a shareholder and Board member of Jones Foster, is a Florida Bar Board Certified Tax Attorney.  He has over thirty years of experience in estate planning, business planning and tax planning.  He is a former Chair of the Tax Section of The Florida Bar (a member for over 30 years); former Chair of the Tax Law Certification Committee of The Florida Bar; former Chair of the Palm Beach Tax Institute; and former President of the Palm Beach County Fringe Benefit Council.  He earned his law degree from Ohio Northern University and his LL.M. from the University of Florida (1981).  David is a graduate of East Grand Rapids High School 1973 in Michigan.
Class agent: Sue (Massingham) Camp
An informal 50th reunion gathering is scheduled for August 14, 2021 in East Grand Rapids. The class is planning a more formal gathering in 2022. Please check back for upcoming reunion information.
On August 15, 2019, over 30 classmates, spouses and friends, gathered for a mini-reunion at Zeytin Restaurant in Ada.  We welcomed friends from California, Alaska, Maine and all over Michigan for great food and lots of catching up.  Big thanks to Kit Weiss Metcalf for pulling it all together.
Our 50th reunion is coming up in 2021 and you can help us get started by making sure we have current contact information for all classmates. We will be reaching out through this website, the class Facebook page, and other digital media to find all of you and share information.  Please keep us informed of your current email address. 
Class of 1971 Reunion Photo

Class of 1971 Reunion Photo
Class agent: Please contact Maria Allen if you are interested in being the '70 Class News Agent.
Class of 1970 Yearbook Photo

Class of 1970 Yearbook Photo
Class agent: Lisa Wenger-Menerick
50th Reunion - July 25-26, 2019
Contact Susan Kasma for reunion information.
50th Reunion - September 21-23, 2018
Contact Jeff Hudson for additional reunion information or to update your contact information. 
Class agent: Margaret Idema

Class of 1967 - 50th Reunion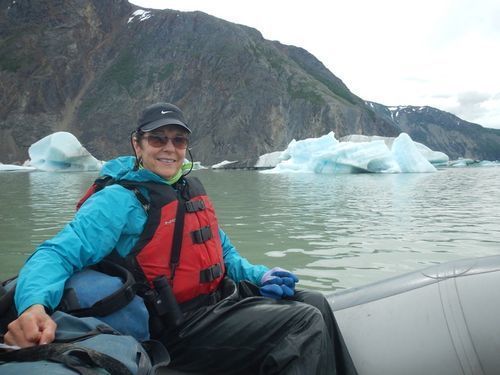 From Class Agent Margaret Idema:
"In June of 2017, I traveled for three weeks in Alaska with a friend with whom I have done a number of adventuresome trips. For the first 10 days, we rented a little Nissan pickup truck and traveled overland from Anchorage up to Denali (formerly Mt. McKinley), to Fairbanks and back to Anchorage to get our flight to Haines. There we met our group of 8 others (plus 3 guides) for 13 days of rafting in some of the most remote parts of both the Yukon Territory as well as southeast Alaska where we ended the trip. One of the most surprising things to me was that we didn't see one other person the entire time! That's how remote we were. The sun never set (we were there during the summer solstice) but we didn't mind the long twilight 'nights.' We'd just lie back on our sleeping bags often listening to calving glaciers or birds looking for mates. We came upon brown bear (ie, grizzly bear) tracks on many of our day hikes and saw a few bears from a safe distance at other times. A memorable moment was watching a bald eagle soaring overhead, swooping around for a moment or two before diving near our raft to pick up its dinner of salmon. What a thrill it was to experience such remote areas of Alaska that most people never have a chance to see."
Class agent: Gary McInerney

Class of 1966 Reunion Photo
Class agent: Mike Sebastian
Visit the Class of 1965 Website for current class information and reunion information. 
David Goodspeed is trying to locate missing classmates who are also listed on the '65 website. Please contact David or EGRSF to update your contact information.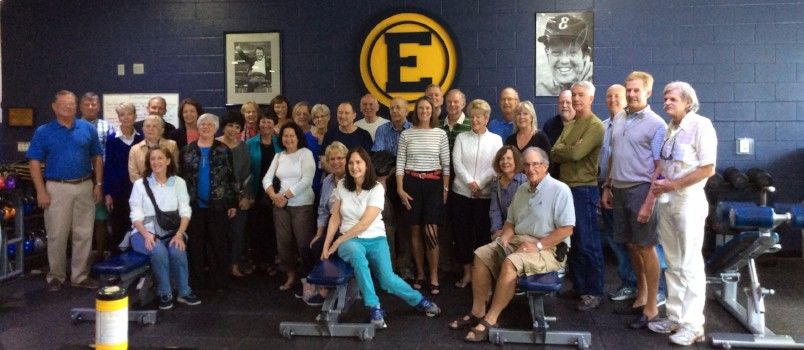 Class of 1965 Reunion Photo
Alan Silverman had a poem published in The Chronogram, A Mid-Hudson Magazine of Events and Ideas. Here's Alan's poem:
Three Reasons I Like Potholes
Birds bathe in them.
They slow people down.
If Death drives a new car
he'll think twice
before coming down my driveway.
Class agent: Lou Murray
CDR. Bill Krissoff, MD, Medical Corps, United States Navy (Ret.), will be the guest of honor at the Foundation's Community Service and Distinguished Alumni Awards Dinner, Thursday, September 30, 2021.
55th Reunion was held September 6-7, 2019. Contact Mary (Cornelius) Kretschman with reunion questions or to update your contact information.
Steven Hoskins writes: "After 48 years in the packaging industry, serving as President of Pacific Inland Packaging Corp until 1992 when my company was purchased by Sunshine FPC, then continuing there as VP of Sales and Marketing, I retired in Nov 2016. My past credits include President of California Film Extruders and Converters Assoc., Chief of the YMCA Indian Princess Friendly Spirit Nation (a group of over 300 dads and daughters), and coach of many girls teams in baseball and tennis. After retiring, wife of 40 years Vicki and I "downsized" and moved to a new retirement community in Menifee, CA. We moved into our new house, added many custom features, had the house fully repainted on the inside, and landscaped both the front and back yards.  Currently I am in recovery mode trying to get my golf scores back to the mid 80's. We both spend time with our 3 daughters and 5 grandkids who keep their grandparents young and active." 
Class agent: Robbie VanSolkema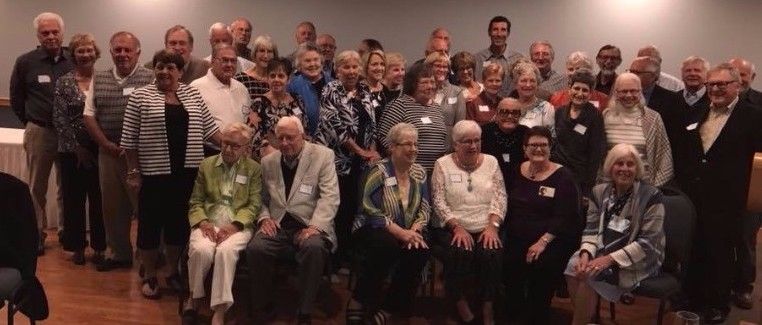 Class of 1962 Reunion October 6.2017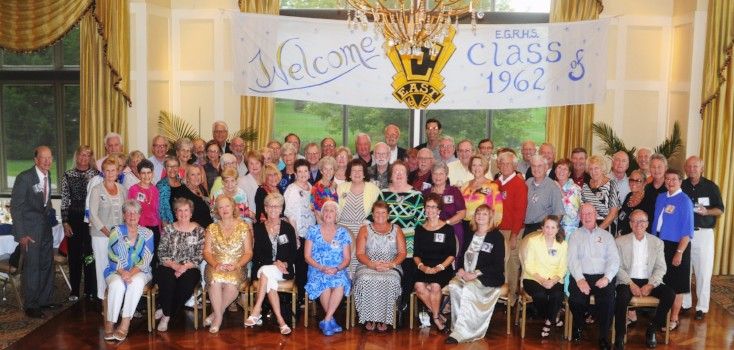 Class of 1962 Reunion Photo
Class of 1958 - 60th Reunion was held June 8-9, 2018 in Grand Rapids, MI
Contact Murry Idema or Phil Leech for additional reunion information. 
Class agent: Libby Headrick
Class of 1957 Reunion 2017

Class of 1957 Reunion 2017

Class of 1957 Reunion 2017

Class of 1957 Reunion 2017
The Class of 1957 held their 60th Class Reunion October 13-14t, 2017. Friday night was a beautiful evening so about 30 people took the bus to the football field to witness a celebration for our own Dave Mehney, who was honored at his retirement after 28 years as freshman football coach. Following the ceremony we traveled back to our old High School (which is now Wealthy Elementary School) to tour the facility, enjoy "Yesterdogs" and all their trimmings, and reminisce with old friends.

Saturday afternoon about 40 people enjoyed a light luncheon and tour of the Brookby House (also known as the Blodgett Estate). For those who attended, the experience was extremely rewarding and informative.
Saturday evening found 70 classmates and spouses at Reds at Thousand Oaks. We had folks from California, New Mexico, Oregon, Texas, South Carolina, Nevada, Kentucky and Florida. In spite of the inclement weather, all enjoyed a delicious meal and lots of conversation. Our delightful MC, Chuck Jennings, led us in invocation, and entertaining tidbits from days gone by.
 All in all, the weekend was perfect. Everyone enjoyed themselves and it was so good to catch up with old friends. We are now busy working on a class directory and will mail a copy to all our classmates when it is available.
Before the 2017 Homecoming football game, Dave Mehney was honored for his 28 years of service as an East Grand Rapids football coach. Surrounded by family, friends, fellow coaches, and many of his former players, Mehney used the occasion to thank everyone who had helped him along the way.

Near the end of his remarks, Mehney also made a big announcement: He's pledging $100,000 to the East Grand Rapids Schools Foundation in the form of a matching gift. "I'm pledging to match every dollar that's donated up to $100,000," Mehney said to the crowd including his 1957 classmates who were in attendance, "and I'm hoping you'll soak me for all of that amount."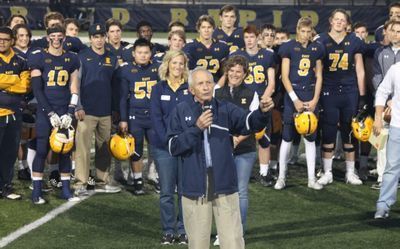 Dave Mehney at 2017 Homecoming Game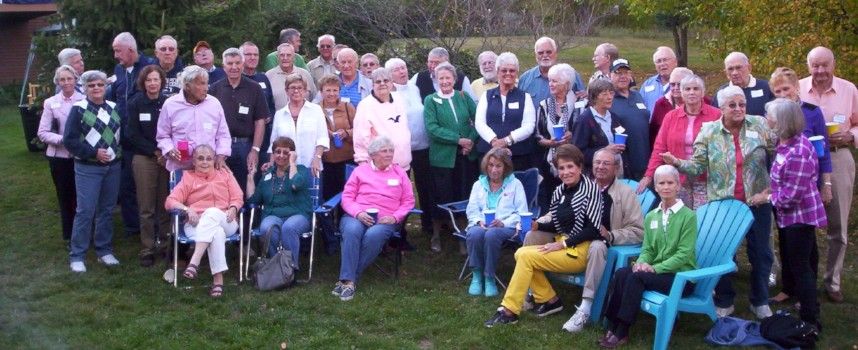 Class of 1957 55th Reunion Photo
Class agent: Sue Allen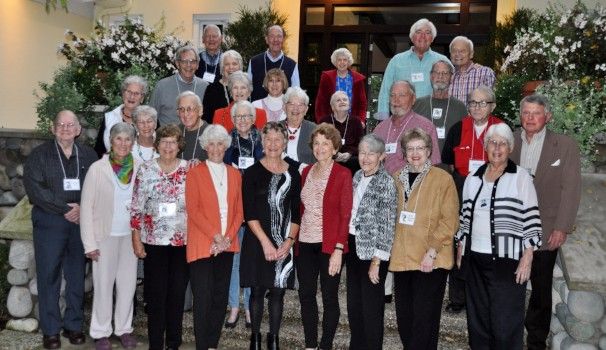 Class of 1956 Reunion Photo
Class agent: Ren Brander

Class of 1955 Reunion Photo
From Class Agent Ren Brander:
"For the last few years I have volunteered for work projects with the Sierra Club in the west. This year when unable to get the assignment I had hoped, I expanded google search for volunteer opportunities worldwide. This led me to www.wearebamboo.com. After reviewing the material and especially the reviews and discussing it with the US representative, I decided 'Two Countries: Thailand and Cambodia, for over 50's' was the best choice.  For two weeks we saw the most beautiful temples in Bangkok, mingled with Thailand's gentle giants the elephants in 'the elephant village,' visited Cambodia's World Heritage site of Angkor Wat, and built a palm house for a family outside Siem Reap, Cambodia.  In Siem Reap we visited a most fascinating organization that trains HeroRats able to detect landmines and TB.  Find out the fascinating information at www.apopo.org. All this with 20 lovely people 3 of which were from the US, the rest from the UK."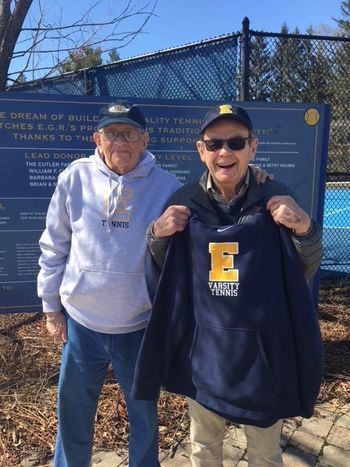 Longtime friends Dave Berles and Glen Young met up in the spring of 2019 at an East girls tennis match. It was the first one Glen had attended. Fortunately, Dave has been to a few over the years, so he knew exactly what Glen should wear.
Class agent: John Rose

Class of 1953 Reunion Photo
Ted Luce writes from Lafayette, Indiana: 
"We're in our seventh year operating an Honor Flight out of Lafayette.  I've been a part of it since its beginning.   As a retired Army Lieutenant Colonel, I had a vested interest in this program.  It has been my way of giving back.
"You can only speculate on the degree of pride we have being able to say that we've taken over 1600 war veterans to Washington, DC to see the memorials to their service.  We started taking WWII veterans.  After a few years, their numbers began to diminish, so we added Korea veterans, and now we take Viet Nam veterans as well.  The emotions run high with some of the Viet Nam vets confronting their memorial wall for the first time.  We gave these guys the parade they never got, and now, we see Viet Nam vets all over town wearing their hats proclaiming their pride in their service to their country in that war."  
Class agent: Elizabeth Crosby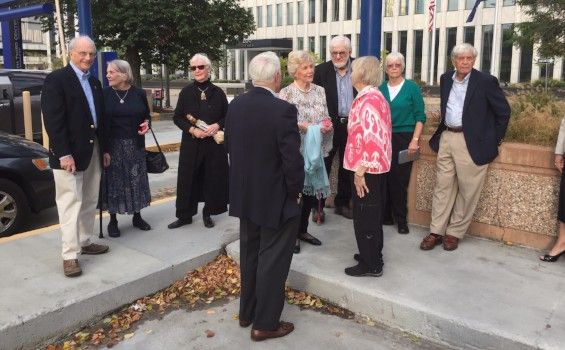 Class of 1952 Reunion Photo
From Betty Jo (Muir) Crosby: "The Class of '52 had to develop 'Plan B' after their Saturday night reunion dinner on October 7, 2017, at the University Club was canceled because of a power outage in downtown Grand Rapids. An impromptu reunion planning meeting was held in the parking lot at the Fifth Third Bank building with cell phones going at full speed. The party was moved to Kent Country Club where a very good time was had by all who made the connection. Alumni from Florida, North Carolina, California, New Mexico and Wisconsin as well as the 'local' alumni attended the reunion, which was the 65th for the class."
Class agent: Jean Swaney
A few 1950 and 1951 alumnae gathered in August to reconnect and reminisce. 
Standing: Fran (Whinery) Hall, '51, Patti (Sligh) Ver Sluis, '51, Sandy (Reynalds) Olds, '50, Jean (Grigware) Swaney, '51, and Judy (Ford) Landman, '51
Seated: Nancy (Bosch) Bow, '51 and Susie (Fentress) Allen, '50
Class agent: Contact EGRSF & Alumni Assoc. for information.
Class agent: Contact EGRSF & Alumni Assoc. for information.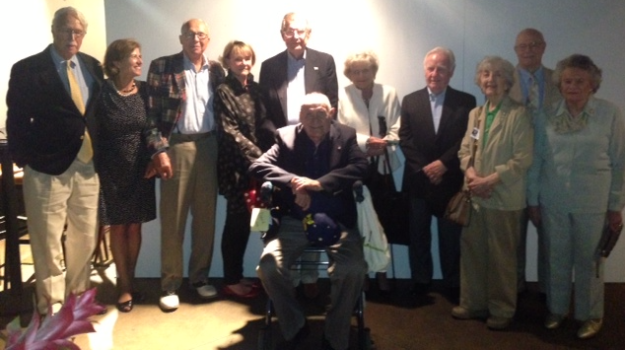 Class of 1948 Reunion Photo
Class agent: William Kopp